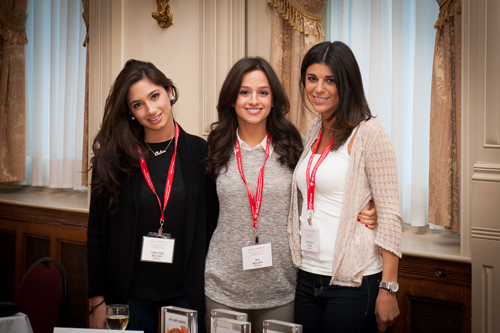 By McGill Reporter Staff
Time flies. The McGill Dobson Cup competition for budding entrepreneurs is entering its sixth year.
To showcase some of the start-ups that have emerged from the contest – and to highlight the benefits of participating in it – the Dobson Centre for Entrepreneurial Studies threw a reception on Oct. 9 at the Faculty Club. Several teams who have been through the competition gave short presentations on where they stand in the process of building their businesses or social enterprises.
One common theme: the competition's mentorship program, which matches each team with a business leader, has proved hugely valuable to many participants as they worked to shape their ideas into a viable business strategy.
The competition gives participants the chance to develop their skills and present their business ideas to a panel of seasoned corporate experts while competing to win start-up funds for their enterprise. The judging focuses on the venture's innovation, viability, and growth potential.
"The Dobson Cup is a way of finding entrepreneurs at McGill," says Prof. Gregory Vit, Director of the Dobson Centre, which is also responsible for developing core courses in Entrepreneurship at the Desautels Faculty of Management.
The competition also serves to foster connections among innovators across the university's campuses – cultivating an "entrepreneurial ecosystem" of sorts. Since 2011, the McGill Dobson Cup has attracted over 450 innovators and helped create 28 start-ups (of which over 70% are still active) and 70 new jobs.
The Reporter has assembled a gallery of photos below from the recent Faculty Club event, which brought together many of the start-ups that are up and running. Click on a thumbnail to see the full picture. All photos by Damian Turski.