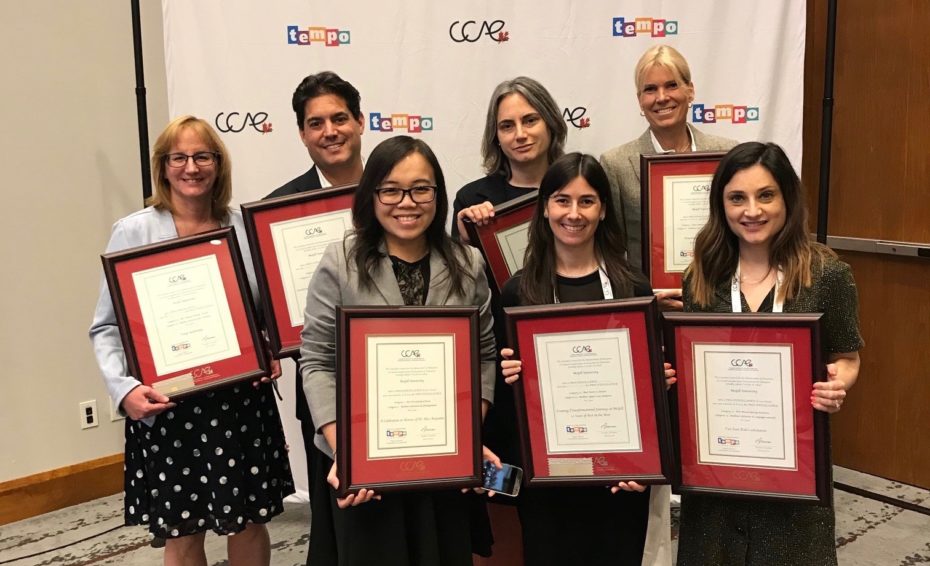 McGill has once again been recognized for outstanding success in advancement, winning seven Prix d'Excellence awards at this year's Canadian Council for the Advancement of Education (CCAE) national conference in Kanata, Ontario.
The Council's prestigious Prix d'Excellence awards are considered the gold standard for achievement in educational advancement in Canada. Advancement encompasses alumni relations, fundraising and development, and external and public relations. This year McGill captured seven medals for traditional and digital publications, events and programming.
Here is the complete list of McGill's 2019 CCAE Prix d'Excellence awards:
Gold:
Best Community Outreach Initiative for the Faculty of Medicine's Dementia Education Workshops for Family Caregivers – ongoing multi-professional community workshops that aim to educate and empower those who are looking after a loved one afflicted with dementia.
Best use of video/filmfor #OurDrBenjamin – a 14-part video campaign from the Faculty of Medicine to honour and establish a fund in the name of Associate Professor Dr. Alice Benjamin, maternal-fetal medicine specialist who has helped thousands of women with high-risk pregnancies.
Silver:
Best Report to Donors for Creating Transformational Journeys at McGill: 10 years of Best in the West – a tribute book produced by University Advancement (UA) to celebrate the 10th anniversary of a student awards program that strengthened McGill's ability to attract and retain top undergraduate students from British Columbia, Alberta and Saskatchewan.
Best Feature Writing – French for Tango médiatique – a French-language article in the McGill News about the importance of media and university researchers working together, and the Principal's prize that supports this collaboration.
Best Use of Social Media for Socializing #McGill24 on Campus and Beyond – a campaign by UA to promote McGill24, the University's annual, 24-hour digital fundraiser, through the creation of a bank of content to equip faculty and regional partners with the tools to best promote McGill24 to their audiences.
Bronze:
Best Annual Giving Initiative for UA's Tax Year-end E-solicitation in the Annual Giving program – eight versions of this digital broadcast contained informal and playful written and visual content to create a personalized reminder to give on the last day of the year.
Best Development Event for A Celebration in Honour of Alice Benjamin – a feel-good, media-friendly event organized by Medicine that recognized Dr. Benjamin for her 40+ years of service and successfully launched an ambitious campaign to raise $1-million for maternal-fetal medicine at McGill and beyond.