In March, 88 exceptional students from across Canada and around the world will arrive in Montréal to interview for the McCall MacBain Scholarships at McGill.
The McCall MacBain Scholarships are the result of a landmark $200 million gift in 2019 by John and Marcy McCall MacBain, the second-largest single donation in Canadian history.
Designed to encourage purposeful leadership, the scholarships enable students to pursue a fully funded master's or professional degree while participating in mentorship, coaching, and a leadership development program.
International scholars will be selected for the first time, following two years of Canadian-only admissions. The 35 international finalists hail from 19 countries, from France to Ghana to Singapore. The 53 Canadian finalists will travel to Montréal from 33 cities across eight provinces and one territory.
"McGill, Montréal, Québec, and Canada attract talented students from all over the world," said John McCall MacBain, Chair of the McCall MacBain Scholarships at McGill. "Our aim is to provide a life-changing opportunity for students who have a track record of contributing to their communities and a genuine desire to make a positive impact."
Meet a few of the finalists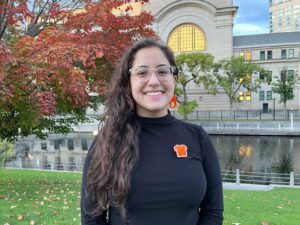 Ashley Bach (BSc'16) is a member of the Mishkeegogamang First Nation and co-chairs the Nishnawbe Aski Nation's Oshkaatisak (Youth) Council. She served as president of Youth in Care Canada, a national advocacy organization, speaks out for First Nations child welfare as a representative plaintiff in a class action, and is a member of a national council of youth-in-care advocates. Ashley has a bachelor's degree from McGill and a master's degree in environmental planning from John Hopkins University. She plans to return to McGill to pursue a law degree.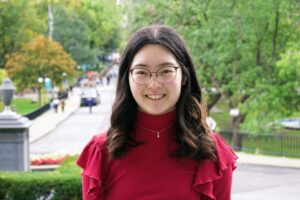 At the Schulich School of Music, Caroline Guo (BMus'23) leads a student society encouraging music students to explore interdisciplinary careers. She began her studies in engineering and music at Western University, joining the Engineers in Action chapter there, and has maintained her involvement with the group since transferring to McGill. Caroline also volunteered as a teacher and serves part-time with the Royal Canadian Naval Reserves. She plans to pursue a master's degree in piano performance at McGill.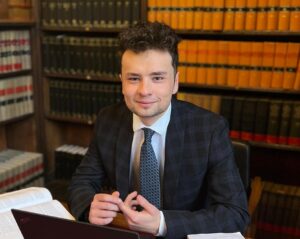 University of Cambridge graduate Tom Hibbs works as a judicial assistant at the Court of Appeal. Recently, he volunteered for a pro bono law centre and worked as a research assistant at the University of Cambridge, where he graduated with first-class honours in law. Tom was involved with the Sidney Sussex College student union, working on access to education projects and LGBT+ fundraising. He wrote for the student newspaper, edited the human rights law journal, and worked as a tutor. Tom is applying for a master's degree in law.
Ratik Kapoor is an electrical and computer engineering student at the University of Calgary. His experience on the university's solar car design team inspired him to start a Relectric Car Team retrofitting old cars, which has engaged about 50 members and established partnerships with three other universities. Ratik also leads the Engineering Students' Society, after several years of active involvement, and helped build a COVID-19 rapid testing kit as a senior research student at a biofabrication lab. He interned at a network security company where he contributed to a pending patent, and most recently worked as an engineering intern at Tesla. Ratik aims to further explore the intersection of low voltage hardware and software during graduate studies.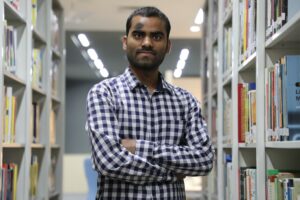 Mohit Kumar is a fourth-year student at Ashoka University in India, studying history, international relations, and Persian. Since 2019, he has been working to improve literacy in his community through Sarathi: The Guide. His project has expanded to mobilize 45 volunteers to support 850 students in 10 villages. Mohit also works as a residence assistant mentor and volunteers as a peer tutor. He has held several jobs, including one as an office counsellor for the Young Scholars Program. He aims to pursue a Master in Education at McGill.
Racheal Opoku-Afriyie is a recent graduate of Kwame Nkrumah University of Science and Technology (KNUST) in Ghana, and works at the university as a teaching assistant. As a student, she chaired the executive council of the forest resources technology student association and worked on community education projects at Mole National Park. Her work at the park contributed to the inauguration of a honey, cassava, and shea butter factory for local communities, in partnership with several non-governmental organizations and embassies. Racheal is applying for a master's degree in renewable resources at McGill.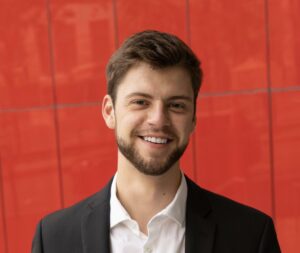 A graduate of Collège Jean-de-Brébeuf, Tomy Pelletier co-led the entrepreneurship club and served on the board of the college cooperative. His involvement with the Terrebonne cadet corps, overseeing a unit of 60 youth, earned him several community recognition awards. As a business intelligence student at HEC Montréal, Tomy twice organized the school's job fair for 600 students and 50 companies. He participates in the Jeux du Commerce and helps integrate 40 international students as an advisor in residence.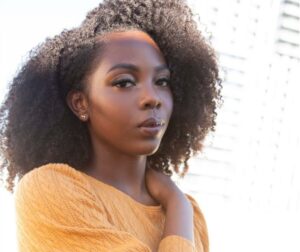 Abigail Ralph dedicates much of her time to her home community of Rexdale, in northwest Toronto. She volunteered with a junior public school breakfast program, contributed to the local Boys and Girls Club, and recently co-founded a grassroots initiative to support nearly 40 local Black students through community programs and an award. While studying neuroscience and health policy at University of Toronto, Scarborough Campus, Abigail has served on a women's health peer advisory research board and helped oversee a vaccine equity research project. She also directed research for the Amnesty International chapter. Abigail's research interests include stem cell and regenerative neuroscience, as well as the gut-brain axis.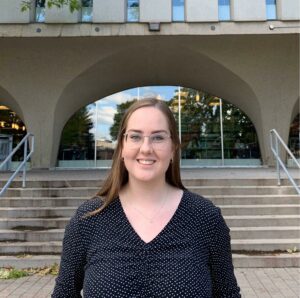 Sarah Rourke revived and leads a feminist physics club at the University of Waterloo, where she is studying physics and astronomy. One of the club's recent initiatives was to host a mentoring night to connect over 100 students to diverse mentors. Sarah has also led a science orientation week, placed first in an international student research competition, and contributed to five public art projects. As a summer intern at SNOLAB, an underground science laboratory in northern Ontario, she served on the equity, diversity, and inclusion task force and volunteered at outreach events. Sarah plans to pursue a master's degree in physics.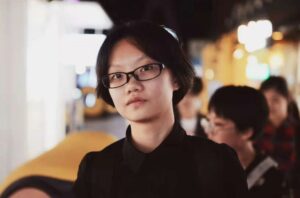 Eldar Wang is completing a bachelor's degree in world literature at Duke Kunshan University in China. She is the author of a world poetry book and, as a translator, has published four book-length works. Eldar also co-led a team of six providing teaching materials for elementary schools in remote regions, won the championship of a literature comedy contest, hosted radio shows, and helps animate campus activities. Eldar is interested in studying the literature and culture in modern China, and the representation of Asian minority groups around the world.
See the full list of finalists.
Canadian and international leaders help select scholars
The McCall MacBain Scholarships received applications from students and graduates of 1,200+ universities, and 242 participated in regional interviews with local leaders in October and November. From March 8 to 12, the 88 finalists will be interviewed again by volunteer leaders from academia, business, government, and the social sector.
"Our committees were delighted to receive great interest from all corners of the world," said Natasha Sawh, Dean of the McCall MacBain Scholarships at McGill. "More than 280 volunteers were involved in assessing candidates. They looked not only for academic strength, but for qualities like integrity, kindness, curiosity, and courage."
More than 280 Canadian and international leaders – including dozens of McGill alumni – volunteered their time to select this year's McCall MacBain Scholars. Recent volunteers include Citigroup Inc. vice chairman Mark Hantho (BCom'81, Desautels International Advisory and Advancement Board), Oger Telecom Ltd. CEO Rami Aslan (BCom'94, MBA'97, Desautels International Advisory and Advancement Board), Jubilant Bhartia Group co-chairman and founder Hari Bhartia (McGill Principal's International Advisory Board), Berggruen Institute executive vice-president Dawn Nakagawa (BA'95 and McGill Centre for Media, Technology and Democracy Advisory Board), and Indigenous rights lawyer Maggie Wente (BA'94).
"As a volunteer, it's a privilege to meet these incredibly talented students and learn about their journeys," said Wente. "We hope the interviews give them a chance to reflect on their experiences, motivations, and how they want to use their skills to improve society."
Up to 30 McCall MacBain Scholars will be selected after final interviews. Finalists who are not selected for the cohort will be eligible to receive a Finalist Award of $10,000 or $20,000.
Travel costs for final interviews are covered by the scholarship program.