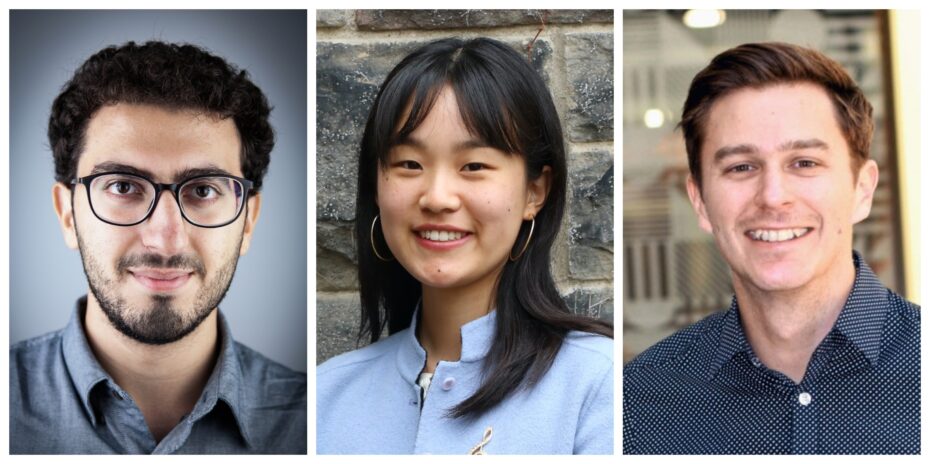 In all, 735 students applied from across Canada and beyond; 132 were interviewed; 50 were short-listed. And now 20 students have clinched the honour of being the first cohort of McCall MacBain Scholars at McGill.
The 20 students are all aspiring innovators, community-builders and leaders. In September 2021, the scholars will begin their fully funded master's or professional degree in five faculties at McGill, while connecting with mentors and participating in an intensive leadership development program.
The program is the first comprehensive leadership-based scholarship for master's and professional studies in Canada. The scholarships were created through a historic $200-million gift to McGill University from John McCall MacBain and his wife, Dr. Marcy McCall MacBain, in 2019.
"The global challenges we face as a society need the energy and entrepreneurial spirit of these scholars," John McCall MacBain said in a statement. "Through this scholarship program, they'll have opportunities to deepen their knowledge, develop their leadership skills, and create meaningful connections that will enable them to bring about positive change. We want to congratulate these students and recognize the hundreds of candidates across Canada who were considered for this scholarship."
Three McGillians in the mix
The McCall MacBain Scholars were chosen based on character, community engagement, leadership potential, entrepreneurial spirit, academic strength and intellectual curiosity.
Sinan Abi Farraj, who is weeks away from finishing his McGill Engineering undergraduate degree, is one of three McGill grads who made the cut. He'll be joined this fall by fellow McGill alums Somaya Amiri (BA'20) and Zeytouna Suleiman (BSW'20).
Farraj, who will begin a master's degree in chemical engineering, manages and helped expand the engineering faculty's peer tutoring service. He has helped organize student elections, lead a space technology subcommittee and researched textile recycling solutions for an environmental organization, in addition to teaching refugees in Lebanon.
Farraj said he will pursue research on "nanomaterial-based technologies to solve critical environmental challenges," and intends to "continue giving back to my community through academics and volunteer work."
"It is an honour to be selected as a McCall MacBain Scholar and to join the cohort of Scholars with a shared vision to have a positive impact on the world… You never know how your kind actions, no matter how small they might seem, will improve the lives of those around you. I would not be where I am today if it weren't for the help and support of people around me and others behind the scene – a lot of whom I may never even know or meet!"
A cross-country cohort
The first year of McCall MacBain Scholars will come to McGill from 15 Canadian universities, and one American university. The places they have called home span Canada and the globe, from Grande Prairie to Brossard to Beirut.
Grace Ma, for example, is a Winnipeg native who is currently finishing her undergrad studies at the University of Toronto's Trinity College. There, she pursued her two passions, humanities and environmental science, by working for her college's literary arts journal for four years, most recently as editor-in-chief, and co-leading a university-wide environmental action group. She also teaches violin to young people and spent summers working as a trail analyst, tour guide, and park outreach assistant. She will enter the law program at McGill.
Ma, whose family moved from Montreal to Winnipeg when she was eight, said she is "really excited to learn both common and civil law systems, and to brush up on my French!"
She plans to study various facets of environmental law "through the lens of constitutional law, Indigenous legal traditions and international law…  I feel immensely grateful, humbled, and honoured to be selected as a McCall MacBain Scholar. This scholarship means so much to me – it is not just my scholarship, but rather that of family, friends, peers and educators who have supported me throughout my life and my undergraduate years, [through] highs and lows."
Another Scholar, Josh Swain, is finishing his studies at the University of Winnipeg, where he has engaged with his Métis heritage by helping run a campus group that supports Indigenous students in science, technology, engineering, and mathematics. He has also helped teach biology and financial literacy to Indigenous students.
He worked for seven years before beginning his undergraduate studies at the University of Winnipeg in 2016 – and continued to work part-time at a restaurant during his studies. Swain plans to study public health through his scholarship.
"I very much look forward to the rich and vibrant culture that Montreal has to offer, and McGill being very much at the heart of that with such a vastly diverse student body," said Swain.
"I am very much looking forward to learning not only from my instructors at McGill, but also from my peers in both my MSc program and fellow McCall MacBain scholars. What a huge wealth of both talent and diversity of lived experiences… McGill has been a dream school for me."
The complete list of this year's McCall MacBain Scholars:
Sinan Abi Farraj, McGill University (BEng'21)
Kasem Alhaeik, Université de Montréal (BA'21)
Somaya Amiri, McGill University (BA'20)
Fatima Beydoun, Dalhousie University (BA'21)
AJ Bimm, University of Toronto (BA'21)
Larissa Chiu, University of British Columbia (BSc'21)
Brendan Cottrell, Simon Fraser University (BASc'20)
Daisy Couture, University of British Columbia (BA'20)
Nathan Duarte, University of Waterloo (BASc'21)
Grace Ma, University of Toronto – Trinity College (BSc'21)
Caroline Merner, Dalhousie University (BA'17)
Hayley Newman-Petryshen, Wilfrid Laurier University (BA'21)
Nicole Osayande, Queen's University (BCmp'21)
Tyler Paetkau, University of Alberta (BA'21)
Amanda Sears, York University (BA'20)
Zeytouna Suleiman, McGill University (BSW'20)
Josh Swain, University of Winnipeg (BSc'21), Assiniboine Community College (Dipl'09)
Helen Thai, Carleton University (BCom'17, BA'20)
Raymond Tu, University of North Carolina at Chapel Hill (BSc'21)
Nico Waltenbury, Western University (BA'20)