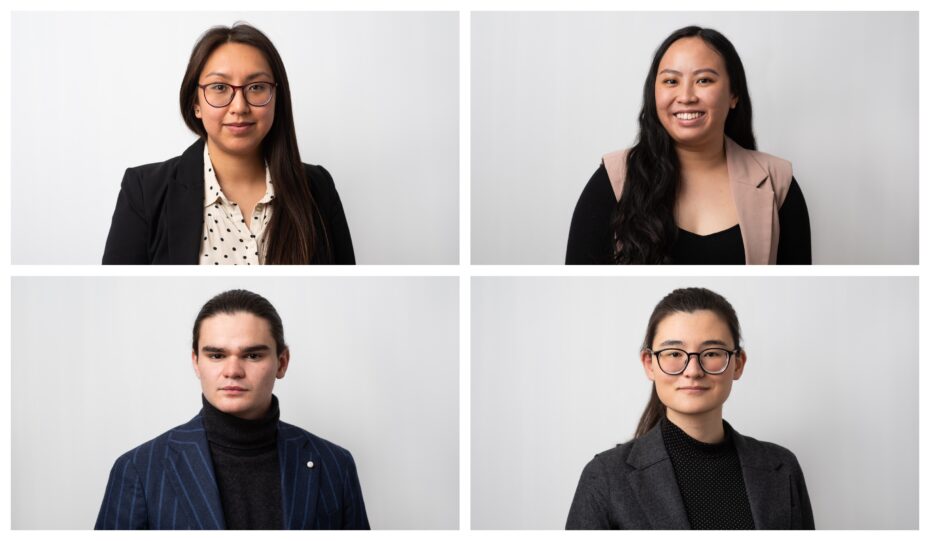 Aspiring policymakers, health innovators, entrepreneurs, and non-profit leaders are among the 20 newly selected McCall MacBain Scholars at McGill, Canada's comprehensive leadership scholarship program for master's and professional studies.  
The scholarship provides mentorship, coaching, a leadership curriculum, and full funding for a master's or professional program at McGill. The funding covers the program's tuition and fees, as well as a living stipend of $2,000 per month.  
The new scholars will begin their degrees in seven faculties in September 2022. Three faculties – Dental Medicine and Oral Health Sciences, Education, and Management – will welcome scholars for the first time. 
"We need inclusive, collaborative, and forward-thinking leaders in all sectors and fields," said John McCall MacBain, who, together with Marcy McCall MacBain, created these scholarships through a historic gift to McGill University. "With this scholarship, students will expand their networks, deepen their leadership skills, and benefit from full funding to pursue their dreams of improving their communities – and the world. Congratulations to these students and the hundreds of candidates across Canada who applied."  
Each scholar was chosen based on their character, community engagement, leadership potential, entrepreneurial spirit, academic strength, and intellectual curiosity.  
"Our new scholars have taken different paths and will contribute unique perspectives to the scholarship community," said Natasha Sawh, Dean of the McCall MacBain Scholarships. "The selection committees looked for a willingness to engage with diverse perspectives, and traits like empathy, integrity, and grit. Our process incorporates a wide range of volunteer readers and interviewers, who understand the candidates and their varied experiences."  
More than 130 Canadian leaders volunteered their time to help select McCall MacBain Scholars. They reviewed nearly 700 applications, interviewed 146 students regionally, and invited 50 to a final set of interviews that took place in March. 
Four McGill recipients 
This year, four McGillians made the cut. Aastha Goyal is finishing her Bachelor of Engineering degree, and will be joined by recent McGill grads Janelle Brown-Walkus (BSc '18), Michelle Hahn-Baker (BA '20) and Shirley Wang (BSc '20). 
While pursuing her undergraduate studies at McGill, Brown-Walkus helped run AISES, a campus group for Indigenous students in STEM, and co-coordinated First Nations, Métis, and Inuit youth outreach for the Let's Talk Science chapter. Last year, she completed a Master of Science in Dentistry in 2021 at the University of Toronto, where she wrote a thesis on First Nations perceptions of quality preventive oral health care in Indigenous communities. 
"Throughout my academics, I have listened and learned about the kind of dentist I would like to become," says Brown-Walkus, who will enter McGill's Undergraduate Dental Program (DMD) in September. "During my professional program, I hope to hone the skills to become that dentist while also working with my colleagues and peers to improve dental care for Indigenous peoples across Canada." 
A cross-Canada cohort 
In all, students from 17 Canadian universities are represented in the 2022 cohort – the final group of scholars to come exclusively from Canadian universities. Starting in June 2022, students pursuing their degrees in schools outside Canada will be able to apply for one of the 2023 McCall MacBain Scholarships. 
One of this year's scholars, William Stephenson, from Beamsville, Ontario, is completing his Bachelor of Commerce from McMaster University, and hopes to apply his knowledge of business tools to empower non-profit organizations and social entrepreneurs. He is looking forward to pursuing his Master of Management in Analytics in the fall. 
"Attending the final interviews was an enriching experience," Stephenson says. "It was my first time in Montreal, and I was able to explore parts of the city and the McGill campus. The highlight of the experience was meeting the other finalists. This interdisciplinary group brought so much passion and unique perspectives that I left the final interviews having learned an abundance from my fellow finalists." 
Linda Bùi graduated from University of Toronto Scarborough in 2018 with a Bachelor of Arts in International Development Studies. In her hometown of Brampton, Ontario, she co-founded and led several youth engagement initiatives, including the Girls Empowerment Movement, which provides mentorship and empowerment opportunities for racialized young women. She also spearheaded a climate justice discussion series and a photo-voice project to engage young Vietnamese women in conversations about cultural identities, gender, and leadership. She currently works in government relations at the Council of Ontario Universities, and will pursue a Master of Public Policy at McGill.   
"The application process provided me with a unique opportunity to dream big, reflect on leadership experiences and highlight the work of my communities in-depth with new learnings along the way," she said. "Regardless of the outcome, to be a part of this journey is a memorable and moving experience for all!"  
Portia Rayner is another 2022 scholar focused on empowering young women–specifically, encouraging young women to pursue studies in science, technology, engineering, and mathematics (STEM). Currently finishing her mechanical engineering undergrad at the University of Alberta, Rayner's extensive volunteer activities includes mobilizing a team to create Ada Code Challenge, a workshop that introduces girls to the fundamentals of programming hardware. 
"Volunteerism builds community by providing the opportunity to 'pay it forward,'" she says. "My research interests were generously supported by several mentors. It inspired me to actively promote STEM to younger generations and traditionally underrepresented groups."
Rayner will pursue a Master of Science in Mechanical Engineering at McGill. As a former elite athlete, she is keen to help develop technologies for injury prevention and treatment. One of her projects was a balance board to prevent seniors from falling and hurting themselves. 
The complete list of this year's McCall MacBain Scholars: 
Hannah Beddow, Queen's University (BSc'22) 
Emilee Bews, University of Calgary (BA'22) 
Janelle Brown-Walkus, University of Toronto (MSc'21), McGill University (BSc'18) 
Linda Bùi, University of Toronto Scarborough (BA'18) 
Bryden Bukich, University of Manitoba (BKin'21) 
Sandrine Desforges, Université de Montréal (BA'22) 
Sage Duquette, Concordia University (BA'22) 
Yasmine Elmi, University of Ottawa (BSc'22) 
Anna Gaudet, Dalhousie University (BA'22) 
Aastha Goyal, McGill University (BEng'22) 
Michelle Hahn-Baker, McGill University (BA'20) 
Anmol Kaur, York University (BA'22) 
Julian Lam, University of British Columbia – Vancouver (BA'22) 
Nikaela Lange, University of Saskatchewan (BA'21) 
Sidney Leggett, University of Winnipeg (BSc'22) 
Martha Pitre, Mount Allison University (BA'22) 
Portia Rayner, University of Alberta (BSc'22) 
William Stephenson, McMaster University (BCom'22) 
Shirley Wang, McGill University (BSc'20) 
Brady Yano, Simon Fraser University (BA'16)