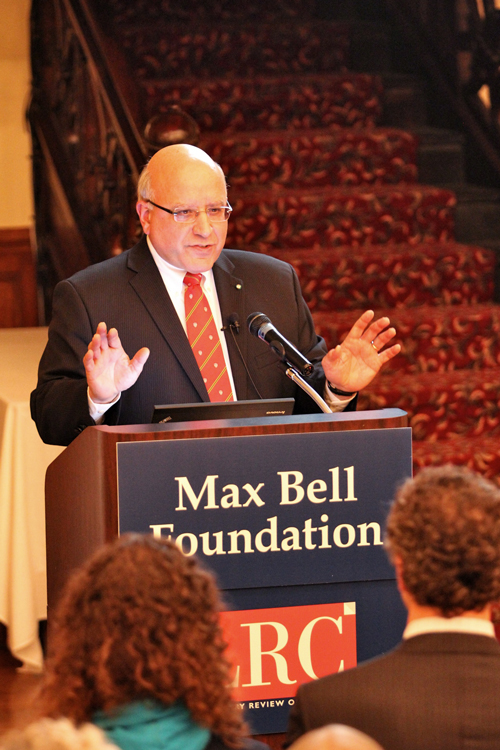 By Neale McDevitt
Having spent more than 20 years teaching sociology at McGill before moving into the administrative side of things, Provost Anthony Masi knows about the importance of getting – and keeping – the attention of a large group of people.
"For a Provost to speak about universities being obsolete may seem a bit incongruous but it was meant to be provocative," said Masi as he opened his Nov. 14 lecture (Are Universities Obsolete?) in front of a standing room-only crowd in the ballroom of the Faculty Club.
"In my discipline, sociology, when you ask a question like that, the answer is always 'No.' That's the short version [of my lecture], so if you don't want to stay for the rest of the lecture, you can go," Masi told the audience, drawing a laugh.
The old-school opener (provoke and joke) was especially perfect in light of the thoroughly modern topic – how digital technology is changing the university landscape. In many ways, both traditional lectures and cutting-edge technologies are faced with the same challenge – how to best grab, and keep, people's attention in a learning setting.
Masi said one of the great challenges faced by universities is "disruptive digital technology" that is at a critical point as a result of three factors; an information explosion and overload over the last 15 years; poorly planned physical spaces that cannot adapt easily to the information age; and a student population that "has truly grown up as digital natives."
"Students come to university with expectations about the way in which digital technologies will be used in their education," said the Provost, noting that universities aren't fully prepared to address these expectations. "But we really have not, as university educators, prepared our own professors and the way in which we think about our structures to accommodate this new generation of students."
Over the past decade, the popularity of digital technologies has had a profound impact on universities. New delivery mechanisms have spurred the development of new learning management systems, which in turn has seen the proliferation of a new breed of support staff, he said. "[Professors] have to think not only what content they want to provide in there courses, but also how they'll design them… and that's changing the way we provide support to them," said Masi. "When I started as Provost, we had a small unit called Teaching and Learning Services that was made up of three to four people. Today we have 15."
But the brave new world has had its shortcomings – and for Masi, it's a question of performance over potential. For example, while university administrators saw the potential to provide learning at a distance through digital media, "it was still a pale imitation of campus-based experience," said Masi. "There was a lot of positive promise but somewhat of a lacklustre performance."
Until the arrival of MOOCs.
When George Siemens and Stephen Downes of the University of Manitoba designed the first MOOC in 2008, a course called Connectivism and connective knowledge, it was an experiment. But it was a successful experiment, with the 20 registered on-campus students being joined by 2,000 auditors from around the world participating via the Internet for free.
And so began the MOOCs debate. "[Adminstrators began to ask] 'Why can't we create communities of active and engaged learners that extend far beyond the walls of the classroom or the gates of the university?' " said Masi. "Do MOOCs truly embody the promise and disruptive potential of digital technology for higher education?"
McGill joined non-profit edX consortium last year and will roll out its first offering in January. Called Food for Thought, the free online class will be delivered by Chemistry Professors David Harpp, Joe Schwarcz and Ariel Fenster.
As the Provost told the audience, the downside of MOOCs (they cost a lot to produce in terms of money and manpower; quality control issues; and possible intellectual property rights issues when a professor goes to a new school) are outweighed by the possible benefits, chief among them being global access to high-quality learning.
Masi cited a recent peaking introductory engineering MOOCs offered at MIT that saw 10,000 students complete the course. "That's more than a professor at MIT can teach over his or her whole lifetime."
But while the Provost believes MOOCs "are shaping up to be a game changer," he also admitted that he was a little apprehensive about the way the game could change.
"Will [MOOCS] allow universities to make the necessary accommodations more quickly, or force them to make room for new education providers who can?" he said. "I hope for, and I am working to encourage, the former; but right now, I am not sure that I would bet against the latter."
But this kind of pressure, he noted, has driven universities to keep pace. The increasing demand for both interactivity and access to digital technology has pushed McGill planners into rethinking not only the classroom experience, but classrooms themselves. Masi gave a number examples of classrooms, labs and lecture halls that have been equipped with embedded technology and redesigned to encourage interaction between professors and students and amongst the students themselves.
Even more radical, is the rethinking of libraries. Masi said that while some of his fondest learning experiences were made "wandering through the stacks… libraries are no longer just repositories of books."
He said 50 per cent of books in McGill libraries that are 10 years or older are never taken off the shelves. This represents a huge expenditure in terms of money and space for items that go unused.
Increasingly, universities are digitizing collections and moving large quantities of books into storage. The newfound space is being rethought, revamped and repurposed to support students – and their technologies – in their studies. It sounds strange, Masi said, but "libraries are being liberated from books."
In the end, the Provost said that, while he, too, has reservations about the effect digital technologies may have on universities, they have already acted as a catalyst to rethink and reconfigure the way people teach.
"I worry about how transformational information technologies are affecting higher education's, and McGill's, present and how they will transform their futures," he said. "But I have also come to appreciate this digital disruption's potential to reinvigorate teaching and learning in higher education.