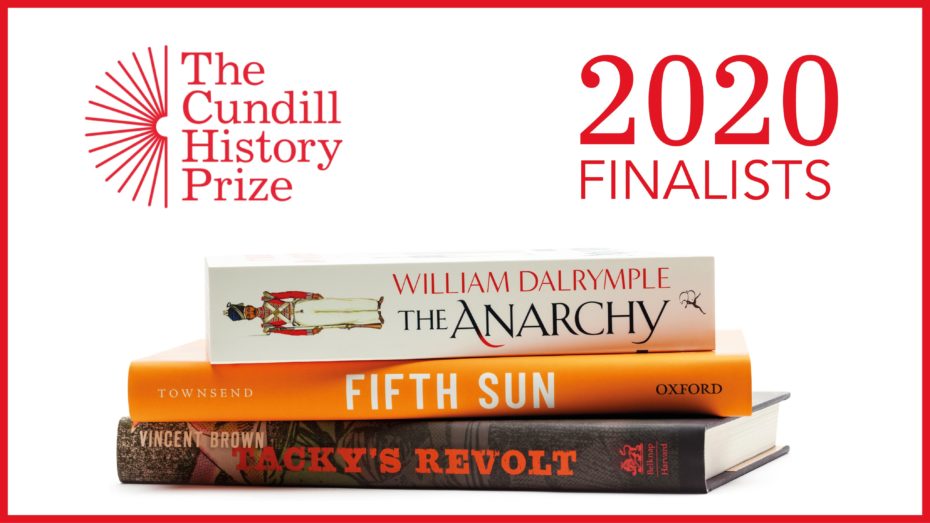 Vincent Brown, Professor of American History and African and African American Studies at Harvard University; the award-winning, best-selling British historian William Dalrymple; and Camilla Townsend, Distinguished Professor of History at Rutgers University, are the 2020 finalists for the world's leading history prize — the US$75,000 Cundill History Prize, administered by McGill University.
"These are three magnificent books chosen from an extraordinarily strong shortlist," said Peter Frankopan, 2020 Chair of the Jury, as he revealed the titles in a live-stream across Twitter, Facebook, Instagram and YouTube. "The works of the finalists shine new light on topics that are riveting, revelatory and revolutionary. But they do not just offer important insights into the past; they also each have a striking resonance for the world around us in 2020."
The three historians will be awarded US$10,000 each, and are now vying for the grand prize of US$75,000. The winner will be announced on December 3
Finalists "deliver outstanding scholarship… in page-turning reads"
In Tacky's Revolt: The Story of an Atlantic Slave War, Vincent Brown places a momentous 18th-century slave revolt into its wider geographical context, using innovative digital cartography to trace how the event shook the empire, and reshaped ideas of race.
In a current and cautionary tale for the age of Big Business, William Dalrymple's Sunday Times bestseller The Anarchy: The Relentless Rise of the East India Company lays bare how one of the world's largest empires came to be replaced by a dangerously unregulated private company.
Fifth Sun: A New History of the Aztecs tells a people's story through their own words: Camilla Townsend presents an accessible, individualised depiction of the Aztecs, grounded in texts written by indigenous people themselves, which brings them to life.
"The Cundill History Prize finalists probe difficult pasts that continue to have serious repercussions today," said Antonia Maioni, Dean of the Faculty of Arts, "How important — as we navigate this challenging year — to champion books that deliver outstanding scholarship and analysis in such page-turning reads."
After a summer of intense reading and re-reading, the 2020 jurors joined Frankopan on a Zoom call to pick the three finalists from an expanded shortlist of 10, with Anne Applebaum calling in from Poland; Lyse Doucet from Kabul, Afghanistan; Eliga Gould from New Hampshire, USA, and Sujit Sivasundaram from Cambridge, UK.
Winner announced on December 3
The prize has further revealed details of its 2020 Cundill History Prize Festival, which will be held — fully digitally — on December 2 and 3.
Hosted by McGill's Department of History and Classical Studies, this year's Cundill Lecture will be brought to audiences as part of prize partner HistoryExtra's prestigious virtual lecture program.
On December 2, last year's winner, Julia Lovell (Maoism: A Global History) will speak on Writing Maoism as Global History, before the China expert will take questions in an audience Q&A.
Also on December 2, the second Cundill Forum will bring together the three finalists in a conversation on a theme of global, current relevance.
For the 2020 Winner Announcement on December 3, the British-Canadian television presenter and historian Dan Snow, host of the HistoryHit podcast, will join Peter Frankopan, Chair of the Jury, in an event featuring the three finalists live from where they are. The event will also include insights from jurors, speeches, and outtakes from the Cundill Lecture and Forum. Peter Frankopan will announce the winner live.
The 2020 winner will join an exceptional alumni list of world-class historians: Julia Lovell (2019), Maya Jasanoff (2018), Daniel Beer (2017), Thomas W. Laqueur (2016), Susan Pedersen (2015), Gary Bass (2014), Anne Applebaum (2013), Stephen Platt (2012), Sergio Luzzatto (2011), Diarmaid MacCulloch (2010), Lisa Jardine (2009), Stuart B. Schwartz (2008).