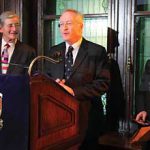 By Pascal Zamprelli
"If any book could truly fulfill the charge of the Cundill Prize – to make first class history more potent to a wide reading public, and above all to remind us that history, even three thousand years worth, matters – this one does."
This was the assessment provided by Adam Gopnik, author and contributor to The New Yorker magazine and jury member for the 2010 Cundill Prize in History, of the Grand Prize winning book,
A History of Christianity: The First Three Thousand Years, by British historian Diarmaid MacCulloch.
The winner of the Cundill prize, which is now in its third year of existence and at $75,000 U.S. represents the world's most important non-fiction historical literature prize, was announced at a gala dinner at the Mount Royal Club last Sunday.
"At a time when quarrels between believers and non-believers, new atheists and old faithfuls, dominate so much of our public discourse, MacCulloch has given us the one thing that we most need – not polemic but history, high, wide, and lucid, and, given the enormity of his task, often winningly light of touch," said Gopnik. "Taking as his subject nothing less than the whole history of the faith, he has written a social history that illuminates changes in belief; and a history of belief that helps us see how our society got so much of its structure."
In what has been called the first truly global history of Christianity, MacCulloch traces the origins and development of different strands of Christianity, encompassing the people, places, and events that come together to form a gripping, multi-millennium historical narrative. While far-reaching in scope and depth of analysis, the book has been widely praised for its accessibility.
"Throughout, [MacCulloch] achieves a near-perfect match of narrative flair and analytic detail," he said. Gopnik was joined on the jury by McGill history professor Catherine Desbarats, Charles Kesler, Editor of the Claremont Review of Books, Kenneth Whyte, Executive Vice-President at Rogers Publishing, and Lisa Jardine, a professor at the University of London and winner of the 2009 Cundill Prize for her book Going Dutch, which traces the way in which English and Dutch cultures were altered in the course of the seventeenth century, preparing the ground for a seamless takeover of the English crown by William III in the late 17th century.
The other two finalists for the 2010 prize, Giancarlo Casale's The Ottoman Age of Exploration and Marla Miller's Betsy Ross and the Making of America, received "Recognition of Excellence" prizes of $10,000 U.S. each at the awards ceremony.
The finalists were chosen from 181 eligible entries submitted to the Prize, representing some 85 publishing houses from around the world. The Prize, administered by McGill's Dean of Arts, with the help of the McGill Institute for the Study of Canada, was established in 2008 by alumnus F. Peter Cundill.