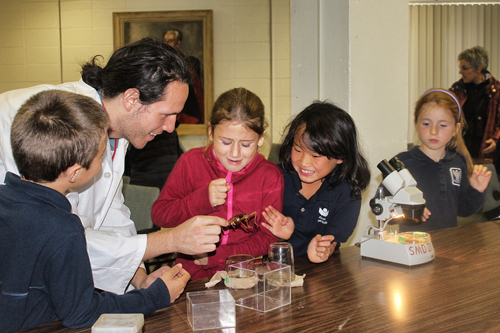 By Kathy MacLean
The latest results of a cross-country science test show that Quebec students are falling behind many of their provincial counterparts in science. This was followed by a recent report from Le Conseil supérieur de l'éducation, that urges the Quebec Ministry of Education to place greater emphasis on teaching science in elementary school, and individual schools to establish links with organizations offering science outreach programs. Luckily, this plea has not fallen on deaf ears, as group of Macdonald Campus students and teachers from École Joseph-Henrico in Baie d'Urfe are working diligently to address this issue.
The Farm-to-School project, led by undergraduate students in McGill's Faculty of Agricultural and Environmental Sciences in Ste-Anne-de-Bellevue, strives, through a series of educational workshops, to help schoolchildren make connections between the food they eat and the farms where food is grown. Workshops are structured to meet grade-level science competencies and are geared toward piquing children's natural curiosity about the world around them.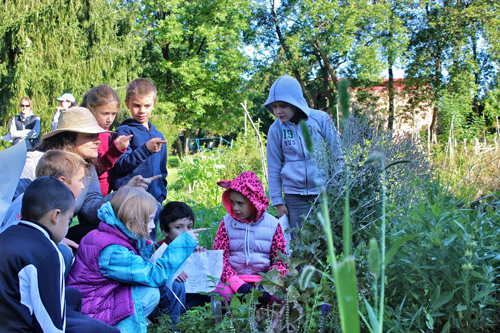 A successful pitch to the Sustainability Projects Fund landed the group seed funding and the distinction of being the Fund's 100th project. The team worked hard throughout the summer to create workshops, demonstration gardens and teaching materials under the supervision of Dr. Caroline Begg, who will be helping the group further develop its programming in a Special Topics course this year. Over the year's Begg's Topics courses have been incubators for some very successful initiatives including the Macdonald Student-Run Ecological Garden and the Out-of-the-Garden Project.
Over several recent sunny and warm fall days, two very large groups of Grade One and Two students from École Joseph-Henrico and École St-Remi visited the fields, laboratories and classrooms of the Macdonald Campus to participate in tailor-made gardening, insect and kitchen workshops.
Over the course of the workshops, it became clear that the students drew from their own experiences while making connections with the animators. During a session on aromatic herbs one child exclaimed, "it smells just like pizza."
The children are not the only ones benefitting from the project, as the Mac students are reinforcing their own learning, gaining valuable skills as project managers, educators and communicators; skills that will be an asset to them in their future careers. Plans are already well underway for future workshops.
Of their visit, Nicole Theoret, lead teacher at École Joseph-Henrico, said "the children were wide-eyed when they were talking about their day. In fact two of the students have written in their journals that they want to study insects and gardens just like you."