The spotlight shone on alumni excellence during special back-to-back ceremonies in Montreal and Toronto this month as the McGill Alumni Association's annual awards banquets made in-person comebacks after two years of online tributes due to the pandemic.
The McGill Alumni Association Honours and Awards banquet kicked off the festivities on June 7 at Le Windsor Ballrooms in downtown Montreal. Sixteen global honourees were celebrated for their impressive contributions and achievements in service to McGill, the McGill Alumni Association (MAA) and in their respective communities.
On June 8, the McGill Toronto Excellence Awards honoured four stellar McGillians from the GTA at Arcadian Court.
There was much to celebrate at both banquets, including the start of McGill's third century.
David T. Fung receives highest honour
International entrepreneur David T. Fung, BEng'70, MEng'72, PhD'79, received the Award of Merit – the MAA's highest honour – at the Honours and Awards banquet in Montreal. Fung, who traveled from Vancouver with his wife, Grace, BSc'71, received a standing ovation from the crowd of about 170 people.
The co-inventor of 23 patents, Fung carved out a stellar career in chemical engineering. His business success spans several areas including forestry products technologies, agri-food and clean technology. A strong supporter of McGill's Faculty of Engineering, Fung and his wife, Grace, established a fellowship in sustainable engineering. He is also a tireless volunteer, having served in different roles over the years, including as a member of the School of Religious Studies' advisory board, helping with McGill's fundraising initiatives, hosting alumni events, and more.
Dr. Muriel Gold, CM, MA'72, received the Distinguished Service Award for her outstanding lifetime contribution to McGill, while the D. Lorne Gales Special Recognition Award honoured Helgi Soutar, BSc'58, whose generosity and foresight has benefitted so many students at McGill.
US-based alumnus extraordinaire Jordan H. Waxman, BA'86, LLB'91, BCL'92, who actively supports and facilitates McGill's fundraising efforts in myriad ways, took home the E.P. Taylor Award.
David Reckziegel, MBA'87, a serial mentor and scholarship creator, received the Alumni Student Engagement Award.
Issa Abu-Dayyeh, PhD'09, was honoured with the Catherine Nance Common President of the Year Award for starting the McGill Alumni Association of Jordan, and helping it flourish with the support of enthusiastic fellow Jordanian alumni.
Amid pandemic lockdowns, the McGill Society of McGill ventured into the digital event space for the first time in Spring 2021 – with great results. Its online event, 'Gardening on your balcony during the pandemic', was a big hit with the McGill community who eagerly tuned in, and it earned the group the Alumni Event of the Year Award.
The McGill Women's Alumnae Association (MWAA) took home the Charles H. Peters Alumni Group of the Year Award. The MWAA raised more than $130,000 toward a scholarship campaign to boost female enrolment in STEM fields at McGill. It also launched the popular McGill Women's Mentorship Program in 2021.
Three recent graduates received the James G. Wright Award for exemplary service in their communities: Florence Ashley, BCL/LLB'17, LLM'20, Jessica Farber, BA'17, and Sanchit Gupta, BSc'19.
Kenneth Hing Cheung Fung, a loyal McGill donor who has been a champion of McGill throughout Hong Kong and the Chinese Mainland, and a key ally to the McGill Advancement Asia Office, received the MAA's Honorary Life Membership Award.
Dr. Anita M. Brown-Johnson, MDCM'88, MedResident'90, an innovative health care leader, Chief of Family Medicine at the McGill University Health Centre (MUHC) and assistant professor in the Faculty of Medicine and Health Sciences, was presented with the David Johnston Faculty and Staff Award. A geriatrician, Dr. Brown-Johnson is also a passionate volunteer who mentors students. She was instrumental in developing the new McGill Black Candidate Pathway, which will support the Black medical student experience at McGill from application to graduation.
A perennial highlight at the MAA Honours and Awards banquet is the presentation of awards to current students. Charlotte Goldberger, BA in progress, Alexandre Grant, BSc'20, MSc in progress, and Amélia Souffrant, BCL/JD in progress, each received a Chancellor Gretta Chambers Student Leadership Award, which is presented to students who have demonstrated leadership qualities while contributing in a volunteer capacity to the advancement of the MAA, McGill or the community.
McGill Toronto Excellence Awards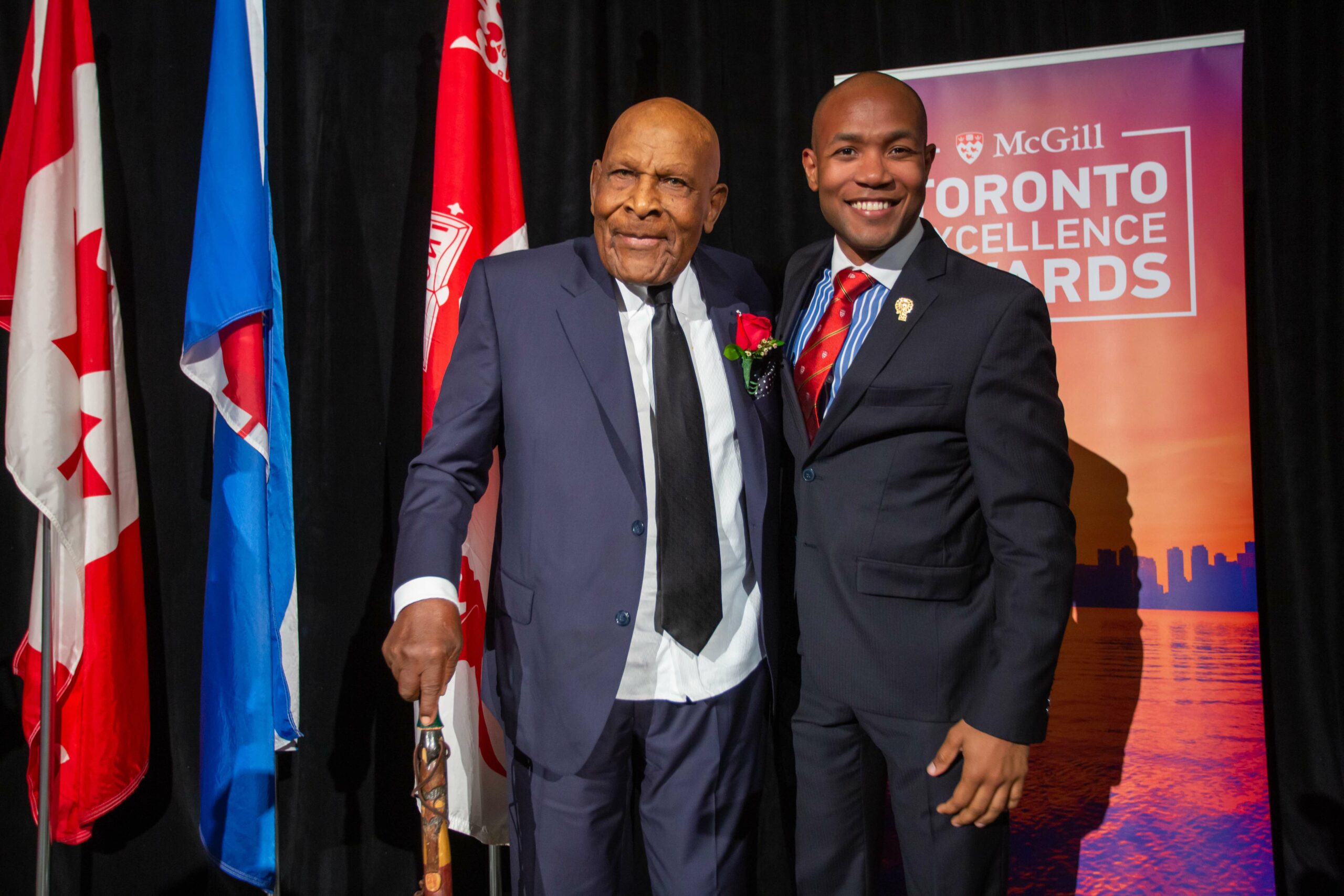 In Toronto, nearly 150 members of the McGill community stood and applauded as B. Denham Jolly, CM, BSc(Agr)'60, received the Distinguished Leader Award. A successful entrepreneur, philanthropist and Black community leader, Jolly launched Canada's first Black-owned radio station – FLOW 93.5 FM – giving a platform to Black artists who struggled to get airplay in Toronto. He was appointed a member of the Order of Canada "for his contributions to the promotion of equity and opportunity within the Greater Toronto Area's Black community." He also won the 2017 Toronto Book Award for his memoir In the Black: My Life.  In his acceptance speech, Jolly spoke about the struggles he faced as a Black Jamaican immigrant seeking equal respect and a good education.
The Impact Award went to Tracy Moore, BA'98, an accomplished broadcaster and veteran host of Cityline who is committed to helping talented young people, especially those who face barriers. Architect Kelvin Kung, BSc(Arch)'12, MArch'13, MArch'14, took home the Rising Star Award, while philanthropist Roger W. Warren, LLD'21, was honoured with the McGill Friend of Education in Toronto Award.
The camaraderie between MAA President Luciano D'Iorio, BA'99, and Immediate Past-President Inez Jabalpurwala, BA'89, MA'91, MBA'01, shone through as they deftly handled the co-hosting duties in Montreal, while 2019 recipient of the James G. Wright Award, Dave D'Oyen, BA'13, emceed the ceremonies in Toronto with aplomb.
"The return to these in-person celebrations of our many deserving alumni, students, faculty and friends of McGill was truly overdue," said Luciano D'Iorio. "From members of the campus community to family and friends, the joy in being in one another's company again was incredible. After two years of virtual ceremonies, it felt like a mini-Homecoming!"
Principal and Vice-Chancellor Suzanne Fortier, who is stepping down in August after nearly a decade in the position, made appearances at both events. The MAA Honours and Awards banquet in Montreal featured a special tribute to her, and she was visibly moved by the homage and standing ovation.
Both banquets also highlighted the 2020 and 2021 award winners who had been honoured virtually due to the pandemic.
View the MAA Honours and Awards recipients from 2020 and 2021.
View the McGill Toronto Excellence Awards winners from 2020 and 2021.
Check out the photos from the MAA Honours and Awards banquet and the McGill Toronto Excellence Awards