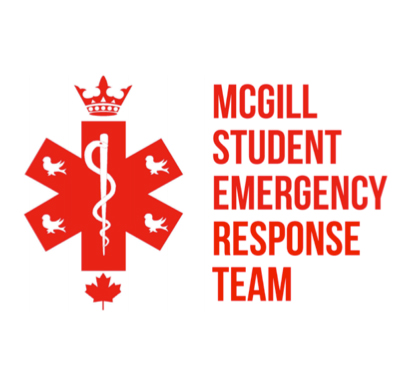 By Neale McDevitt
Most people don't know it, but the McGill community has a group of guardian angels looking over it, morning, noon and night. Well, maybe not angels, but a team of well-trained volunteers ready to treat a whole range of first aid situations be it applying a tensor bandage to an ankle twisted on a patch of ice to treating severe allergic reactions epinephrine autoinjectors or using an Automated External Defibrillator (AED) to help someone suffering from a life-threatening cardiac arrhythmias. Have no fear, M-SERT has your back (or wrist, or knee, or whatever you may have injured).
Standing for McGill Student Emergency Response Team, M-SERT has been serving the McGill community since 1997. Supported by the SSMU, the student-run organization has some 50 members, all students (undergrads and graduate) and all emergency first responders trained and certified by the Canadian Red Cross.
"We have quite a lot of science students but we have students from all faculties. Were not at all restricted," says Danny Jomaa, M-SERT VP of Finance. "If you love first aid you can join us."
From its humble beginnings providing first aid service for intramural hockey and soccer, M-SERT has expanded to cover the whole downtown McGill community. From 11 a.m. – 6 p.m. from Monday to Friday, the team provides first aid coverage of the downtown campus, and from 6 p.m. – 6 a.m. M-SERT is on call for all McGill residences.
"We work very closely with McGill Security Services," says Jomaa. "When they receive a call, they dispatch us, so we're usually the first people on the scene."
M-SERT responders work in pairs, teaming up less experienced members with veterans. Each pair arrives on the scene with over 40 pieces of emergency first aid equipment, including oxygen, Epi-Pens and AEDs. "We're all certified Canadian Red Cross emergency first respondents. It's an intensive 60-hour course and by the end of it you're ready to deal with just about any situation," says Jomaa.
While sprains and the occasional broken bone are among the more common calls, M-SERT responders must also deal with more serious issues, such as head and spinal injuries. "In situations where people have to go to the hospitals, our job is to keep them stable and in the best possible condition until and ambulance arrives."
The team is also offers its services to campus events such as Frosh and Winter Carnival. "We cover everything from small fundraising runs to larger events like last year's MedGames [an Olympics for med students] where from from all over Canada came to McGill to compete over several days," says Jomaa. "People can go on our website and send us a service request form."
M-SERT is also running a series of first aid courses throughout the semester. "We offer a standard First Aid with CPR/AED Level C course every month over the course of a weekend," says Jomaa. "People will learn basic first aid skills as well as how to perform CPR and how to use an AED device. Each course is taught by M-SERT members who are certified by the Canadian Red Cross as instructors.
"It's really important for people to have a basic knowledge of first aid," continues Jomaa. "You hope that you're never in a situation where you have to use it, but when something does come up, it's great to know what to do. Who knows? You could even save someone's life."
For more on the M-SERT team, including how to book it for your event, check out its Facebook page or go to its website.