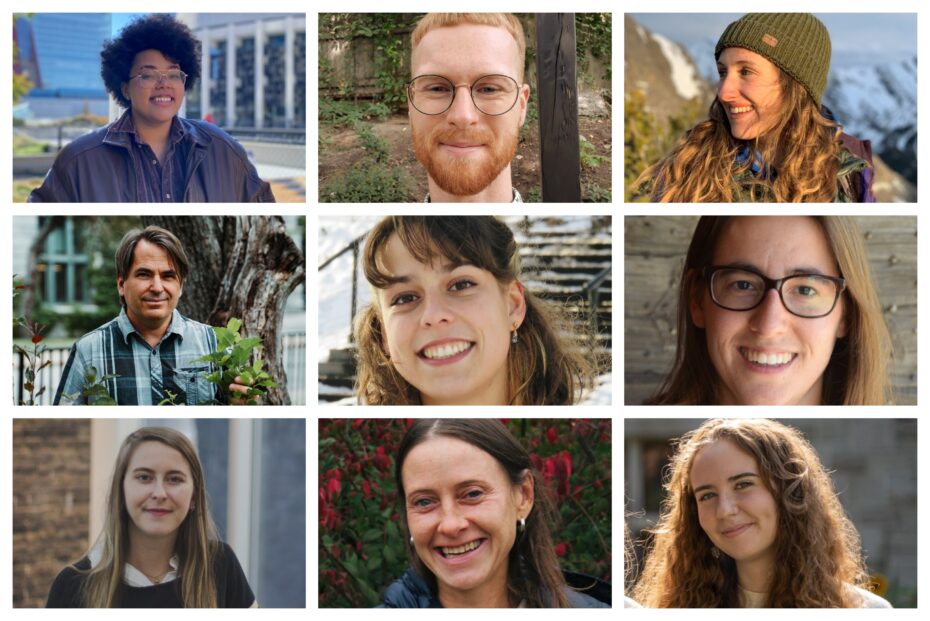 Issues surrounding sustainability can often feel insurmountable. While it's important to look towards the future, reflecting on our progress is just as necessary.
This year, the McGill's Sustainability Projects Fund – the largest of its kind in Canada – provided seed funding to 18 new projects, enabling community members foster a culture of sustainability in their own way, with budgets ranging from $50 to $400,000. But community action goes even further.
Through a series of articles, the Office of Sustainability has been able to share advice and words of wisdom with the McGill community from changemakers working behind the scenes, from students to staff and faculty.
Student leaders on setting sustainable standards
Organizations like ECOLE, Campus Crops, and student societies have shown what it means to exhibit resilience in the face of adversity by pushing sustainable initiatives through in uncertain times. Despite a global pandemic, student groups have rallied to continue to serve the community, assisting with the renewal of McGill's Fair Trade Certification, engaging with the Milton-Parc community, providing local McGill-grown produce, and more. Student leaders have shared their take on sustainable action with us.
Zoë Deskin (Campus Crops) on sustainable community gardening
"One of the most significant threats of climate change has always been how it will impact food supply chains. I think that empowering people to grow their own food in an urban setting is a necessary part of the solution. Everyone deserves access to healthy and fresh food and community, and I think that communal gardening is such a great way to work on both problems."
"I think [much of the progress I have seen] has been in the language around sustainability. There has been a big shift towards social justice and the more human side of sustainability. This has allowed more connections and relationships that might not have happened otherwise."
Charlotte Aubrac (PGSS Environment Commissioner) on the fight for Fair Trade
"If we want to incite the Montreal – or even the Canadian – society to shift to conscious consumption, we need to start at the university level first! McGill is a place where future sustainability leaders are made. By reaching Fair Trade Certification, the University paints itself as a sustainability role model in the industry of higher education and makes it's student population proud."
Julia Caddy (SSMU Mental Health Commissioner) on sustainability and mental health
"Creating a socially sustainable community requires addressing the health of its members. What I want people to realize is that the most impactful thing you can do to support [the mental health movement] is to model healthy habits yourself. Respecting what your body needs and not encouraging unhealthy behaviors goes a long way in shifting the culture on campus towards one that fosters sustainability and mental health."
Sophie Mathis (Music Frosh Coordinator) on hosting sustainable events on and off campus
"[I think that] the pandemic gave a lot of us an opportunity for change. I wanted students to know, as soon as they are welcomed to McGill, [that we have] high standards for sustainability. Certification is important because it continues to show the students of McGill that we care for the world around us.
Looking at the bigger picture
Looking forward to the future of McGill and beyond, changemakers in our community have important advice to remember for those of us who need some hope and inspiration.
"I believe that each person has both the responsibility and the opportunity to create change, and whatever scale that looks like for you, whether it's action in your household or at an international summit, it's needed. If you're asking yourself, 'Where should I start?' I think the answer is it doesn't really matter as long as you start somewhere. We need every solution we can find, happening right now at every scale. And if that has to start somewhere, why not start with you?"
Cynthia Kallenbach, Assistant Professor in the Dept. of Natural Resource Sciences and Chair of the Macdonald Campus Sustainability Committee
"My message to everyone at McGill is that we need to think of our university as its own community, and if it's going to be a sustainable community it needs to work across all levels: students, staff, and faculty. It can be easy to feel defeated, but never forget that there are so many opportunities to do good – so take them!"
Eric Champagne, Downtown Horticultural Supervisor
"For the whole community, sustainability starts with just you. It's as simple as saying, 'Instead of leaving my debris on a bench beside me … I'll take care of it.' Use the specialized disposal bins, take the time. It really helps. [Sustainability is] about whatever you use, not just growing vegetables or keeping trees. Even us [in groundskeeping], when we dig a hole and have extra soil, we always try to use it in extra spots because soil is precious. Know that sustainably starts with whatever you have in your hands."
Klara Winkler, McGill Researcher and Deputy Science Director
"If I had to say one thing, I think it would be that you are not as small as you think. We can make a difference. The power of the individual is real, and we cannot forget in all of this that major organizations, in the end, are just people. Never forget even small change is change. I think of this movement like a wave, it's building more and more power with every person, and all we need to tip the boat is you."
To hear more from each of these voices, find individual articles hyperlinked at each name. Looking to join the sustainable movement at McGill? Consider applying to the Sustainability Projects Fund (SPF) or connecting with a sustainable group on campus.