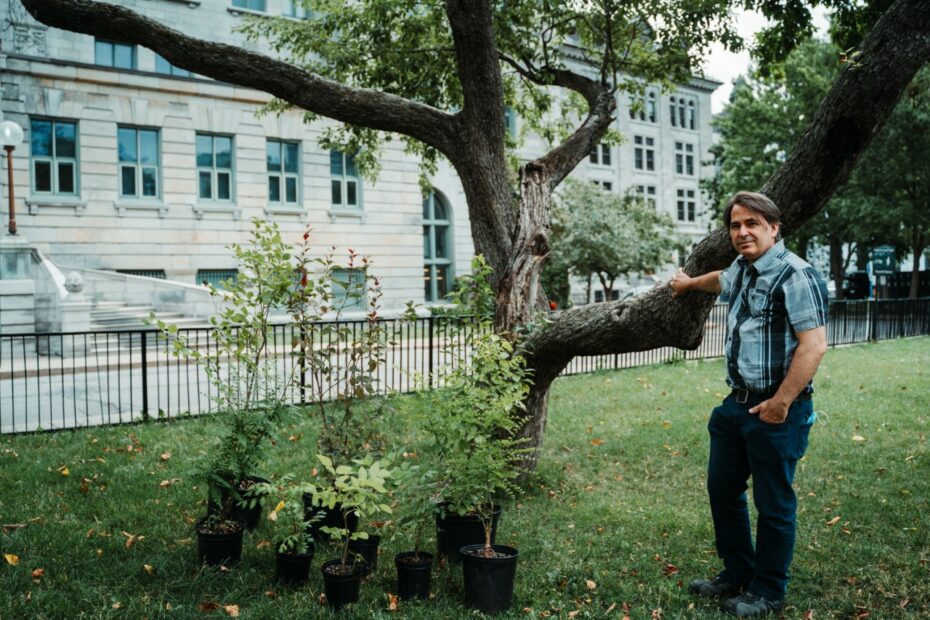 At first glance, the expansive McGill campus offers an oasis from the bustle of downtown Montreal, but few notice the complexities that lie between the beds of flowers.
Thanks to Eric Champagne, the Horticultural Supervisor for McGill's downtown campus and his team, the campus grounds have transformed into a biodiverse ecological sight filled with opportunities for sustainability initiatives and firsthand learning.
Champagne has been indispensable with urban agriculture projects, such as the Office of Sustainability's Staff Gardens program, since he joined groundskeeping in 2003. Through his work, a campus that was once filled with cars and bare of trees is now nearly unrecognizable, containing over 900 trees, community gardens, and an impressive collection of rare species. The result of his passion for trees: McGill's downtown campus has become something of a hidden arboretum.
A private person whose passion is the health of our green spaces, Champagne met with the Office of Sustainability to talk about the role of groundskeeping in transforming sustainability at McGill, to talk about groundskeeping as a tool to create sustainable change and develop an appreciation for all the things easily missed between lecture halls. Here is what he had to share:
What are some ways your team incorporates sustainability into your work?
Because there's so much construction happening all over campus, one of the things we do is move plants around that will be damaged from construction. This is more sustainable, because otherwise everything gets destroyed.  I'll go see the [construction] project manager and ask for the time to move the plants – you'd be surprised how many plants we save. You might say a plant is not a human being or animal, so it doesn't matter, but when it has been growing for 10 years, it's beautiful. So, we try to save as many as we can.
For sustainability, we try to [have tree diversity]. In the past, McGill had only a few trees. Then they planted row after row of the same species, and [most of them] died from disease. This is the problem with planting everything the same.  An architect or designer will say it's nicer to have it all match. It probably looks nicer [when they match], but is it really sustainable? Maybe for ten or twenty years, but a nasty bug could come through and wipe them all out.  So, we are trying. I'm not saying we always succeed, but we try.
We're [also] here to provide trained assistance to the community, not just maintain the green space and cut the grass – maybe 30-40 years ago that was enough, but nowadays there is more to it than just grass. Maybe for diversity, we can let clover grow if the grass is dying. We don't have any chemical companies coming to create beautiful lawns, if you want that, go to a golf course. There are plenty of organic products offered nowadays, so we are just trying to make sure we are as sustainable as possible.
You have been integral to many sustainability projects on campus. Why was helping with this a priority to you?
Every time there's a group [interested in working with us], our department is there. We are here to maintain the green space, but ultimately, we're here to help the community. The community could be a professor, students, or a group. We are here to help.
If areas are not being used for whatever reason, and a group is willing to have a gardening team, we are happy to do that. Instead of always planting perennials, why not create a garden? Looking at a nice healthy garden with tomatoes and such is just as nice as an ornamental plant. We can have challenges with not enough volunteers [to maintain a garden], and that's okay, that happens sometimes. But it's always great to try.
I understand you are passionate about the trees on campus. Could you tell us a bit about them?
Since I joined McGill, I have planted around 50 new species. We try to keep diverse species, sometimes it works, and sometimes it doesn't. We have Japanese Oak, Hungarian Oak, Sweetgum, Hickory, Black Oak, the common white oak in Quebec, and many more. We recently planted a Blue Ash tree which is native to Ontario. When you cut the tree, it produces a reaction on the sap which turns blue, but I haven't seen it since I'd never unnecessarily damage the trees. Personally, my favourite tree is the Kentucky Coffee-Tree.
Tell us about your seedling nursery.
[The] seedling nursery was started after Jim Nicell, Dean of Faculty of Engineering, requested me to find a way to preserve an old tree with health issues that was originally planted by some Graduate students in 1962.
This nursery has backup seedlings of many trees on campus.  The problem is that sometimes they're too small to put back right away on campus, so you have no choice than to grow them for a few years until [the tree] is big enough to be okay on its own. I don't have a specific nursery location, so I keep them close, tucked near a generator. You know the saying; "far from the eye, far from the heart."
We do this because some trees we have are rare. For example, what if a tree got destroyed from a cold spell, or construction? You have only one species that was hard to find in the first place, and now it's gone. Here at McGill, I consider [the grounds] a learning place, not just a green space with a couple of trees. This way, if students studying at McGill are doing research on a particular rare species, maybe we have one on campus for them to see. You never know.
What do you want others to know about the way individuals can shape our campus?
For the whole community, sustainability starts with just you. It's as simple as saying, "Instead of leaving my debris on a bench beside me or tossing my cigarette in the grass, I'll take care of it." Use the specialized disposal bins, take the time. It really helps.
[Sustainability is] about whatever you use, not just growing vegetables or keeping trees. Even us [in groundskeeping], when we dig a hole and have extra soil, we always try to use it in extra spots because soil is precious. Know that sustainably starts with whatever you have in your hands.