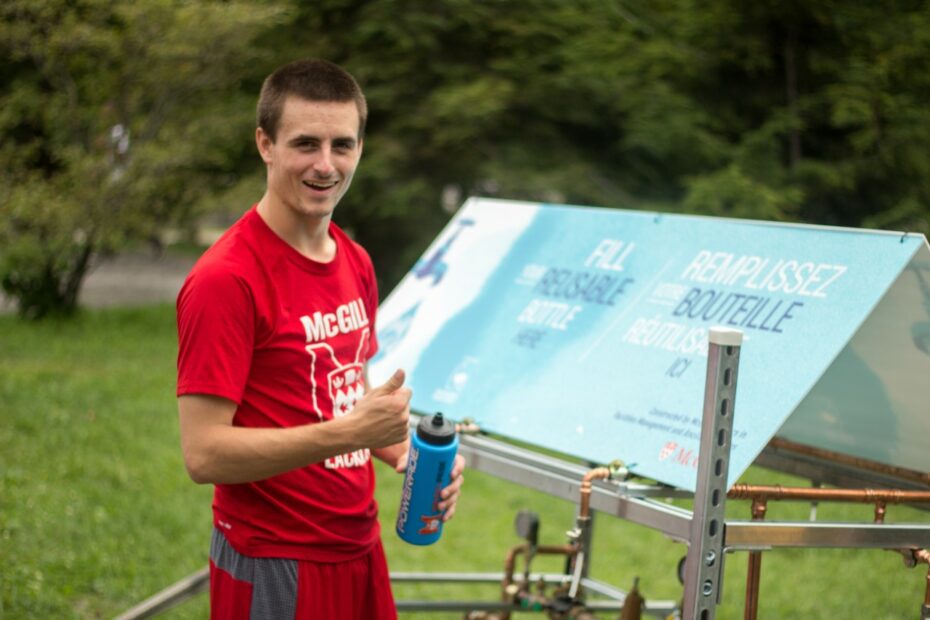 There are few times when Montreal is as alive as it is during the final weeks of summer. Every year at the end of August, new and eager minds begin pouring into the city to mark a new academic year, coming together for the well-established orientation events. Of particular interest to many students is Frosh, an event held by student volunteers in each faculty designed to create a fun environment for incoming students.
In past years, this fun has taken its toll on our campus and environment. With around 7,000 students entering McGill every year, Frosh and orientation can create large amounts of unnecessary waste. Like many things on campus, this is changing. Thanks to student Sustainability and Inclusivity Frosh coordinators, this year all nine faculty Froshes have undergone Sustainable Event Certification, each receiving a Gold-level certification for their sustainability commitments.
Commitment to offsetting greenhouse gas emissions
The McGill Sustainable Events certification program is an initiative from the Office of Sustainability that provides consultation, training, and resources to encourage and support more responsible events at McGill. The program focuses on improving an events' carbon footprint, waste management, inclusivity and diversity, and reducing accessibility barriers.
"Being sustainable is important. It can be easy to urge with words how we must take action, but it can also be easy to forget that we also have the power to take action," said Henry Ang Ri Lee, a Frosh leader for the Macdonald Campus Frosh. "Through the Sustainable Event Certification and as a Frosh coordinator, I have the ability to encourage sustainability [at McGill and beyond]."
The nine faculty Frosh groups that prioritized getting sustainable event certification this year are: Management, Arts & Science, Physical & Occupational Therapy, Education, Science, Music, Macdonald Campus, Engineering, and Arts. As a part of their certifications, all Froshes committed to offsetting greenhouse gas emissions related to their events, amounting to more than 35.32 tonnes compensated for. The groups also developed and delivered a customized land acknowledgement, while coordinators and leaders received Access Ally training to learn how to create safe spaces for students.
"Event certification is a priority for Froshes because it is very helpful in laying out guidelines and concrete actions we can take to make Frosh more sustainable," mentioned Engineering Frosh coordinator Anushri Pundit. "As a large, multiple-day event, Frosh can have a huge carbon footprint if sustainability isn't taken into consideration. The guidelines of the Event Certification help us reduce the carbon footprint of Frosh and raise awareness within our planning committees on the impacts of our event."
COVID-19: A catalyst for change
With the COVID-19 pandemic resulting in Frosh being remotely based this year, many aspects of Frosh – and sustainability – had to be reconsidered.
"[I think that] the pandemic gave a lot of us an opportunity for change," added Sophie Mathis, Music Frosh coordinator.  "I wanted students to know as soon as they are welcomed to McGill our high standards for sustainability. Certification is important because it continues to show the students of McGill that we care for the world around us."
Thanks to this group of youth organizers, another aspect of our community is being transformed for the better, as well as introducing the sustainable community of McGill to new students.
When asked what Arts Frosh coordinator Stephanie Zhou was hoping to impress upon incoming students, she stated: "I want new students to know that there's an entire office at McGill dedicated to sustainability. There is always a way to make events more sustainable and the Office of Sustainability can help you with that!"
To learn more about sustainable events certification and the Office of Sustainability click here.