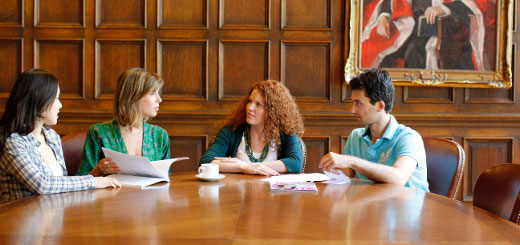 By Neale McDevitt
While graduate students possess specialized skills related to their scholarly work and research, not all of them have the soft skills needed to seamlessly transition from the classroom to the boardroom or to integrate themselves into the work place. These competencies include everything from interpersonal and leadership skills to career search and career advancement strategies.
"It is a highly competitive world and it's simply not enough to get a 4.0 grade point average and be at the top of your academic discipline," says Tom Fullerton. "Companies also expect you to come equipped with a set of soft skills – a certain emotional intelligence – in order to navigate the complex social structures of the workplace. How do you resolve conflicts? How do you work with people who have different personalities of leadership styles? In short, how well do you get the job done?"
Fullerton is spearheading SKILLSETS' Leadership Project after, earlier this fall, Teaching and Learning Services was awarded a $90,000 grant from the "Entente Canada-Québec relative à l'enseignement dans la langue de la minorité et à l'enseignement des langues secondes" to continue the Leadership Project it piloted last spring at Macdonald Campus. The pilot, led by McGill's Leopold Fellow, Prof. Elena Bennett, set the foundation for the project.
SKILLSETS provides professional development training to graduate students, offering over 220 workshops annually to graduate students. Topic areas range from applying for Tri-Council funding to understanding issues of discrimination while working and studying in cross-cultural environments.
The goal of the SKILLSETS program is to ensure that graduate students will be well prepared to move forward within the fast-paced, interconnected, multidisciplinary, multi-cultural and team-based workplace environments that characterize today's work environment. This was highlighted at the Senate Open Discussion on graduate education on Nov. 23.
Along those lines, Fullerton is leading the efforts to create a suite of leadership and communication learning opportunities. Fullerton has hired three graduate students to assist in developing workshops, creating support material, and researching what is being done at other universities in terms of promoting these types of professional skills.
Fullerton says people often underestimate the importance of communication skills. Graduates who can communicate their research effectively to both academic and public audiences are better positioned to secure funding and employment, he says.
Those skills can be divided into internal and external communications. "Internal communications would be things like team-based communication, so everything from project management all the way down to interpersonal communications," says Fullerton.
One of the important aspects of external communications is the ability to communicate research simply to people who may not have the specialized knowledge and may not understand the terminology normally used in the lab or research context. "For example, people looking for a loan to start a business have to be able to translate complex information and present it to bank officials," says Fullerton. "These are critical moments in a person's career."
For all his enthusiasm for the project, Fullerton is also a realist. He understands that not everyone is as open to learning how to nurture interpersonal relationships with co-workers as others. "It is a harder sell in the sciences to develop a student's ability to reflect critically on their learning and on their professional growth and to set goals for themselves. Journaling doesn't go well over well in the hard sciences," he says. "But if you are going to improve the ways in which you manage your team then it does take a bit of awareness of those kinds of strategies. Welcome to the modern workplace."
Fullerton says that in order to create the best product, he and his team "cannot design and develop in a bubble." It requires the input and expertise of a wide range of people.
"I'm reaching out to NSERC CREATE Grant holders and we are partnering with nine different groups on campus as well as Concordia and UBC," he said. "We're trying to bring in as many partners as possible who are working with graduate students and who are at the cutting edge of professional development. These are the future leaders in their field and we want to develop something that will complement their training, something that will allow them to reach their full potential."