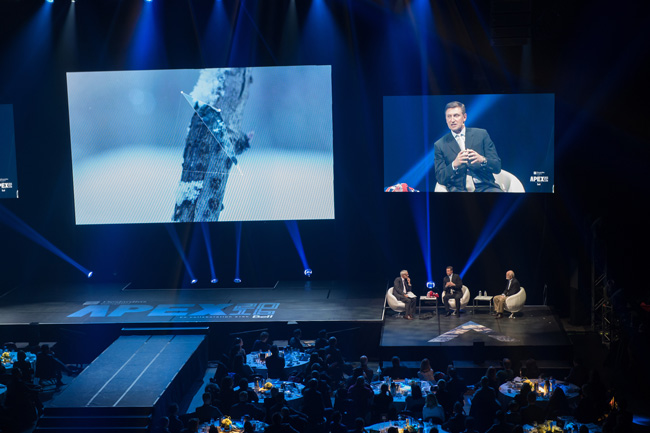 By McGill Reporter Staff
On Feb. 24, some 3,000 industry professionals and 300 Desautels students gathered at the Bell Centre to listen to distinguished leaders share their experiences and offer advice on leadership, negotiation, teamwork and communication. Wayne Gretzky, Scotty Bowman, Marc Bergevin, Lise Watier and Patty McCord of Netflix, were just some of the many high-profile speakers who participated in APEX 2016 — a new business conference created by evenko's Brent Steer (BCom'09).
"The story is more important than the words," said Jon Favreau, APEX speaker and former speech writer for Barack Obama. Favreau offered the audience five pieces of advice on effective communication from his experiencing working for the U.S. President.
The Desautels Faculty of Management was the official educational partner of APEX. With a pedagogy built on the Reflective Mindset conceived by Professor Henry Mintzberg, conference participants were asked to reflect on their experiences and share their thoughts with fellow attendees during key interactive moments. Desautels students in attendance were eager to network and gain valuable insights into management skills and styles as they prepare to enter the business world.
"I thought the advice on communication was really valuable and applicable to work life and personal life," said BCom student Megan Kwon. "I also liked how much credit many speakers gave to other people who taught them and guided them along the way, which really demonstrated the importance of appreciating those around you who help shape who you are."
MBA student Jakub Biernacki was particularly inspired by one of the speaking panels: "Marshall Goldsmith was asked what he learned from what Wayne Gretzky had to say about leadership. His answer was 'We all know Wayne Gretzky is the Great One, and he just spent his entire time sitting here giving credit to others for his successes.'"