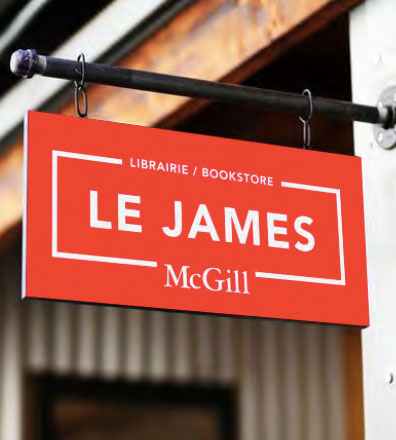 The McGill Bookstore, now called Le James Bookstore, has moved from its McTavish Street location and has opened its first new location as of Monday, Aug. 22.
Located at 3544 avenue du Parc (between Milton and Prince-Arthur), this academic store will offer Course Materials and Lab Supplies, General Books, Stationery and other things students need for class, including a used book buyback service. Hours of operation will be: Aug. 22-31 (Monday-Friday) 9 a.m. to 5 p.m., and Sept. 1-24, (Monday-Friday) 9 a.m. to 8 p.m. and Saturday 10 a.m. to 5 p.m.
Continuing Studies Course Materials will be sold at 680 Sherbrooke Street in the basement level. The operating hours will be September 1-24 (Monday-Friday) 11 a.m. to 6 p.m.
New pick-up locations for online purchases
The bookstore revamped its web store to include more products and features. As usual, students can order books online simply by entering their course code and selecting from a list of course materials. The bookstore is introducing the added convenience of picking up online purchases at one of three locations during the busy fall period. These are:
Parc Ave. store: Monday – Friday, 9 a.m.- 8 p.m., and Saturday 10 a.m.- 5 p.m. (September 1 – 24)
Plus two additional temporary locations from August 26 to September 24, inclusively:

SSMU on McTavish Street, Room 435 (4th floor): Monday-Friday, 10 a.m.- 2 p.m.
McIntyre Building, Room 340 (3rd floor): Monday-Friday, 10 a.m.- 2 p.m.
Gift and contest for anyone ordering online
The bookstore wants everyone to experience the convenience of ordering online and saving time. Everyone ordering their course materials online between August 22 and September 23 will get a free McGill water bottle (while supplies last), and a chance to get one of 10 prizes to win their books for free. Full contest details can be found at lejames.mcgill.ca.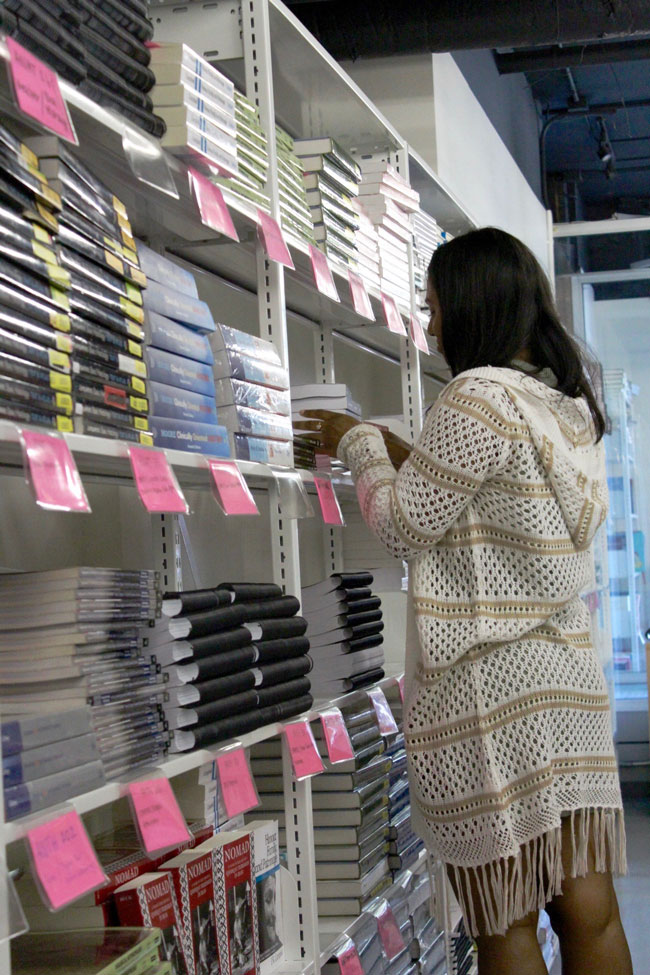 The Parc Avenue store is only steps away from campus and there are several ways to access it whether by foot, bicycle or public transportation. To mark the opening, bookstore staff will be in various locations during back-to-school week (Aug. 29 to Sept. 2), handing out ballots to give students a chance to win one of three iPads.
Students can look for the bookstore staff at five key locations, pick up a ballot, fill it out and drop it in the ballot box at the Parc Ave. store. Ballot locations will be: at Service Point on McTavish Street, at the Milton Gates, outside the Carrefour Sherbrooke Residence on Sherbrooke Street, at the Roddick Gates and on Redpath Terrace. Full contest details can be found at lejames.mcgill.ca.
In terms of what else is going on at the bookstore, the second store, located on the corner of Sherbrooke and University, will open its doors in early October. Its primary focus will be to sell general merchandise and all McGill-branded products.
Finally, the trendy Le James pop-up store has been very popular throughout the summer and is still around on campus lower field. For back-to-school, it will have stationery, backpacks etc. Open Monday-Friday 10 a.m. – 4 p.m.