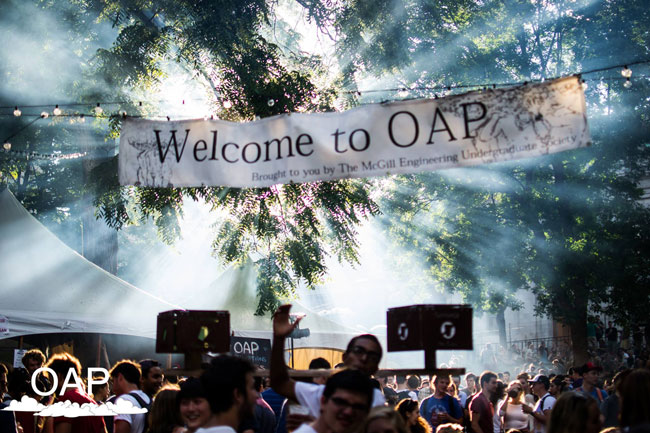 By Neale McDevitt
Open Air Pub (OAP) just keeps getting bigger and better. This year's edition, running from Aug. 31 – Sept. 11, features all the elements that have made it one of the University's most popular events for more than three decades – lots of people, lots of homegrown music and maybe the occasional refreshment. Oh yes, and all the partying is done under the watchful gaze of McGill's favourite trio of nude guys.
"If we're doing our job right, OAP is always at its best," says Ashkaan Mohtashami, one of the event's organizers. "And when that happens, the beautiful community of McGill comes out to relax and enjoy the last few weeks of summer before school gets too hectic. It's the best place on Earth."
Mohtashami, a third-year electrical engineering, with a specialization in biomedical engineering, says organizers are expecting some 5,000 people to take part in the celebrations this year.
Once again, OAP will take place in Three Bares Park (named for the iconic statue of three nude men) from noon to nine everyday except Labour Day weekend (Sept. 5-7).
A huge part of OAP is the live music. This year's lineup features over 20 bands made up of current McGill students and alumni, as well as staff members. From Aug. 31 – Sept 4, the music begins at 5 p.m., from Sept. – 11, the bands hit the stage beginning at 6 p.m.
OAP regulars may notice a slight increase in ticket prices (an extra $0.50 per ticket) – the first such hike in over 10 years. All profits of the event go toward the Engineering Undergraduate Society (EUS) and help in funding its many clubs and design teams which often need expensive parts and equipment to operate. All profits from OAP Lite (held each spring) go to the Presidents Choice Children's Charity, an organization that does everything from supporting special needs children to providing nutritious meals for school kids. Last year, OAP raised over $72,000.
"In essence the money is going back to students so they can accomplish things that weren't originally possible – like compete all over North America or even Europe, as the Formula One race car did this past summer," says Mohtashami.
Although OAP attracts primarily McGill students, Mohtashami is quick to point out that everyone is welcome, provided they are at least 18 years old. "OAP is open to everyone," he says. "McGill staff are welcome as are any non-McGill members. Anyone can enter as long as they come with someone who has a valid McGill student ID."
While OAP's main purpose is to give people a chance to relax and have fun, organizers always stress the importance of responsible partying. Food and water is available and bartenders have been trained on recognizing and dealing with people who may have had too much to drink. The venue also makes it possible to control the flow of people so that they never exceed more than 500 people.
"When it comes to which McGill department we work the most closely with, Security is without a doubt the one," says Mohtashami. "For OAP, we meet with them in May to begin talks of how we can improve the event for the coming year. We also talk about anything that went wrong during the previous event (in this case OAP Lite), and create measures to diminish the risk. The event could not run without the help of McGill Security."
For more information, go to the OAP website or join the Facebook event.