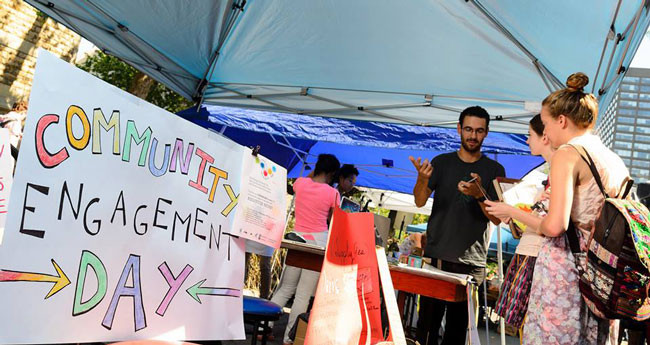 Community Engagement Day enters fourth year
By Adam Finley
As the McGill community settles into the rhythm of a new semester, people across the University are getting ready for another day of rolling up our sleeves and getting involved in our city. With just a few days to go, the Social Equity and Diversity Education Office (SEDE) is set to host the 4th annual McGill Community Engagement Day on and around Oct. 1. This year's event will be especially festive as the SEDE office celebrates its 10th year of working to foster a more inclusive and connected campus.
Connecting campus to the Montreal community is a central goal of SEDE and Community Engagement Day (CED). Every October, CED invites students, staff and faculty to participate in a series of volunteer activities, workshops and public discussions with community organizations on and off campus. Whether it's participating in a walking tour, discussing issues different Montreal communities face over a home-cooked meal, or sorting through donations, CED builds stronger ties with our fellow Montrealers and gives us insight into the issues our communities face.
"We wanted to take this opportunity to celebrate how far SEDE has come with the support of the McGill community" says Eden Haber, SEDE's 10th Anniversary Coordinator.
There will also be a small BBQ for participants to take a break from their busy day engaging with the community. Over the past 10 years, SEDE has presented numerous programs, volunteer projects, and workshops to work towards a more inclusive campus community including Indigenous Awareness Week, Alternative Spring Break, Homework Zone, and countless workshops on equity and diversity.
While supplies for the BBQ might be limited, there is no shortage of interactive and immersive volunteer projects to take part in throughout the day, as well as a few before and after Oct. 1. Projects range from a workshop on stigma with the Native Youth Sexual Health Network, to a community dinner and discussion with the Afghan Women's Center, to preparing safer-sex kits at AIDS Community Care Montreal, and so much more.
Also on lower field during Oct. 1, McGill and Montreal community members are invited to join in the CEDTalks public discussions, which cover topics ranging from the experiences of racialized people in Montreal and Quebec, effects of government funding cuts on community organizations, and a critical reflection on how best to engage with the broader community coming from a university.
With over 30 volunteer activities, open public discussions, and the kickoff of SEDE's 10th Anniversary, there is plenty to celebrate on Oct. 1.
To register and for more information on Community Engagement Day, visit the CED website.
 Related stories
Community Engagement Day 2014: McGill community pitches in
Helping strengthen the ties that bind McGill to Montreal
Don't sit on the sidelines: Community Engagement Day needs you