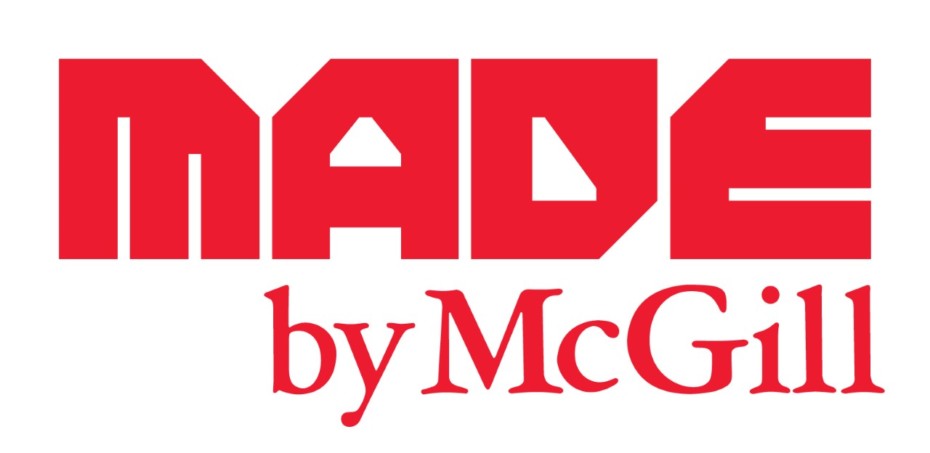 This morning, Sept. 26, 2019, McGill launched a bold, $2-billion fundraising campaign at an event on lower campus. As Principal Suzanne Fortier noted in her message to the community, the campaign marks the debut of "Made by McGill," the University's "new creative platform for telling the incredible stories of our bright students, accomplished alumni, and outstanding faculty and administrative and support staff." The McGill Reporter spoke with Louis Arseneault, Vice-Principal (Communications and External Relations), and Marc Weinstein, Vice-Principal (University Advancement), about how the Made by McGill platform was developed, and how it will support the fundraising campaign and other initiatives.
What is Made by McGill?
Louis Arseneault: It's a memorable way to present to the world the unique people who make up McGill and who create the McGill experience. You can think of it as having two parts. The creative platform is the bold look and feel – the Made by McGill mark, the way the photos look, the colours. And then there is the narrative – the story of what McGill is about, what we stand for, the shared characteristics and values that unite the members of our diverse community.
How would you sum up the idea of Made by McGill? What are these shared characteristics and values?
Marc Weinstein: In my job, I meet a lot of incredibly accomplished alumni. They are determined, high-achieving and passionate about making a difference. Most of them feel that their experience at McGill – the people who influenced them, the experience of studying and living in Montreal, the challenging intellectual environment – shaped who they are.
LA: McGillians are curious and independent. They don't take ideas at face value – they test them. They are willing to keep trying in the face of big challenges like climate change, until they make a difference. The McGill in Made by McGill is about those people and the experience they create. What I like about Made by McGill is that it becomes more layered the more you think about it – we are made by our community, but we also make it. It's great for storytelling.  
Why do we need something like Made by McGill?
MW: We knew that we were heading into a fundraising campaign, and its success partly depends on standing out and being noticed. I had alumni telling me all the time that they didn't hear enough about McGill.
LA: And a year following the campaign launch, we will be starting celebrations for McGill's 200th anniversary. It was important that we develop a common creative platform that would serve our needs for both of these milestone events, while taking advantage of opportunities to stand out and be noticed. McGill is a huge place, and like most universities, it is fairly decentralized. Having a common platform means our communications will be more consistent and cohesive, and so our audiences will remember our stories much better.
And look at the context right now: top universities are competing for the best students, professors and administrative staff. We are overwhelmed by information coming from our smart phones and the Internet. We wanted a way to stand out. I believe that the McGill community isn't like any other university community. It's unique. We wanted a way to convey that.
How did you start the process?
MW: It was interesting – a lot of people inside the University told me that McGill is known around the world. But the fundraisers and recruiters out on the road were reporting that McGill could benefit from increased visibility.
LA: So we first did research to see what was really happening. Opinions are fine, but they are only anecdotal. We hired Leger, a well-known market research firm, to conduct qualitative and quantitative surveys of nearly 8,000 McGill students, faculty, staff, as well as prospective students and parents, alumni, and business leaders. We talked face-to-face with small groups to drill down a little further. We asked everyone what they thought of McGill, what differentiates it, what its strengths are, for example. For prospective students and parents, we asked what criteria they looked for in a university, and whether they had heard of McGill.
MW: And with alumni, we also asked about their connection to McGill. We did focus groups with graduates of all ages, which allowed us to hear how perceptions of the McGill experience change over the course of one's life and career.
What did you find out? Were there any surprises?
LA: We learned that prospective students and parents who know McGill think it is a great university. But outside Canada, the challenge of being noticed is much greater, due to increased global competition. We also realized that we would gain by articulating in a more compelling way who we are. The surveys of McGillians gave us a good idea of that, and confirmed what we have heard over the years from people around the University about what makes us special.
MW:  We also learned that McGill alumni, students, faculty and administrative and support staff were very proud to be part of our community. Alumni, in particular, are our best advocates – I knew that most are fiercely loyal to McGill, and the research confirmed that. They spoke of how their time as students gave them the courage and resilience to become leaders in their professions and communities, and that it truly had a defining role in shaping who they have become.
And how did you develop the creative platform?
LA: We did a call for proposals, and chose Sid Lee, a world-famous creative agency headquartered in Quebec. It was important to us to have people working with us who understood Quebec and who understood the world.
MW: There are a lot of McGill alumni at Sid Lee, and the team working on this project was full of them. They really valued their McGill experience, and wanted to give back. It was a passion project for them, as well as an opportunity to work with an institution that is among the best regarded globally in higher education.
LA: The Sid Lee team got to know the data we gathered, and gathered more of their own. They looked at universities around the world, they read widely, and most importantly, they talked to stakeholders around McGill. Then they brainstormed, and came back to us with some great ideas of how to position the University. We talked it through with them and focused on one direction. Sid Lee developed it, and started showing it to many stakeholders at McGill.
Made by McGill is being launched with the Campaign for Our Third Century. Will it be used only for fundraising?
MW: Not at all. It will serve many purposes.
LA: We have a number of needs beyond the Campaign: the Bicentennial celebrations, recruitment, general visibility, etc.  Made by McGill was created as an umbrella to support all these initiatives.
Does Made replace McGill's logo? Is it a new brand for McGill?
LA: It's not a new brand or a new logo – it's a creative way of expressing the unique character of McGill. Made is only used for specific purposes – advertising, marketing, the Campaign, the Bicentennial, and celebrating the people who make McGill.
For all other communications, we continue to use the University's existing visual identity. We've refreshed it with a new McGill font, but everything else – the logo, with its wordmark and shield, and our McGill red and secondary colours—is the same.
Louis, you said earlier that using Made by McGill will make communications more consistent and cohesive. McGill faculties and units have different mandates, and audiences. Are you worried that one creative platform could make communications feel the same?
LA: Not at all. Consistency and cohesiveness don't mean sameness. One of McGill's great strengths is that we have a diverse, even eclectic community. We knew Made by McGill needed to be an umbrella – something that brought out what we share, but that also allowed faculties and units – and people – to tell their unique stories.
There are things that we have in common – the mission of the University, for example. In various units at McGill, we may work more on different aspects of the mission and support it in different ways, but it is a common purpose.
Watch the Made By McGill Anthem video