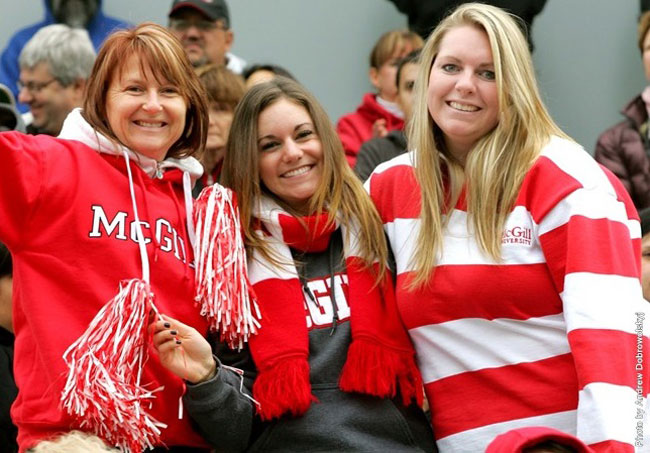 By Andrew Mullins
Whether your tastes run to quirky CBC personalities or young alumni "pitch fest" competitions, a day-in-the-life of Macdonald students or helping prospective students to choose McGill, there is something for everyone in the newly partnered Homecoming Celebration Weekend and Open House.
The celebration takes place Thursday through Sunday (Oct. 22-25), and features activities on both campuses for the whole McGill community, as well as dozens of special reunions for returning alumni, including the Golden Jubilee Reunion of Class of 1965 and the 90th Anniversary of the Scarlet Key Society.
Graduates and their families, parents and friends of McGill are coming back to Montreal from across Canada, as well as the US, UK, France, Italy, Switzerland, Lebanon, South Africa, Australia, India and beyond.
In addition to the new partnership, there's a new approach that largely reflects the changing demographics of McGill's alumni base.
"We're excited to be expanding Homecoming beyond the class reunion model," says Gabrielle Korn, Managing Director, Alumni Relations and Annual Giving. "We're looking to bring in even more of the McGill family, whether they're students and young alumni or older grads coming back after years of being away from Montreal. And we're welcoming parents of current and prospective students to campus too.
"For the first time, we've partnered with our colleagues in Enrolment Services on Open House. So on Sunday the campus will be more accessible than ever for Homecoming participants who can meet current students and professors in their element, visit alumni lounges, and even engage visiting students and their parents in conversations about choosing McGill and Montreal for their studies."
The always popular Leacock Luncheon returns with some tweaks and changes for the revamped weekend. Legendary Leacock wag and moderator Derek Drummond, McGill emeritus professor of architecture, has turned in his whoopee cushion, retiring after 25 years and 75 luncheons roasting VIP guests and Leacock lecturers alike in Montreal, Toronto, Calgary and Vancouver.
This year's emcee Cynthia Price, past president of the McGill Alumni Association and current governor, will welcome author and radio personality Jonathan Goldstein of CBC's WireTap and NPR's This American Life. Goldstein will be sharing his wry, oddball humour and existential storytelling style – he's been called a combination of Louis C.K. and Jean-Paul Sartre. The former McGill student comes to campus having just wrapped up 11 years of his acclaimed radio show – and, fans will be pleased to hear, with a new podcast project in development.
Young alumni and students will find events geared specifically for them. The Entrepreneurship Pitch Fest features student and alumni groups pitching their start-up ideas in a Dragon's Den-style format hosted by Phil Telio, founder of the International Startup Festival. The panel of high-profile judges include Danièle Henkel from Dans l'oeil du dragon; Alice Dinu, co-founder of the Oohlala College App; Lauren Rathmell, founder of Lufa Farms; and Hicham Ratnani, co-founder of Frank & Oak.
The Homecoming football game has the Redmen taking on their cross-town rivals, the Concordia Stingers – in a year that celebrates the 100th anniversary of Percival Molson Stadium – and features a family-friendly tailgate party to kick things off.
The Schulich School of Music is playing a part as well with a Rush Hour Jazz concert on Friday featuring music grad Andrew Boudreau and faculty member Jeff Johnston in an exciting piano duo, and many other Faculties are hosting receptions with the Deans and other gatherings. And on Sunday the Golden Violin Competition will feature students in a public recital vying for a cash award of $25,000, concert engagements and a 14-karat gold lapel pin in the likeness of the Golden Violin donated to McGill by alumnus Seymour Schulich.
The Redpath Museum and its expert staff will welcome parents and other guests for tours of their dinosaur exhibits, Egyptian mummies, and biodiversity and mineral collections. And at Mac Campus, visitors can tour the farm, the Morgan Arboretum, and the Mary Emily Clinical Nutrition Research Unit.
Popular public lecturer Jason Opal, associate professor in the Department of History, will give a talk on "The Struggle for Liberty and Equality: American Patriots and Canadian Loyalists from the Revolution to the Rebellions." And there's more history in store with a reading of the letters of Seneca by Denis Brault, Professor of Latin and Greek at the Humanitas Foundation, accompanied by cellist Vincent Bélanger.
The Homecoming tradition at McGill dates back to 1921, when McGill's first alumni reunion took place for the University's centenary, having been postponed for years following the outbreak of World War I. 94 years later, several thousand alumni – from the University's most recent graduates to members of the Class of 1945 – will return to campus and enjoy its open doors.
"We can't wait to welcome everyone back," says Korn. "It's going to be a fantastic time."
To see a complete list of Homecoming Celebration Weekend events, visit the Homecoming website.