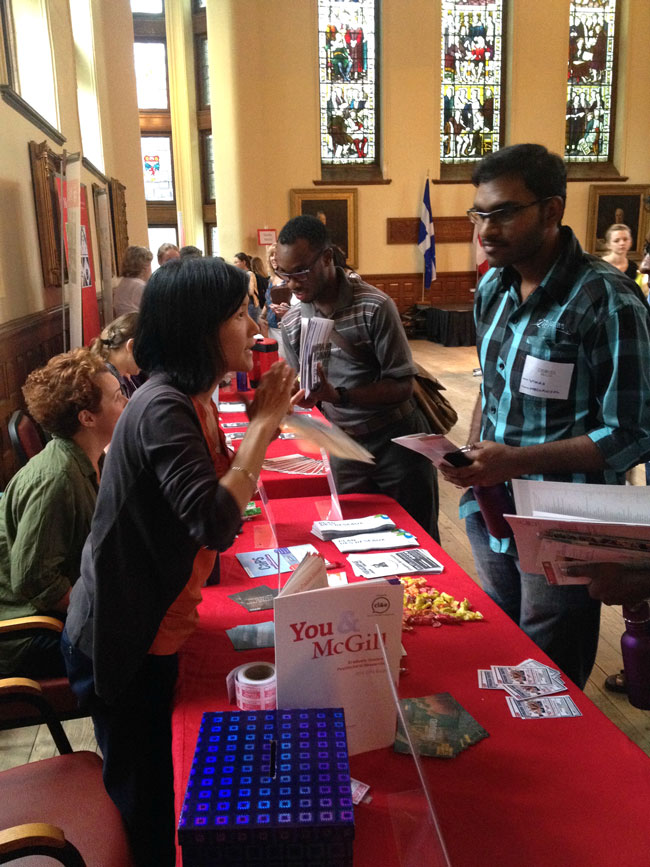 By Chloe Garcia
With the changing of the leaves, you might have a noticed a few more graduate students on campus – 2,700 more.
This year, the University welcomed its incoming graduate students and postdoctoral fellows at the historic and breathtaking Redpath Hall, during Discover McGill's Welcome Event hosted on Sept. 9. Representatives from dozens of McGill services gathered to greet new students, answer questions, and most importantly, make them feel at home in the University.
The Welcome event attracted over 800 students from various faculties who visited Redpath Hall in three waves. During each one, the excited chatter of attendees would fade as McGill's Dean of Graduate and Postdoctoral Studies, Dr. Josephine Nalbantoglu, and Provost, Dr. Christopher Manfredi, took the stage to introduce themselves, and to offer light words of advice, from "supervision is the most important relationship" to "go to Thomson House," McGill's Post-Graduate Students' Society headquarters and local graduate hangout. Attendees then transitioned to Thomson House, where graduates had a chance to connect and enjoy delicious food in the cozy rooms or on its airy terrace.
The Discover McGill Welcome Event was a piece of a larger new initiative, McGill's Graduate and Postdoctoral Orientation Week, which offered a variety of workshops and social events designed to help students thrive on academic, social and personal levels for the duration of their studies.
"This year represents a shift and expansion of graduate orientation offerings through the introduction of Academic Expectations week, which provided students with an opportunity to prepare for academic challenges, and integrate into McGill and Montreal," explained Leslie Copeland, the first-year coordinator at Student Services' Campus Life and Engagement.
Various units, including the Post-Graduate Students' Society, Campus Life and Engagement, SKILLSETS, Career Planning Service (CaPS), and Graphos, collaborated to promote a unique framework for student success during Orientation Week.
According to David Syncox, the Graduate Education Officer at SKILLSETS, "orientation is the start of the integration process and whether at the department or University-wide level, we work to give graduate students the best chances for success by focusing on three core areas: academics, well-being and student life, and career and professional development." This framework for success emerged from each of the Orientation Week offerings.
Discover McGill's Academic Expectations week introduced 26 new events and supplied incoming students and fellows with several informative sessions on academic writing, funding, library research, and finances. Newcomers also had the chance to experience Montreal, from its restaurants to its bars and local sites of interest, during the various PGSS activities.
"The focus of the new programming was to provide students with a strong foundation of on-campus resources for academic and personal success, have workshops for funding and fellowships, and present students with opportunities to get involved and network," says Sahil Kumar, the PGSS Internal Affairs Officer. "Getting involved can be a way to decrease stress, help build your social network, improve your CV, and help you to develop new or burgeoning skills. With Graduate and Postdoctoral Orientation Week, we wanted to ensure students thrive during their time at McGill and are welcomed into the community."
Numerous current McGill students also became involved during Orientation Week, offering their time and support to ensure incoming graduates felt at home and sufficiently prepared to begin their academic journey. In one key event, "What I wish I knew when I first started grad school," a panel of five graduates offered tips and strategies regarding supervision, time management and Montreal's best offerings, to a room packed with 150 eager newcomers to McGill. Several volunteer graduate ambassadors also visited departmental orientations to offer their peers a short presentation of McGill services, while other students actively participated in the organization of workshops and social outings.
Together, Discover McGill's Welcome Event, Academic Expectations Orientation Week, and the PGSS social events gave new and returning graduates a real taste of the McGill community. The vision behind McGill's Orientation events trifecta, to provide students with resources for their success that extend far beyond the academic mandate, was successfully met through the various, well-attended offerings from Aug. 31 to Sept. 11.