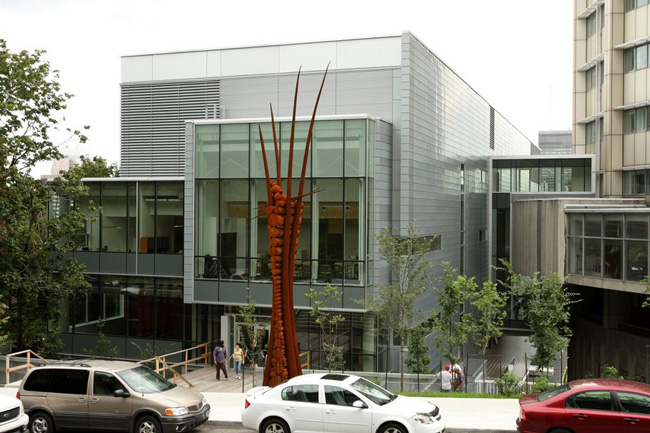 Pioneering research at McGill's Goodman Cancer Research Centre gets boost 
Source: McGill Newsroom
The 4th Goodman Cancer Research Gala has raised more than $2.1 million to fund foundational research, more effective diagnostic tools and the development of new treatments and therapies for cancer patients. The Gala was held on Sunday, June 5 in Montreal, bringing together more than 800 guests in support of McGill's Rosalind and Morris Goodman Cancer Research Centre.
The biennial Goodman Cancer Research Gala, first held in 2010, was inspired and championed by the late Rosalind Goodman, a McGill graduate, and her husband Morris. Since its inception, it has raised more than $8.5 million for cancer research and has helped raise the profile of one of the world's most renowned cancer centres while galvanizing philanthropists in the Montreal community and beyond.
Rosalind Goodman lost her personal battle with cancer in August 2014, just weeks after the third gala, and this was the first gala to take place since her passing.
"The McGill and Montreal communities remain committed to Rosalind Goodman's vision of supporting the important work being done by the internationally-acclaimed researchers at the Goodman Cancer Research Centre," said McGill's Principal and Vice-Chancellor, Suzanne Fortier. "This support directly benefits the research carried out at the Goodman Centre and contributes to breakthroughs in understanding, diagnosing and treating cancer."
"In the eight years since the Goodman family made its transformative gift to cancer research at McGill, the Goodman Cancer Research Centre has made remarkable advances in a number of key areas," said Dr. Morag Park, Director of the Rosalind and Morris Goodman Cancer Research Centre. "The funds raised from the 2016 Gala and those that we continue to raise beyond the Gala from generous donors will support key research projects, the recruitment of top scientists, investments in specialized equipment, fellowships to help train the Centre's next generation of scientists, and public outreach activities to share information with the community."
At this year's Gala, three of the Centre's renowned researchers were presented with prestigious awards in recognition of their outstanding work.
Dr. Ian Watson, Assistant Professor in McGill's Department of Biochemistry and a new recruit to the Centre, was presented with the Future is Bright Award for his leadership in melanoma genomics research.
Dr. Nahum Sonenberg, James McGill Professor in the Department of Biochemistry, was presented with the Leadership Impact Award for his longstanding leadership in cancer research. Dr. Sonenberg was the 2014 recipient of the prestigious Wolf Prize, generally regarded as a precursor to the Nobel Prize.
Dr. Nicole Beauchemin, Professor in the Departments of Biochemistry, Medicine and Oncology, was presented with the Limelight Award for her commitment to colon cancer research and her dedication to the Centre's public outreach forums.
"The Goodman family is deeply appreciative of the community's support for this gala and the ongoing work of the Goodman Cancer Research Centre," said Morris Goodman. "But the community's responsibility does not end with the close of the gala. Our hope is that this serves as a catalyst for more and more people to get involved and support the research needed for breakthroughs in the fight against cancer."