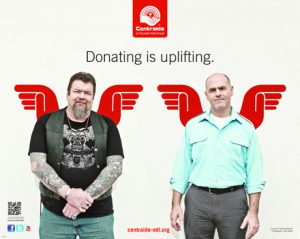 By Neale McDevitt
You've seen this year's Centraide posters that have fitted ordinary people with stylized angel wings made from the iconic Centraide hand. The slogan simply reads "Donating is uplifting."
But not everyone is an angel, as organizers of last week's Centraide fundraising breakfast at the Desautels Faculty of Management found out. The Nov. 22 event, which was held in the lobby of the Bronfman Building, raised some $1,000 to support Centraide's mission.
"It was really wonderful because it was everyone – students, staff and faculty – just reaching into their pockets and giving what they could – five, ten, twenty dollars," said Celine Junke, Development Officer at Desautels and one of the event's organizers.
But when the event was over and volunteers were cleaning up, Junke realized the cash box was missing. It had been stolen. "Stealing is bad enough, but to steal from a charity – after everyone had been so generous… It was heartbreaking," said Junke.
Enter Mark Smith. Smith (BComm '82) is the president of Pandion Investments Ltd., a private investment management company, and a member of the Desautels International Advisory Board. In a phone call with Desautels Dean, Peter Todd, soon after the incident, Smith was told of the theft. His initial reaction was one of disbelief. "It made me nauseous," said Smith. "It was that visceral."
Without hesitating, Smith asked Todd how much had been in the cash box and immediately sent over a cheque to cover the amount. "It was just one of those things," said Smith, downplaying his philanthropic act. "It was a terrible injustice for them to get robbed after all that good will and hard work. I am fortunate enough to be in a position where I could fix that wrong – thanks to the great education at McGill, so I did what I could."
But Smith balks at any suggestions he should be fitted for the Centraide wings because of this gesture. "The focus should be on all the people who poured their heart and soul into the event, and on the people who made the contributions. They had done all the hard work, not me.
"In the end, you have the choice to stand by and do nothing or step up and do what you can to make the world a better place," said Smith.
For Junke, Smith's decisive action has restored her faith in people. "It has nothing to do with the dollar amount," she said. "Mark's generosity, especially under the circumstances is heartwarming and I think it really captures the spirit of everything Centraide does which is people helping people."
Centraide supports some 370 agencies throughout Montreal, the South Shore and Laval and helps about half a million people who need help in a wide variety of ways, under such umbrella issues as poverty, living conditions, the family, academic success and food security. The overall goal of this year's Greater Montreal Centraide campaign is $60 million, $2 million more than last year. McGill's target for its own campaign this year is $450,000.
The 2012 McGill Centraide Campaign is quickly drawing to a close. and McGillians are being asked to give whatever they can to support this important organization. To learn more about the McGill Centraide Campaign, including how to make a donation, go here.