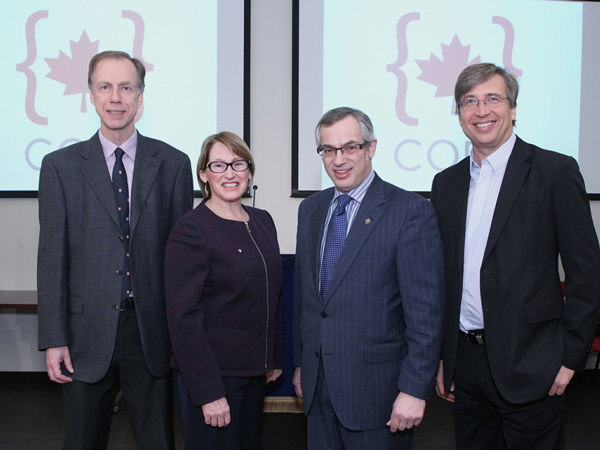 By James Martin
Treasury Board President Tony Clement stopped in at McGill's Macdonald Engineering Building on the morning of Jan. 31, to encourage McGill students and data enthusiasts to take part in the Government of Canada's Canadian Open Data Experience (CODE) appathon. The competition will take place Friday, Feb. 28 to Sunday, March 2.
Teams will have 48 hours to design and code a user-friendly app using their pick of more than 200,000 federal government open data sets, covering everything from fuel consumption to aquatic invasive species. Toronto's XMG Studio is hosting the competition, but teams can compete remotely from anywhere in Canada. A panel of celebrities and venture capitalists will evaluate the top 15 apps during a live grand finale on March 28, with the best three teams receiving cash and prizes – and the possibility of seeing their work released commercially. CODE is the federal government's first-ever national hackathon.
Mr. Clement sees CODE as part of the worldwide movement to "open the vault of government information, placing it out there for citizens." In this case, he hopes to see all that data harnessed to create "useful apps that allow Canadians to save time, or save energy, or save money in their day-to-day schedules." He cited Transit App, developed by Montrealer Sam Vermette, as an example of one such time-saving app – but noted that there are no limits to the creative ways that CODE teams can mine the treasure trove of data collected by Statistics Canada, Health Canada, Environment Canada and other federal agencies. "We're challenging participants to create the next popular app using our data sets." The list of data sets, with even more to be added before the competition begins, is at data.gc.ca.)
Mr. Clement was joined by Principal Suzanne Fortier and professors James Clark and Gregory Dudek. Principal Fortier noted that highly educated, multidisciplinary software developers – such as those who graduate from McGill's Faculties of Engineering and Science – are in great demand in Canada.
Clark, a professor in Department of Electrical and Computer Engineering, spoke about the great success of his faculty's software engineering program, a relatively new endeavor that graduated its first students in 2006. Professor Clark said that enrollment has increased 70 per cent over the past four years. He welcomes CODE as part of that growing student body's education. "I think it's very important for students to reach beyond the classroom," he said, "and to have these kinds of activities outside of their programs where they get together to work on projects in teams, such as Hack McGill and now CODE. It's where they can put what they've learned into practice."
Professor Gregory Dudek, of the McGill School of Computer Science, added that adrenalin-charged experiences like CODE aren't just fun: They're invaluable preparation for the real world of software developing, where super-caffeinated, sleep-deprived hackathons and code sprints are increasingly part of coding culture.
"CODE doesn't just engage students in something that is emotionally exciting," he said, "it also gives them the resources that help them move forward."
Registration for CODE is free and is now open.