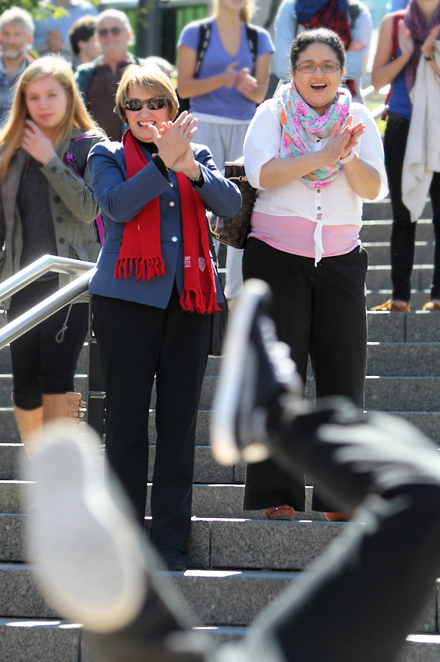 Everything on the menu from Bach to breakdancing
By Neale McDevitt
Putting on a big party can be an exercise in frayed nerves. Planning the food, selecting the right music and making sure everyone is having fun is no easy task. But if Principal Suzanne Fortier was feeling any stress as host of yesterday's open-air lunch for the entire McGill community, she didn't show it, greeting person after person with a handshake and a broad smile.
The square in front of the James Administration Building was packed with hundreds of students, staff and faculty members chatting and noshing on the free sandwiches and Mac-grown veggies. Bach's Cello Suite No.1 fanned out across the scene, performed live by Music professor, Matt Haimovitz.
Even the weather was perfect, noted Fortier in her brief welcome to the crowd. "Just remember one thing," said a beaming Fortier. "Today, there's not a single cloud in the sky over McGill."
And with that, the Principal turned the improvised stage over to Haimovitz while she walked through the crowd, shaking hands and chatting with people.
Elizabeth Kiguta got her colleagues from the McGill Institute of Air and Space Law to snap a picture of her and the Principal. "I can show my parents [back in Kenya]," said the research assistant with a smile. "I wish [Fortier] the very best as Principal. When you're at McGill you feel like you're part of something special and I know she feels the same."
The square, already one of the campus' most popular gathering points, was a hive of activity, as people took advantage of the sunny day to take the Principal up on her University-wide lunch invitation. Even passersby stopped to listen to Haimovitz, grab a quick snack or watch the breakdancing troupe that set up shop later on.
Andrea Guzman came to meet the Principal because she knows what it feels like to be the new kid on campus. "I come from Columbia two years ago, and I was so excited just to be here," said the second-year Science undergrad who also had her picture taken with Fortier. "I just wanted to welcome her to McGill."
For George Subirana, Audit Manager, Internal Audit Department, the event was a perfect opportunity to meet and mingle with both the new Principal and other members of the McGill community. Subirana said he is confident that McGill will benefit from Fortier's leadership. "I think [Fortier] will strengthen our relationships with government stakeholders – provincially and federally – and I think McGill will be in a better position vis-à-vis those partners," he said.
"I'm also hoping we get more free lunches," he said laughing.