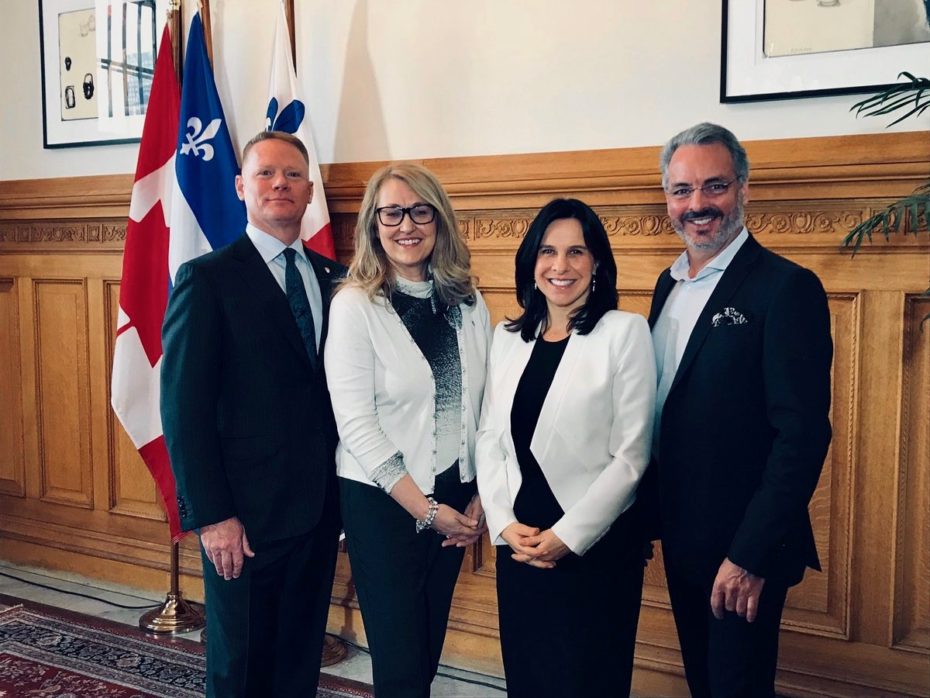 At City Hall on Tuesday, Mayor Valérie Plante announced that her office is taking steps to reduce the impact that air travel by herself and city officials has on the environment – and she challenged all Montreal institutions to follow suit.
"Air travel produces more greenhouse gas per passenger-kilometre than any other mode of transportation. When [city officials] need to travel, we will work to reduce our carbon footprint by minimizing flight distances and number of stops," said Mayor Plante, noting that city representatives took 150 trips last year. "Beginning today, we will offset air travel with the purchase of credits from the Bourse du carbone Scol'ERE program, which will be reinvested in educational greenhouse gas-reduction projects that will have an impact on young Montrealers and their families."
The Bourse du carbone Scol'ERE program funds environmental education for schoolchildren.
Rethinking old habits
Louis Arseneault, Vice-Principal, Communications and External Relations, was one of three community partners who joined Mayor Plante at the press conference.
"McGill is proud to be onboard with the City of Montreal and other major institutions in the fight against climate change," said Arseneault. "The research activities in a university as dynamic and international as ours involve air travel for many of our researchers. From the Arctic to the Antarctic, across all continents, our researchers travel the globe to advance knowledge in all fields. Although these activities are essential to the advancement of science, we are aware that they have an impact on the environment – and we are acting to reduce those impacts."
Representatives from Mouvement Desjardins and C2 Montréal, also were on hand to announce that their respective organizations were committed to offsetting greenhouse gas emissions associated to air travel in an effort to fight climate change.
"I am extremely proud to be here today with great Montreal partners such as C2 Montréal, McGill University and Desjardins Group – who are all committed to climate action," said the Mayor. "Together, we will find new ways of thinking about our everyday habits. I urge all of our partners in the Plan Montréal durable 2016-2020, as well as all Montreal businesses and organizations, to commit to developing programs and policies to minimize and offset their airplane travel."
Responsibility to reduce
McGill emits a total of 56,004 tons of CO2 annually. Of this number, 8,087 tons come from air travel, or 14 per cent. Arseneault said that  working to offset a portion of those emissions is part of a larger, more ambitious plan for the University. "In 2017, McGill made the commitment to achieve carbon neutrality by 2040," he said. "It is a daunting challenge, to be sure, but it is a goal that we feel a responsibility to meet."
As outlined in the Vision 2020 Climate & Sustainability Action Plan (2017-2020), McGill's plan for carbon neutrality includes strategies for campus energy systems, air travel and commuting policies, among other emissions sources. An institution achieves carbon neutrality when the amount of greenhouse gases released is equivalent to the amount sequestered or offset.
Green campus
McGill's sustainability efforts span many years, cross both campuses and involve students, staff, faculty and administrators. From the ongoing success of the Sustainability Projects Fund (established in 2010) and Staff Gardens initiative, to newer programs such as the McGill Sustainability Systems Initiative and the Refill McGill campaign, the University continues to find novel ways to improve, and reward, green initiatives.
The University's sustainability efforts have not gone unnoticed. Last month, on top of celebrating hosting its 100th certified sustainable event, McGill became the first Canadian university to earn Communauté bleue designation from Eau Secours.
As well, in February, the Government of Canada announced it was supporting McGill's efforts to reduce its carbon footprint by investing $1.8 million to make upgrades to heating equipment and distribution systems that will significantly reduce fuel consumption and emissions.