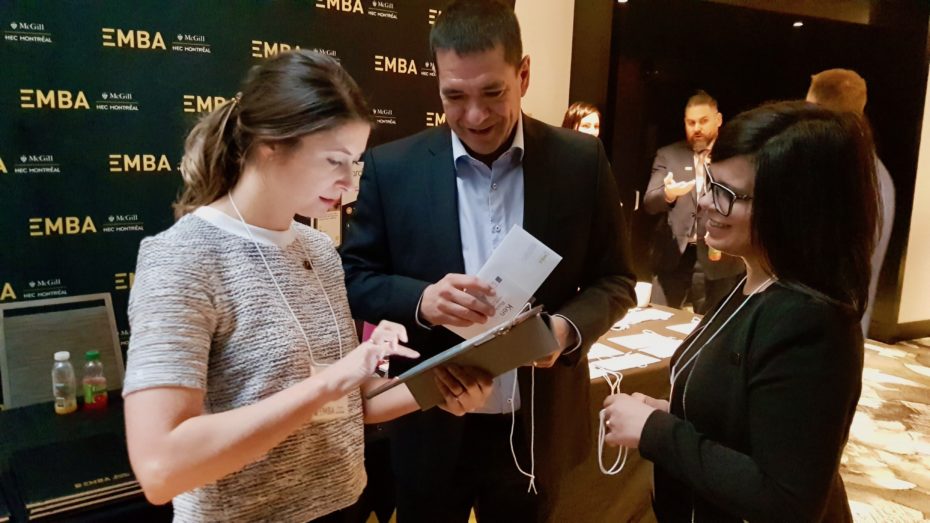 The McGill-HEC Montreal Executive MBA program proved its dedication to its 10th Anniversary Celebration's theme of Building Future-Readiness by becoming the University's 100th Sustainable Event.
The celebrations, which took place on March 14 and 15, were deemed Gold, the highest level of certification, by integrating best practices such as incorporating a land acknowledgement for Indigenous territory, reducing food packaging waste and committing to offsetting greenhouse gas emissions related to travel.
"We believe that sustainability and social responsibility are crucial components of future-readiness," said Alain Pinsonneault, the program's co-director. "The executives who study in our program share this commitment to ensuring a sustainable future."
Encouraging organizers to make events more inclusive, accessible and environmentally-responsible
McGill's Sustainable Event Certification Program  launched in the summer of 2017 as a project coordinated by two students and funded by the Sustainability Projects Fund (SPF). The initiative has since transformed from a list of best practices into a full-fledged certification program with resources, an interactive website and trained student support team.
"By introducing event organizers to key aspects of sustainability, the Sustainable Events Certification program offers easy-to-follow guidelines to make events more inclusive, accessible and environmentally-responsible," said Ali Dunn, a U3 BComm volunteer Sustainable Event Consultant.
"Not only does the certification program aid in fostering a sustainable culture within the McGill community, but it also leads to more successful events as a whole," she continued.
Participating in the event certification process early in the planning phase allows organizers to learn how to integrate socially- and environmentally-responsible actions into their events, thanks to the guidance of a volunteer student consultant. Upon the completion of the consultation process, the McGill Office of Sustainability deems the event Bronze, Silver or Gold Certified, which can be promoted by the event planners to show their commitment to sustainability.
"From a business perspective, the increased levels of inclusivity, accessibility and communication that result from the certification program likely lead to higher attendance rates … improving the success of events as a whole," said Dunn.
New carbon calculator makes events even greener
The 100th event also marks the release of a new resource for sustainable events on campus: the McGill Carbon Calculator (Mc3Gill).
The new, easy to use carbon calculator, developed with the support of the Sustainability Projects Fund, measures the amount of greenhouse gas emissions related to event participants' travel. Event organizers can use that information alongside a third-party carbon offset program to neutralize emissions that contribute to climate change. It is another tool that allows organizers to remain aligned with the University's goal of achieving carbon neutrality by 2040.
"The carbon calculator was quick, easy to use and made calculating our event's carbon footprint hassle-free," said program administrator Christa Grant who helped check participants into the event.
"It was also a great way to raise awareness about reducing greenhouse gas emissions while involving our participants in a powerful and meaningful way."
To certify your unit's event, visit the McGill Office of Sustainability's website to see the interactive toolkit and start the process at least 3-4 weeks before your event date.