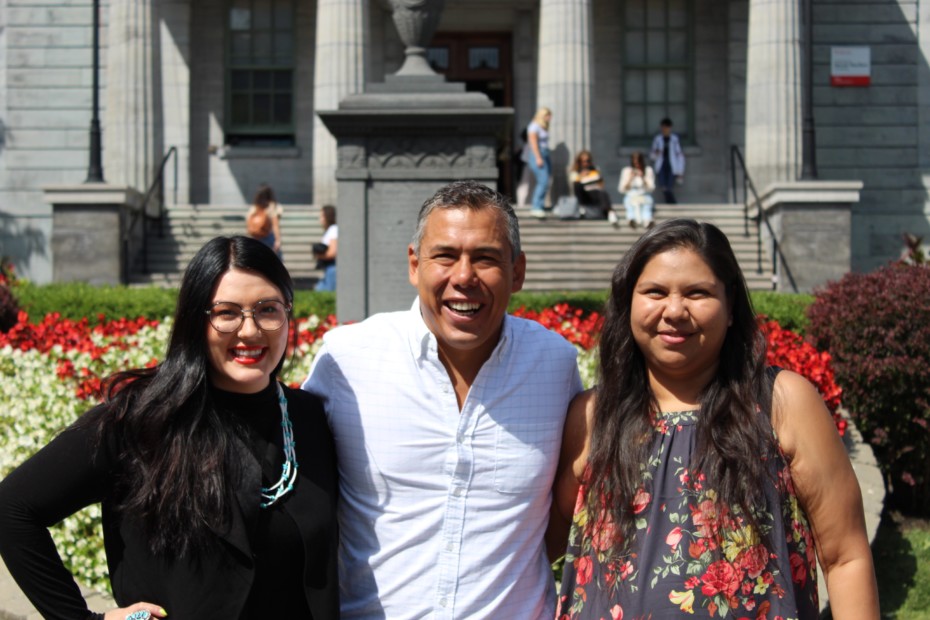 When asked how things are going at First Peoples' House (FPH), Allan Vicaire smiles. "We're busy – really busy," he says. "But it's a good busy."
Over the course of the 45-minute interview, the smile rarely leaves Vicaire's face. Just entering his third year as FPH Director, he is happy to help provide McGill's First Nations, Inuit and Métis students with a "home away from home," where they can find support and encouragement to succeed in their studies and remain connected to their culture.
"Our primary responsibility is to support our students in three ways – academically, culturally and socially," says Vicaire, a member of the Mi'gmaq community of Listuguj. "And to do so, we run events throughout the year, including workshops, speaker series and various networking, or community-building activities."
While the first year at university can be a daunting challenge for any student, it can be especially difficult for Indigenous students. "Often there's some culture shock when Indigenous students arrive at McGill. It's a big place and they don't see themselves represented within the institution," says Vicaire. "Especially for people coming from remote areas, coming to an urban setting requires a big adjustment."
"FPH is a space where they can feel at home, catch their breath and not be overwhelmed."
Full schedule of activities
Working with various McGill partners, FPH offers a suite of workshops designed to educate students on the various services and resources at their disposal. These partners include McGill Library; Tutorial Services; Teaching and Learning Services; Scholarships and Student Aid; and the Office for Students with Disabilities.
But the full slate of wide-ranging offerings – a dozen or so per month – is designed to help students in and outside of the classroom.
In September alone, FPH has already held the always-popular Soup and Bannock Lunch; a workshop on finances and scholarships; and a networking lunch for grad students.
Upcoming September activities include a Homecoming event at Beaver Lake and a hands-on workshop that will teach participants how to create traditional medicines using common plants found on Mont-Royal.
"A lot of thought and planning went into this," says Vicaire. "We're very proud of the diversity of this year's programming."
Dedicated staff
By "we", Vicaire means the FPH's small but tireless staff – himself, Dana-Marie Williams, Administrative Coordinator; and Amber Bedard, Indigenous Student Advisor.
Bedard, a member of Piikani First Nation of the Blackfoot Confederacy in Alberta and Montana, is the newest member of the FPH team, arriving this past March.
"It was nice to see how things worked at the end of last semester and have the relatively quiet summer to get oriented," says Bedard. "Because as soon as September came around, it was full speed."
Bedard comes to McGill with a background in program evaluation and research, working with and for Indigenous communities with the goal of creating better health outcomes. She sees herself as both a guide and an advocate for McGill's Indigenous students who both "makes students feel welcome at FPH and helps direct them to the appropriate resources and services they need."
The heart and soul of FPH
"The cultural programming is kind of the foundation of the work that we do – it speaks to the heart of the First Peoples' House," says Bedard. "We want to provide safe spaces for students to access support that is meaningful and relevant to them."
On the cultural side, FPH will welcome guests from a wide array of fields – from journalism to nutrition to academia. Already existing activities, such as the men's drum group, will be complimented by new offerings (Bedard is trying to organize a women's drum group).
As well, elders and knowledge-keepers will direct activities including workshops and shared circles – small-group discussions in which participants (including the leader) share their feelings, experiences and insights. And, says Bedard, "if students need access to an elder in terms of counselling in one-on-one support, we can facilitate that."
For more information, consult the First Peoples' House website