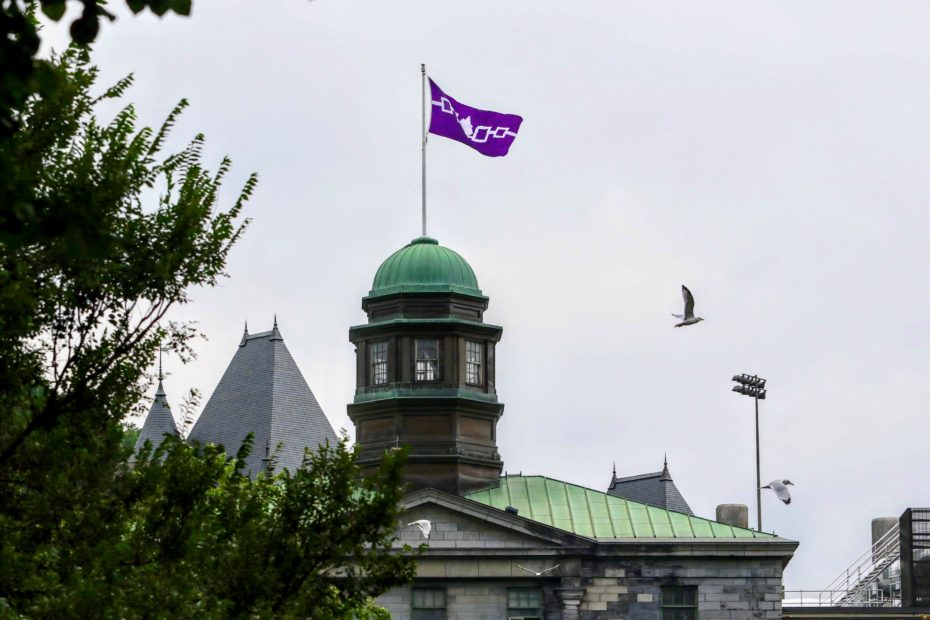 The Andrew W. Mellon Foundation has awarded a US$1.25-million grant to McGill, in support of a new Indigenous Studies and Community Engagement Initiative. The Initiative will be implemented over the next five years.
"The Indigenous Studies and Community Engagement Initiative will help establish McGill as an Eastern Canadian hub for Indigenous education," says Prof. Christopher Manfredi, Provost and Vice-Principal (Academic). "Thanks to the generosity and vision of the Mellon Foundation, this Initiative will generate new, cross-University synergies and community partnerships, and add strategic capacity in areas where we can have the greatest impact."
The Initiative will be based in the Faculty of Arts. Drawing upon the Faculty's broad and rich expertise across the Humanities and Social Sciences, the Initiative will expand the existing Indigenous Studies minor program to include major and honours programs. A later phase of the Initiative will include a graduate studies program.
"Canada's universities play an important role in our collective relationships with Indigenous communities," says Prof. Antonia Maioni, Dean of the Faculty of Arts. "Because of its interdisciplinary nature, and the breadth of its disciplines, the Faculty of Arts is particularly well positioned to help promote a future of reconciliation and partnership aimed at supporting the flourishing and success of Indigenous students, knowledge and communities."
Prioritizing in-community pedagogies and partnerships
The Initiative's curriculum will be taught by cross-appointed tenure-track academics – as well as scholars from other faculties, particularly Law, Medicine, Education and Music – who seek to understand Indigenous societies from within, while recognizing and engaging with their constitutive philosophies, histories, epistemologies, identities, practices of political governance, cultures, and languages. The Initiative will prioritize in-community pedagogies and partnerships with educators, administrators and knowledge keepers. The University plans to deliver approximately half the Initiative's courses off-campus, in Indigenous communities.
In addition to deepening the University's Indigenous Studies undergraduate program, the Mellon Foundation's gift will help McGill to:
support collaborative McGill-community partnerships across disciplines
offer new travel funding to students and faculty doing land-based and in-community research
fund new Indigenous Artist-in-Residence, Elder-in-Residence and Writer-in-Residence programs
create a new annual public lecture series featuring renowned Indigenous scholars and leaders
Building on existing strengths
The Initiative is an important next step in realizing the ambitious goals outlined in the University's Strategic Academic Plan and the Provost's Task Force on Indigenous Studies and Indigenous Education. Recent developments in this area include:
Creating 10 new Indigenous-focused positions across the University, including as the Special Advisor (Indigenous Initiatives) in the Office of the Provost, and two full-time positions in Enrolment Services dedicated to fostering relationships with Indigenous communities, with commensurate budgetary support.
Creating six new, tenure-track faculty positions focusing on Indigenous health and Indigenous education, languages and governance.
Partnering with the Indspire, a national charity that invests in the education of Indigenous people, to provide $500,000 in financial support to Indigenous students over two years.
Creating the Provost's Indigenous Achievement Award, which provides $5,000 each to two incoming students each year, renewable in each subsequent year. By 2022, there will be eight such awards available.
Growing the number of student mentorship programs, including creating the Faculty of Medicine's Indigenous Health Professions Program.
Partnering with the Kahnawà:ke and Listuguj communities to design and implement new Bachelor of Education programs that are delivered entirely in-community.
Signing a Memorandum of Understanding with Vancouver Island University to explore how the two universities can work together to further support research and learning in the areas of Indigenous education and Indigenous studies.
"By building on existing strengths, the new Indigenous Studies and Community Engagement Initiative will create an interdisciplinary nexus for Indigenous scholarship and community-building," says Provost Manfredi. "The Mellon Foundation's support will help the University grow and strengthen productive, respectful and collaborative relations with Indigenous peoples, at both the individual and institutional levels."