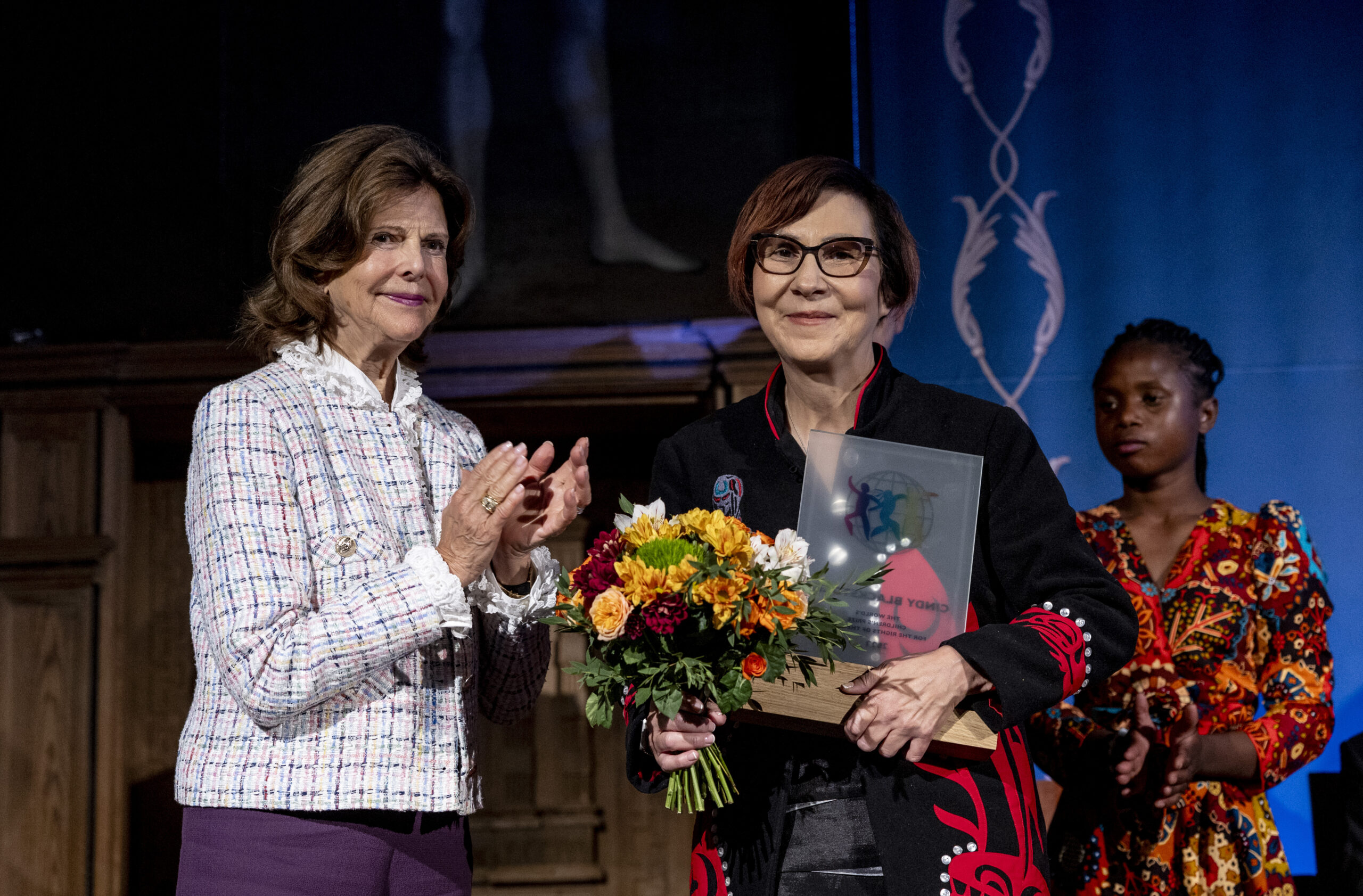 In a global vote, millions of children have chosen Cindy Blackstock as the recipient of the World's Children's Prize (WCP) for the Rights of the Child. Earlier today, Blackstock was presented the award by Her Majesty Queen Silvia of Sweden in a ceremony at Gripsholm Castle in Mariefred, Sweden. Previous winners include Malala Yousafzai, Nelson Mandela, and Desmond Tutu.
Blackstock, a member of the Gitxsan people, and Canada Research Chair in First Nations Child and Family Services Implementation at the McGill School of Social Work, was honoured for her decades-long work advocating for the rights and welfare of Indigenous children.
"Cindy Blackstock has fought for Indigenous children's rights for 30 years," said child juror Zohar from Israel, while introducing Backstock. "She wants all children to have good schools, health, and pride in their culture."
Blackstock was one of three nominees for the Prize along with Mohammed Rezwan of Bangladesh and Thích Nu Minh Tú of Vietnam.
"Relentless determination"
Blackstock's research focuses on inequities in First Nations' public and voluntary sector services and the over-representation of First Nations children in the welfare system. She has worked tirelessly to develop policy interventions to address these issues.
Blackstock played a crucial role in the landmark $40 billion agreement reached on December 31, 2021, between the Canadian government and First Nations leaders, whereby First Nations children who were harmed by Canada's discriminatory child welfare system may be compensated. The agreement marked the culmination of 15 years of public pressure and litigation.
"Dr. Blackstock's relentless determination to work for the betterment of First Nations children, youth, and families is an inspiration to people around the world," said Martha Crago, Vice-Principal (Research and Innovation). "McGill congratulates her on this very special award, which honours not only Dr. Blackstock herself, but the children and families who share in her mission."
"Professor Blackstock's dedicated work on behalf of First Nations children and youth exemplifies how lived experience combined with expert knowledge can positively impact lives and communities," said Lisa Shapiro, Dean of the Faculty of Arts. "The Faculty of Arts joins the McGill community in congratulating her on this incredible honour."
"Children are sacred"
True to form, the children's rights advocate turned the focus from herself to the youth of the world in her acceptance speech.
"Our elders tell us that children are the keepers of the possible. They know what they do today will affect generations of children to follow," said Blackstock.
"Children are sacred, the elders tell us. I know this to be true because of their power on adults. They inspire adults to love more than they ever felt they could love before, to have more fun than they ever imagined, and to be more courageous than we ever thought we could be."
"The World's Children's Prize honours children because they really are the change-makers, and they really are the heroes, and they really are the possible, and they really are sacred," said Blackstock in closing. "But it also calls on us as adults around the globe to ask more of ourselves, to send more love, to send more justice, and to send more generosity to this generation of young people, and to the ones who follow so they will never feel alone again. That would be a loving legacy for the World's Children's Prize."
Democracy in action
The WCP program is one of the world's largest education programs, empowering children to become changemakers who stand up for the equal value of all people, children's rights, democracy, and sustainable development.
Since the year 2000, close to 50 million children have participated in the WCP program. Global partner organizations train children to become Child Rights Ambassadors and changemakers for their families and in their communities.
The WCP is unique in that winners are selected by children from around the world.
As part of the process, children organized election days in their schools, setting up election booths and ballot boxes, and acting as election observers. In this year's selection, millions of children cast their votes, many from developing countries with fragile democracies and human rights records.
"We are thrilled to see Professor Blackstock's advocacy for First Nations children and families to be recognized with this extraordinary award," said Nico Trocmé, Philip Fisher Chair in Social Work, and former Director of the School of Social Work.
"While Professor Blackstock's work has been acclaimed in every possible national and international forum – including multiple research prizes, honorary doctorates, Indigenous organizations and the Order of Canada – the World's Children's Prize, voted on entirely by children from around the world, best exemplifies the strength and impact of the child-centered approach to her advocacy, teaching, and scholarship."