The week before Indigenous Awareness Weeks 2019 (IAWs) and Janelle Kasperski is up her elbows in lists. "Lists, lists, lists," she says laughing. "I have lists listing my lists."
Kasperski, Indigenous Education Advisor, Indigenous Initiatives in the Office of the Provost & Vice-Principal (Academic), is in her second year organizing IAWs, the two-week celebration honouring Indigenous peoples across the country including the Métis, the Inuit and First Nations.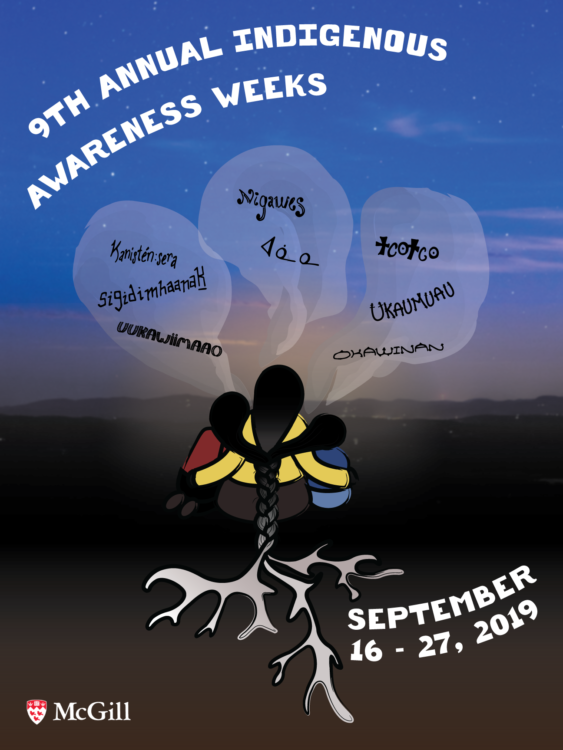 This year, IAWs runs from September 16 to 27, with some 15 free events planned on the downtown and Macdonald campuses. The diverse lineup includes everything from a panel discussion on reclaiming traditional birthing practices, and a celebration of 2Spirit authors; to a presentation on Indigenous architecture with the esteemed Douglas Cardinal, and a panel on harm reduction.
As she did last year, Kasperski is putting added emphasis on the launch event at the Faculty Club on September 16, calling it "a very big celebration to open what is an important two weeks at McGill."
To set the proper tone, special attention is being paid to every detail of the launch. For example, all the artwork that regularly hangs on the Faculty Club walls will be replaced by art by Tekaronhiahkhwa Margaret Standup and local Kahnawà:ke artists. As well, some of the food will be provided by Indigenous caterers.
Singers from Inuit, Métis and First Nations communities will be represented in the performance part of the evening.  Each person will sing one or two songs in their language.  The songs may be a woman's song or a song that is special to them.  They will support each other in their songs as well as do a group number after each has been given their own space.
Einstein and the Siksika Nation
The launch will feature keynote speakers physicist Corey Gray and his mother Sharon Yellowfly of the Siksika Nation, who will tell their unique story.
Gray was part of the team of scientists that discovered the existence of gravitational waves produced by two colliding black holes, which supports Einstein's theory of relativity. Their work earned the Nobel Prize in Physics in 2017 for the group's co-founders, Barry C. Barish and Kip S. Thorne.
Once the ground-breaking work was completed, a press release was drafted and translated into 15 or so languages. Gray asked if it could be translated into Blackfoot and, having great support from his colleagues and leadership, enlisted the help of his mother Sharon Yellowfly, a language keeper for the Siksika Blackfoot community.
"A lot of indigenous languages are, by nature, very descriptive. These very scientific terms are not words that are common to have translations on hand for," says Kasperski. "It took a lot of work between the two of them to creatively arrange existing words and even create new words in Blackfoot to describe the science. I'm very excited to hear them tell their story."
Matrilineal links to language
That story dovetails perfectly with the theme for IAWs 2019, Indigenous Languages and Matriarchy.
When deciding the theme, recognition of the United Nations declaring 2019 to be the Year of Indigenous Languages – was of course of importance in deliberation.
"[Events celebrating Indigenous languages] are happening all across Turtle Island and, of course, we want to contribute to that," says Kasperski. "But when I thought about it, I kept coming back to how much of language retention and creation happening within our communities is/has been carried largely by our Matriarchs and women – like Sharon Yellowfly – who are knowledge holders and language keepers. Indigenous languages and Matriarchy are inextricably linked."
Each event "must-see"
When asked for a few must-see events, Kasperski smiles and shakes her head. "I always struggle with trying to select a couple to highlight because I think they are all so amazing."
Running through the list, Kasperski has a story to tell or a personal anecdote for virtually every one. It is clear she is excited about each event.
"Rich Francis is going to come to Macdonald campus and do an event with the School of Human Nutrition on September 24, in collaboration with Treena Wasonti:io Delormier, Associate Director, Centre for Indigenous Peoples' Nutrition & Environment," she says. "Rich, of Red Chef Revival fame and a finalist in Top Chef Canada, will be talking about food sovereignty and his battle to serve traditional foods like wild game."
She talks about meeting Shelby Loft, a researcher focusing on Indigenous health, at the 2019 Native American and Indigenous Studies Association conference in Aotearoa (New Zealand) earlier this summer and inviting her to participate in IAWs
Loft, from Tyendinaga, Mohawks of the Bay of Quinte, accepted the invite and will be leading an event on September 25, titled Embodied Geographies of Care: Indigenous Peoples' Untold Stories of Indian Health Services and Intimate Resistance in Tyendinaga and the Surrounding Area.
And Kaperski can't wait to see Biidaaban: First Light on September 26. "This virtual reality experience by Lisa Jackson is based in Toronto and allow you see the land if all of these buildings and structures were not there in lens of Indigenous futurisms and nature reclaiming space," she says. "It gives you new perspective and allows you to honour the land you're standing on – what it once was, what it has come to be, and what it could be."
Space to meet, network, celebrate together
Even though IAWs now spans two weeks, its reach is much larger.
"I know that some people say we shouldn't celebrate Indigenous knowledges and perspectives for only two weeks a year, just as Black history shouldn't be confined to one month. And I fully embrace this," says Kasperski. "But the fact is, a lot of the work we do on a day-to-day basis privileges Indigenous knowledges and histories. It tries to positively impact the student experience year-round; inform faculty and staff; and help with recruitment and retention.
"There's a lot of behind-the-scenes work going on throughout the year – but this is one way we can publicly celebrate these things together, and demonstrate/educate people about why it is important privilege this voices and give them a platform within the institution of education that has historically silenced them"
Not only is IAWs an important event for the McGill and the broader Montreal community, it strikes a chord with Indigenous peoples who see themselves in the work and are being invited to speak to it.
"I have had nothing but amazing reactions from the people I approached to take part," says Kasperski. "Even people who weren't able to make it expressed their appreciation for these events and representations on campus and everybody who has been able to come is incredibly excited to be here and network with each other
"Regardless of where these scholars, artists, speakers or knowledge holders are coming from – across Turtle Island, North America, all over – we are an Indigenous community together. Having space to meet with each other is always a beautiful thing."
Indigenous Awareness Weeks 2019 runs from September 16 to 27, on McGill's downtown and Macdonald campuses. You can see the schedule on the McGill Indigenous Education Advising Facebook page or on the Indigenous Health Professions Program Eventbrite page.