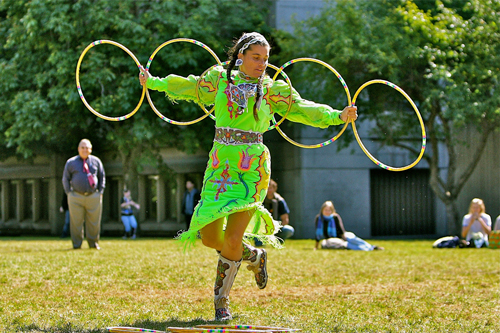 By Neale McDevitt
The 4th annual Indigenous Awareness Week is being held from Sept. 15-19. Organized by the Social Equity and Diversity Education Office, the week honours the many Indigenous cultures across the country including First Nations, Métis and Inuit. The diverse program of events includes everything from the KAIROS blanket exercise (Sept. 16); a traditional dance workshop (Sept. 16); screening of short films by Indigenous filmmakers (Sept. 17); a tour of the Kanien'kehá:ka Onkwawén:na Raotitióhkwa Language and Cultural Center (Sept. 17); the ever-popular Dreamcatcher making workshops (Sept. 17); and a series of lectures by noteworthy speakers.
New to Awareness Week will be an Aboriginal Homecoming event to be held at the Faculty Club on Sept. 18. The event will give Aboriginal alumni a chance to meet, catch up and network. "This has been in the works for a while," says Aboriginal Outreach Administrator Kakwiranó:ron Cook (Oglala Lakota Sioux & Akwesasne Mohawk). "The intention is that we have a dedicated annual Indigenous Homecoming."
The soirée will feature Audra Simpson, a McGill alumnae who is an Associate Professor of Anthropology at Columbia University. In her address, Simpson will discuss the significance of McGill as a training ground for scholarship and engaged political life (Read Simpson's Q&A with the Reporter, here).
Aboriginal Week will come to a close with the 13th annual Pow Wow on the lower campus field from 11 a.m. – 4 p.m. on Friday, Sept. 19.
Throughout the day there will be drumming, singing, and a variety of dance demonstrations, including the 4th Annual Smoke Dance Competition. Vendors selling food, artwork and more will be set up around the Pow Wow tent. Organizations will also be present with information booths.
Many events of Aboriginal Awareness Week have limited places and require registration. For more information on the schedule and how to reserve places, go here.