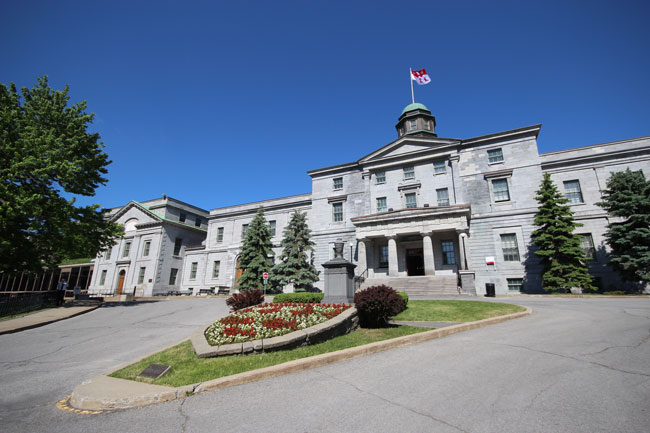 Donation supports programs focused on healthcare and environmental research and education
McGill will be able to create fellowships in health sciences and health leadership as well as expand environmental research in the Arctic, thanks to a $2-million donation from Ferring Canada, a subsidiary of Ferring Pharmaceuticals, as was announced on Thursday, Sept. 1.
The donation will allow the creation of two new Ferring Pharmaceutical Fellowships to support graduate students in the Desautels Faculty of Management and McGill's Faculty of Medicine.
"We are very grateful to Ferring Pharmaceuticals for this latest donation, which builds on an established partnership with our University," said Principal Suzanne Fortier. "Ferring's generosity will help maintain Canada's leadership in the health sciences by allowing us to recruit exceptional young researchers and train them in disciplines essential to our future."
Since its creation in 1950 by Dr. Frederik Paulsen Sr., (father of current chairman, Frederik Paulsen), Ferring Pharmaceuticals has focused on research, the application of rigorous scientific principles, and independent academic study. The donation will establish the Ferring Fellowships in Health Leadership in the Desautels Faculty of Management in the International Masters for Health Leadership Program (IMHL Program), which will be awarded to graduate students entering the IMHL Program who seek to enact transformative change in health-care delivery in Canadian communities. The donation will also provide support for the renovation of Desautels Faculty facilities.
In addition, the Ferring Pharmaceuticals Postdoctoral Fellowships in Health will provide support to one or more Postdoctoral Fellows in the Faculty of Medicine pursuing research in the areas of Reproductive Health, Urology, Orthopaedics/Orthobiologics, Gastroenterology or Endocrinology.
"Investment into scientific education and research is critical for health-care innovation, and these programs will provide resources to some of our country's most promising future healthcare leaders," said Michel Pettigrew, President of the Executive Board and Chief Operating Officer of Ferring Pharmaceuticals, and a McGill alumnus. "McGill is one of the premier research-based institutions, and Ferring is proud to extend our partnership."
Ferring will also continue to fund research for the Canadian Arctic Ice Buoy Program in the Canadian Arctic Archipelago, which investigates causes of, and possible solutions to, the challenges of climate change.
Headquartered in Saint-Prex, Switzerland, Ferring Pharmaceuticals is a research-driven, specialty biopharmaceutical group active in global markets. The company identifies, develops and markets innovative products in the areas of reproductive health, urology, gastroenterology, endocrinology and orthopaedics. Ferring has its own operating subsidiaries in nearly 60 countries and markets its products in 110 countries.
Ferring Canada, the Canadian subsidiary, began its operations in 1987 with just three employees. Today, the company employs nearly 90 employees and sees considerable growth ahead as it continues to bring valuable new products to the Canadian marketplace.
Read the Reporter's Q&A with Michel Pettigrew, President of the Executive Board and Chief Operating Officer of Ferring Pharmaceuticals