By Neale McDevitt
Established in 2007, the Edible Campus garden – which does the impossible every year by making the concrete plaza surrounding Burnside Hall bloom with fruits, vegetables, herbs and flowers – is an oasis for many McGillians who gather there to read, relax and recharge amidst nature's beauty.
This year, however, students, staff and faculty will be able to enjoy the garden in a more intimate way – by rolling up their sleeves and planting their own garden.
For the first time ever, a section of the garden – called the Community Garden – will be open to members of the McGill community. For the nominal fee of $40, people can buy a "plot" consisting of four plastic planting containers. Urban farmers will also have access to tools, water and a Gardening 101 workshop given by members of Santropol Roulant, the Montreal-based NGO that, along with the School of Architecture's Minimum Cost Housing Group, initiated the Edible Garden project.
"We want to strengthen the ties between McGill and Santropol Roulant and we also want members of the University community to engage more directly with this space – because it is their space after all," says Carlo Primiani, Santropol's Co-manager: Urban Agriculture. "What better way to do that, then to grow your own food there?"
And, with a few exceptions, if it can grow in dirt, it can be grown at Burnside – from broccoli and bok choy to Swiss chart and Thai basil.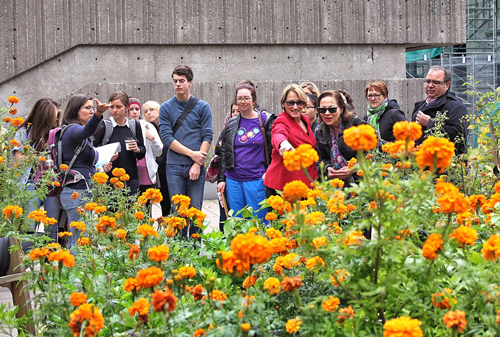 Since its inception, the Edible Campus garden has supplied thousands of kilograms of fresh produce to several Santropol projects, including its meals-on-wheels initiative that provides fresh, healthy food to Montrealers with limited mobility. But having expanded growing operations to a large farm in Senneville, it was decided that the McGill garden could be opened to the University clientele.
"It is much easier and more efficient to increase production on the farm to fill the needs of our clients," says Primiani. "We now see the Edible Campus garden more as an educational opportunity where people can learn about urban agriculture and food safety – two issues we are very concerned with at Santropol."
Primiani says the new Community Garden is perfect for anyone, be they experienced gardeners, total newbies or apartment dwellers with no access to their own garden. "We'll instruct people on the basics and help them along the way, if they want," he says. "But once you get a garden planted, it kind of does the rest itself."
Primiani points out that people who want to be involved without committing to their own personal plot, can still exercise their green thumb by volunteering to work in the Edible Campus garden. "We're always looking for helping hands," he says.
As with everything Santropol does, this new wrinkle in the Edible Campus garden is as much about growing the community as it is about growing vegetables. "Different people get different things out of the garden," says Primiani. "Some come to learn about gardening, others to be outside. Others come to work with plants and be with other people. I think gardening and urban agriculture more broadly gives us the opportunity to connect with our food, our city, our neighbourhood, and the people that make up our communities.
"My hope is that the people from McGill who come to garden get a chance to experience at least some of those things."
Four-container plots in the new Community Garden can be purchased for $40. To purchase a plot, Contact Carlo Primiani before April 13, by email or phone (514-284-9335).
Santropol Roulant is always looking for volunteers, including on April 24 to help set up the Edible Campus garden for another season. Go here to find out how you can help.