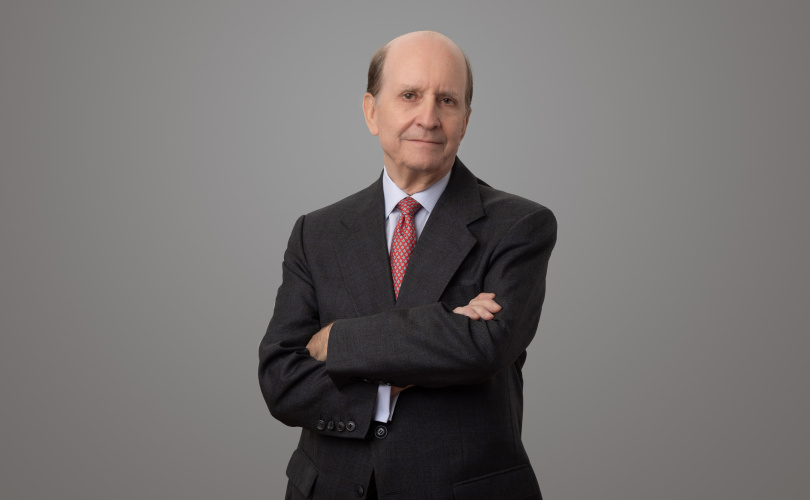 "We've all seen and read about situations where things go sideways because of ethical issues," says David Laidley, BCom'67. "A company veers off the path a few small steps at a time, and then it gets further and further into the woods."
The Chairman Emeritus of Deloitte LLP retired back in 2007 after a successful 40-year career, but the topic of business ethics never left his mind. He currently sits on several boards, including EMCOR Group Inc. in the U.S. and Canadian Tire Real Estate Investment Trust.
In the past year, the stark contrast between highly publicized scandals—most recently, the collapse of biotech giant Theranos—and the transparent, above-board operations of the companies he currently serves has left an impression on Laidley. When he realized that, unlike some other leading Canadian business schools, the Desautels Faculty of Management had no dedicated centre for business ethics, he pledged $5 million to close the gap.
A broader conversation
Anchored in the Desautels Faculty, the Centre will serve as a hub for McGill researchers across disciplines, from law and religion to economics and engineering, to work toward solutions for the most pressing ethical issues of our time.
As envisioned, the Centre will seek to improve ethical decision-making for current and future leaders through a wide range of activities:
Develop and support academic programming and activities that prepare current students to advance ethics in the workplace;
Support value-based ethics research that influences and educates scholars, students, and business leaders from across disciplines; and
Encourage discussion and learning among the wider McGill community through public symposia, guest lectures, and digital outreach.
According to Yolande Chan, Dean of the Desautels Faculty of Management, any discussion of business ethics would ring hollow without taking equity, diversity, and inclusion (EDI) into account. "As a society, we're slowly beginning to understand that leaders are only ethical when they work to advance the principles of EDI for employees and customers alike," she says. "Thanks to the generosity of David Laidley, we have a unique opportunity to broaden the conversation surrounding business ethics."
Spirit of the law
In Laidley's experience, ethical crossroads are rarely marked with road signs and flashing lights. In all his years in a Big Four accounting firm, he can't recall a single instance in which a client proposed a way forward that was illegal or glaringly unethical. "I was lucky in that my clients were committed to doing the right thing," he says. But looking back, he acknowledges that the line between right and wrong was frequently blurry.
"When I was working in tax, there were companies that were doing things that were certainly within the letter of the law, but they weren't necessarily within the spirit of the law," he says. Whether it was an issue concerning offshoring or another tax "loophole" a client wanted to exploit, Laidley occasionally confronted situations that made him uneasy because of how they subverted the intent of the law.
These are the types of situations he hopes that students will unpack at the Centre. Ideally, Laidley says, the Centre will carve out space for fruitful discussion and debate surrounding ethical grey areas.
In a highly multicultural, international environment like McGill, disagreement over business ethics is both expected and welcome. "With such a rich diversity of voices in our community, we are perfectly positioned to identify and discuss differences in ethical frameworks and foundations," says Dean Chan.
Laidley's $5-million gift will endow the Centre, with an initial $500,000 allotted to hire its first few staff members. "I'm as eager as anyone to see how McGill's talented researchers and students translate this vision into reality," says Laidley. "I'm looking forward to seeing it grow and hopefully flourish into something useful."
Philanthropic gifts, like this gift from David Laidley, contribute to Made by McGill: the Campaign for Our Third Century, the University's ambitious $2-billion fundraising campaign to support its bold aspirations for research, discovery and learning.