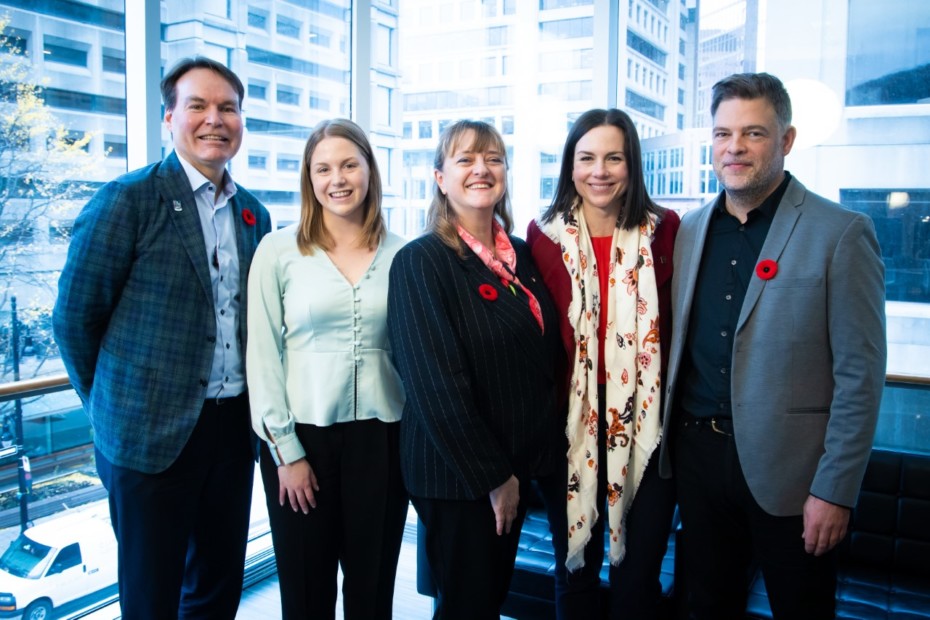 McGill's Desautels Faculty of Management  is expanding its world-class financial training beyond its own students. In collaboration with RBC Future Launch and The Globe and Mail, Desautels is spearheading a new initiative to make personal financial literacy education accessible to all Canadians.
On November 1, the start of Financial Literacy Month, members of industry, alumni, faculty, staff and students, attended a launch event on campus to preview the newly minted McGill Personal Finance Essentials course. Offered in English and French, the free online course is designed to build Canadians' financial knowledge and confidence in a changing financial landscape.
"We believe that everyone has a fundamental right to be equipped with the financial knowledge required to navigate daily life and succeed," said Isabelle Bajeux-Besnainou, Dean and Professor of Finance at the Desautels Faculty of Management, as she introduced the new course. "This unique collaboration combines the skill and expertise from a top Canadian university with the vision of two esteemed Canadian organizations."
Confronting the challenge
As Canadians across the country face mounting student debt and rising housing costs, the stakes are higher than ever. Surveys indicate that 44 per cent of Canadians live paycheque to paycheque. At least 35 per cent don't save for retirement. Given that they owe $1.69 for every $1.00 they earn, it's no surprise that 40 per cent of Canadians feel overwhelmed by debt.
For the creators of the McGill Personal Finance Essentials course, a pervasive lack of financial knowledge is partly to blame for rising levels of financial instability. "Whether it's understanding the ins and outs of mortgages or managing a credit card account, Canadians of all ages struggle with financial literacy," said Bajeux-Besnainou. "Many people hear words like 'real estate bubble,' 'credit scores,' and 'investments' and immediately tune out because they either assume the topic is too boring or too complex to understand."
Neil McLaughlin, Group Head of Personal & Commercial Banking at the Royal Bank of Canada (RBC), has witnessed firsthand the frustration and confusion that many Canadians experience in managing their finances. "Canadians have told us they are struggling to understand their personal finances and the implications of the decisions they make," he said. "By providing the right information and tools, we hope to help more Canadians make sound financial decisions."
Building competency
The McGill Personal Finance Essentials course is divided into eight individual learning modules taught by McGill Desautels professors. Those who attended the recent launch event caught a sneak peek of the modules, each of which teaches a core concept in a 15- to 25-minute video with a test at the end.
Course topics include managing debt, investing, building a strategic budget, and navigating the complex world of real estate. To cap the course, a module in behavioural finance gives participants deeper insight into the motivations that drive financial decisions. Participants who complete the modules and pass each accompanying test receive a McGill Personal Finance Essentials attestation of course completion.
Ultimately, "this course will help provide the knowledge and skills to make informed financial decisions," said Bajeux-Besnainou. From her perspective, long-term financial success will remain elusive for Canadians while the "knowledge gap" in financial literacy persists. The creators of the McGill Personal Finance Essentials course aim to fill in the gap.