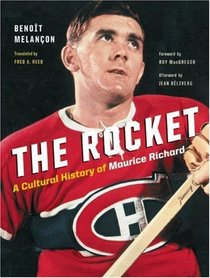 Lecture reflects on Maurice Richard, Canadian hero
By Jim Hynes
…mad mad Ree-shard in fact the first and only berserker astronaut among the lesser groundlings their necessary flyboy who slapped a star long Décarie hellway and rang a bell in Bonaparte's tomb and knocked a crumb from Antoinette's pastry waved his wand at Anglos Howe and Ezinicki and made Quebec Canadian."
– Al Purdy, Homage to Ree-shard
Don Cherry, the bombastic, bellicose, Boston Bruins-loving "coach" from Hockey Night in Canada's Coach's Corner segment, never has anything good to say about the Montreal Canadiens.
Well, almost never.
In May 2000, in an interview with the Calgary Herald the day before the hockey icon's funeral, Cherry did say of Canadien's legend Maurice Richard: "People in Quebec loved the Rocket, but he was our hero, too."
"And he was right," says Benoît Melançon, a Université de Montréal literature professor and author of The Rocket: A Cultural History of Maurice Richard (Greystone Books, 2009).
On Tuesday, April 26, in an event organized by McGill's Quebec Studies program and held at Thomson House, Melançon will deliver the lecture: Don Cherry was Right (for once): Maurice Richard as Canadian Hero.
Melançon, Director of UdeM's Département des littératures de langue française and a popular blogger on words and language (http://oreilletendue.com), says he only started paying closer attention to Richard's impact in the rest of Canada after his book, published in 2006 in French under the title Les Yeux de Maurice Richard, came out in English.
"He's important from coast to coast," Melançon says. "There are movies, songs, plays, and novels about him in English. The best poem ever written about Maurice Richard was written in English by Al Purdy (Homage to Ree-Shard). There's always this equivalent, there's always something in English as important and as striking about him as there is in French."
That said, Melançon is quick to point out the difference between what Richard means inside and outside Quebec.
"It's obvious that in the rest of Canada he's mostly a hockey player, not a martyr or a grandfatherly figure. In Quebec he's probably a myth because he has so many different meanings to so many different people… In Quebec, you can say Maurice Richard was a great federalist and a great sovereignist in the same sentence. People believe this very strongly. He's the incarnation of French Canadian nationalism. Of course this doesn't ring as true if you are in Vancouver or Halifax."
Even the Rocket's title-inspiring black glare, Melançon says, is open to interpretation depending on where you live.
"The thing that struck me quite early in my research was that everybody who talked or wrote about Richard would talk about his eyes – people are obsessed with his gaze. And then I tried to make sense of that. And one obvious answer was that his eyes meant 'determination.' This is a man who would speak with his eyes. You would see in his eyes that he wanted to score goals and that was his only aim in life. And it was easy to use that image, because Maurice Richard wouldn't speak. His eyes did the talking.
"Then I started reading texts in English, where people would suggest that his eyes were those of a crazy man. The eyes of someone who is tormented, troubled. And that's something you would rarely see in French."
Benoit Melancon: Don Cherry was right (for once), Tuesday, April 26, 5:30-7 p.m. Thomson House. Lecture-goers are invited to watch Game 6 (if necessary) of the Canadiens-Bruins playoff series, following the presentation.