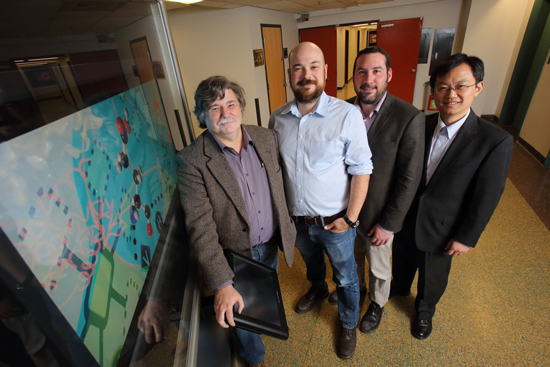 By Patrick McDonagh
Dan Nicolau is an internationally recognized authority in bioengineering research who has worked at universities in Australia and the United Kingdom and led two European Union-funded bioengineering research consortia. Both were composed of eight universities, such as Liverpool, Bologna, Monash, Groeningen and Lund; national research institutes, such as France's Centre national de la recherche scientifique (CNRS) and Germany's Max Plank Institute; and major companies, such as Philips.
It wasn't just the prospect of furthering his research that lured Nicolau to McGill, however. "It was the opportunity to build a bioengineering program from the ground up," he said.
Nicolau arrived on campus in January 2013 after being jointly named the Faculty of Engineering's first Endowed Chair in Bioengineering and the department's inaugural administrative chair. The new unit is the first created at the Faculty of Engineering since the mid-1900s.
Nicolau hit the ground running and is quickly trying to establish an identity for a new undergraduate bioengineering program.
"Biological systems are incredibly complex," he said, "but we are reaching the point where we can understand them as engineering machines and devices, which allows us to take an engineering approach to biology.
"We are not at the stage where we can trivially make designs of biological devices from first principles, but we foresee the moment when this could be done." For example, he said, "Engineers have designed bio-molecules that never existed in nature to match those that do exist naturally."
It is this emphasis on an engineering-based approach to biology that distinguishes the new Bioengineering Department from the departments of Biomedical Engineering at the Faculty of Medicine and Bio-Resource Engineering at the Faculty of Agricultural and Environmental Sciences.
While those areas may draw on all engineering disciplines to solve particular biomedical, agricultural or environmental applications, McGill Engineering's Bioengineering efforts will be based on the solid understanding of biological systems.
"Science-based engineering disciplines, such as chemical, mechanical, electrical and so forth, require a solid knowledge of chemistry, mechanics and electromagnetism, respectively" Nicolau said. "And the same applies to bioengineering, where you really need to know your biology."
Only then, he said, can engineers understand the mechanisms and processes underlying biological systems in ways that would enable them to repair or improve these systems – or at least predict what will happen to them under particular circumstances.
The bioengineering undergraduate program, expected to begin offering courses in September 2014, will provide foundational courses in biology, chemistry and physics before exploring more focused areas.
And the department continues to grow:
• It's first professor, Matt Kinsella, a specialist in biomedical applications of nanomaterials, was hired in August 2012;
• Two faculty members were recruited for the 2013 fall term: Brandon Xia, whose research includes developing computer models of complex biomolecular networks at the genome scale, and Allen Ehrlicher, who focuses on biological systems at the level of physics to understand the fundamental processes governing the success or failure of organisms;
• Three professors will join this winter and another two will be hired in the summer.
The new cohort joins approximately 20 professors already involved in interdisciplinary Bioengineering work in the Faculty's other five engineering departments: Electrical and Computer Engineering; Chemical Engineering; Civil Engineering and Applied Mechanics; Mechanical Engineering; and Mining and Materials Engineering.