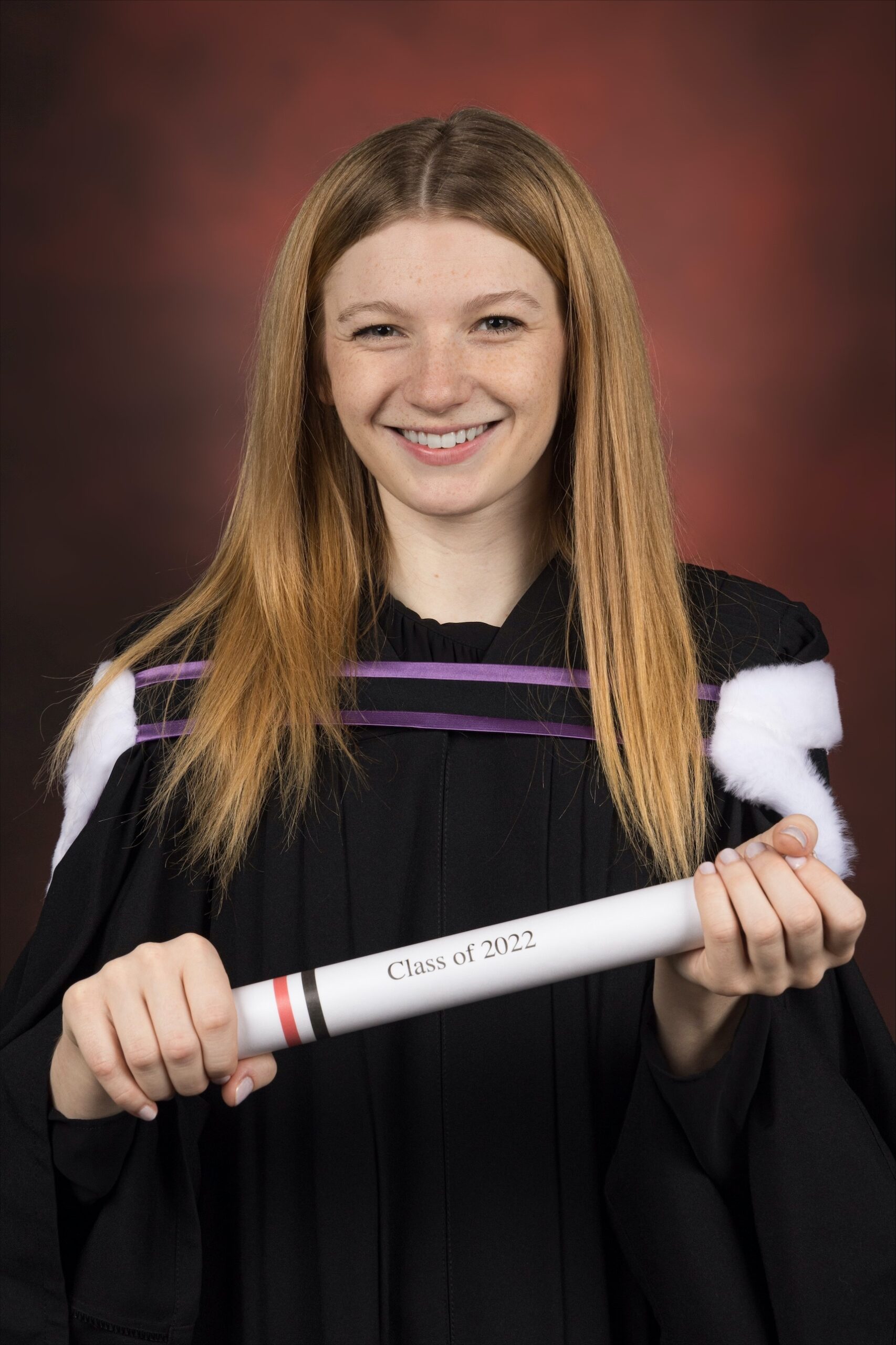 A diverse, multitalented group, the Spring 2022 valedictorians are citizens of the world with remarkably varied backgrounds. Some hail from distant places – Quito, Ecuador; Dhahran, Saudi Arabia; and Rakh Bharoke Dhaki, Pakistan. Others were born nearby – Johnson, Vermont and Bolton Ontario. And some valedictorians come from right next door – Chambly, Quebec and Montreal's West Island.
This year's cohort, while coming from vastly different backgrounds, share enthusiasm, ambition and a well-rounded philosophy of life. These outstanding students have also earned the respect of the peers who they represent through their strong academic performance, leadership and commitment to making the University – and the world – a better place.
As part of our Spring 2022 Convocation coverage, the Reporter is conducting a series of Q&A interviews with some of our valedictorians.
In this instalment, we feature Théadora Sauvé, who delivered the valedictorian address for the Desautels Faculty of Management ceremony on June 1.
What is your hometown?
I was born in Johnson, Vermont, USA. I moved to Shefford, Quebec, CAN when I was two years old and to Montreal when I was seven.
Why did you choose McGill?
I wanted to pursue my bachelor in English as I have always been bilingual but had never studied in English. I wanted to better my vocabulary. Moreover, McGill was my dream school. When I was a child and passed beside it, I would tell myself that I would go to school in this "castle" one day. In addition, I really appreciated the diversity of the programs.
What is your degree?
Bachelor of Commerce, with a minor in psychology and a concentration in human resources and labour relations
What were some of your impressions when walking onto campus for the first time?
The immensity of the campus and the beauty of it. The first time I walked onto campus, I felt so grateful to be going to such a beautiful and reputable school and still now I still find myself admiring the campus.
It also felt like the real deal, like I had finally made it in some sense.
What are some of the highlights of your time as a McGill student?
Orientation Week
Case competitions
Being involved in many different clubs and extracurricular such as Cocoa & Cacao, MUS HR director, MUS Cabinet member and etc.
Three favourite places on campus?
OAP (Open Air Pub) and the lower field
Gerts cafe
Y Intersection for a good hotdog on a sunny day
What were some of the biggest challenges you faced during your time here and how did you overcome them?
One of the biggest challenges I faced was not really knowing what program I wanted to pursue. Interestingly, I actually applied to six programs when applying to McGill and ended up in one that was not even in that list.
I started off as a psychology student and then changed after a year to the Management Faculty. This was a great decision for me and it was only possible due to a wonderful professor of mine, Chantal Westgate. I took her Organizational Behaviour class as an elective and fell in love with the class and the Faculty. I asked her a few questions and then was convinced to transfer. I am lucky that she is still a great mentor of mine.
That being said, after another year, I was still a bit lost and decided I wanted to continue my studies in law. Hence, I believe being lost in what I want to do as a living was one of my biggest challenges. Nonetheless, without this unique journey I would have never known that labour relations and specifically labour law was my passion.
What's next for you, both short and long term?
Short term – McGill Law School
Long term – Labour lawyer
Tell us about your Faculty and your classmates. How important have they been to your overall McGill experience?
The members of my faculty have always been very helpful and always very nice. Considering I am a very curious and driven individual, they have always been there to answer my questions and support me.
My classmates always pushed me to become a better student and to get involved. The environment at Desautels really pushes you to become a better candidate for jobs but especially for life.
In addition, my classmates were always very fun and outgoing. Although they worked very hard, they also were very fun to be around and we had lots of opportunities to bond.
Who or what will you miss most?
Desautels professors who are always so responsive to students' concerns and that make sure that we are engaged in class.
What advice do you have for new students to McGill?
Get involved
Ask questions to the resources available – everyone is here to help
What are your plans for Convocation?
Lunch with my parents after the ceremony
Convocation supper with the Dean and other valedictorians
What was your experience during the pandemic?
It was definitely very challenging but I was very lucky that my professors did their best to adapt their learning methods. There was a big shift (for good) from the first fully online semester to the second and it really felt like the faculty listened. That being said, as a very outgoing student, I found it very hard not to see my friends in person. Going back to school in person was such a great moment for me.
What are some of the biggest challenges facing the world today? How confident are you that we can address these challenges and make a difference?
Global warming – I know that we are making efforts but I do not think we are making enough. The matter is urgent and personally I believe we need to act fast if we want change.
Information privacy – I believe technology has advanced quicker than what we thought and that we are catching up. But this is the same as when cars were invented before road circulation measures. We will get there but there are definitely lots of work to be done.
Do you have anything to add?
I would like to thank McGill for this wonderful experience and for all the support given us even in these challenging times. My experience at McGill was even better than I expected and I look forward to continuing my studies here in the Faculty of Law.
Below is the video of the Desautels Faculty of Management ceremony. You can view Théadora Sauvé's address at 2:24:20.