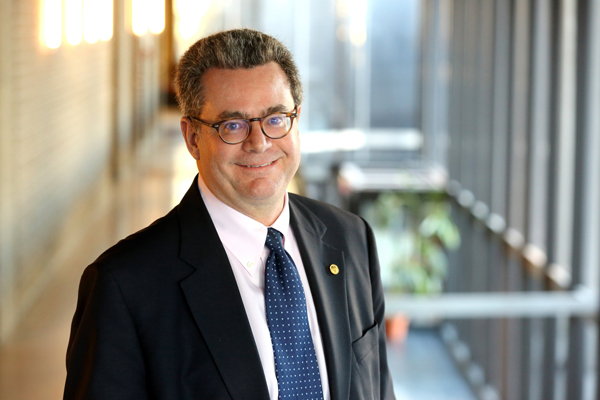 As McGill prepares for its Bicentennial, the University community looks forward to celebrating 200 years of innovation and excellence. But an institution with a history stretching back to the 19th century will have blemishes mixed in with momentous achievements. Like many storied universities – including Columbia, Harvard, Princeton, and Cambridge – McGill is reflecting critically on some troubling elements of its past by confronting its historical connection to the transatlantic slave trade and colonialism.
The Reporter sat down with Provost and Vice-Principal Academic, Professor Christopher Manfredi, to discuss his decision to establish the Provostial Research Scholars in Institutional Histories, Slavery, and Colonialism, as one important way in which McGill is seeking to develop a critical understanding of its past.
Why did you decide to create the Provostial Research Scholars program?

Since the outset of my mandate as Provost, I have worked hard to foreground McGill's explicit commitment to equity and inclusion in the advancement of our academic mission. Some of the concrete ways I have done so are through the creation of the Task Force on Indigenous Studies and Indigenous Education and the Working Group on the Principles of Renaming and Commemoration. I have also undertaken numerous initiatives that aim to make McGill more accessible and welcoming to students, faculty, and staff from underrepresented groups. I see such measures as essential to my core responsibility, which is to ensure excellence in the pursuit of McGill's academic mission.
As we approach the Bicentennial, I felt it was imperative to put in place an initiative that would allow us to engage in a thorough, rigorous, and critical self-study conducted by experts. I wanted these experts to be emergent scholars, given our commitment to cultivating and nourishing academic talent. At the same time, I recognize a need to do more than just understand the past; we also need to take steps to address ongoing inequities linked to this past. The Provostial Research Scholars' work will inform the steps we take toward this end.
What are the goals of the program?
This program will involve the appointment of two Provostial Research Scholars as postdoctoral fellows at McGill who will examine two questions:
What are McGill's historic connections, both direct and indirect, to transatlantic slavery?
What are McGill's historic connections, both direct and indirect, to colonialism and its impact on Indigenous communities?
The selected Research Scholars will be top-tier postdoctoral fellows recognized for their research excellence in history and/or associated disciplines. The Scholars are funded in the amount of $75,000 and will receive a research stipend that will allow them to conduct and disseminate their work effectively.
What is the timeframe?
Applications closed in December. We hope to finalize the selection in the coming weeks so the Scholars can begin their work at McGill this summer or fall.
They'll work over a period of one to two years, conducting research into McGill's historical connections to transatlantic slavery and colonialism. To do so, they will deploy archival, doctrinal and other relevant methodologies. In view of McGill's unique history in Quebec, Canada and the world, I anticipate that their research will take place in Montreal, Quebec City, Ottawa, and possibly Scotland and the Caribbean.
Who will oversee the Scholars' work?
I am delighted that three of McGill's most outstanding scholars in relevant areas of study have accepted to supervise the Provostial Research Scholars: Professors Wendell Nii Laryea Adjetey and Suzanne Morton, both in the Department of History and Classical Studies, and Charmaine Nelson from the Department of Art History and Communications Studies.
While I will not have a direct supervisory role, I look forward to welcoming these emerging scholars to McGill and meeting with them regularly to support and learn about the progress of their work.
How will the Scholars' work be communicated?
They will publish their research through peer-reviewed and other manuscripts. While not assigned formal teaching responsibilities, I expect that the Research Scholars will have the opportunity to participate as guest lecturers and invited speakers in McGill's classes as well as research conferences and workshops. I also hope that they will engage in wider dissemination of their work through publicly accessible venues, for example, media engagement and community lectures.
Earlier, you talked about "a need to do more than just understand the past." What will having a clearer understanding of McGill's past mean for its future?
In my view, before we can equitably address the past, we need to understand it critically, honestly, and robustly – and I see the Provostial Research Scholars program as essential to that understanding. The Scholars' research will deepen our knowledge about McGill's links to the transatlantic slave trade and to colonial practices that affected Indigenous communities. We can draw on this this knowledge to move to a second step, which will focus on addressing our past through measures aimed at enhancing the presence and success of Black and Indigenous students, faculty, and staff at McGill.