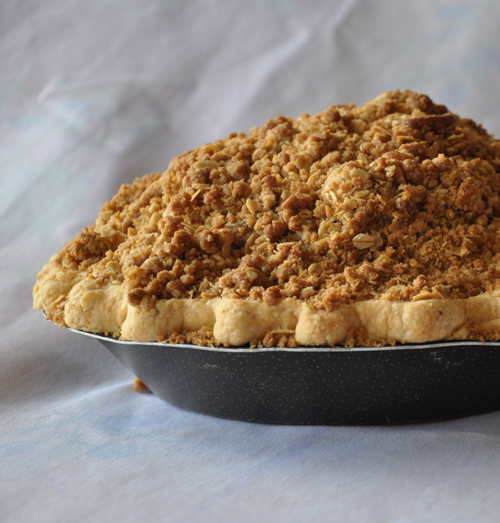 As we enter apple-picking season and our first Local Food Day Events of the year, it's only fitting that we share with you our in-house Executive chef Oliver de Volpi's legendary 5lbs Apple Pie Recipe: a real treat for the eyes and especially for the tummy!
Crust:
3 cups of all-purpose white flour
1 cup cold butter cut in small cubes
½ cup ice water
1 tsp vinegar
½ tsp salt
Using a food processor, combine the flour and butter. Process until you obtain a granular texture (approximately 20-30 seconds) so that you are still able to see small pieces of butter in the mix. Add ice water, vinegar and salt. Pulse 3 or 4 times for 3 seconds. Remove and form a ball, wrap in plastic film and refrigerate at least 1 hour.
Crumble:
1 cup brown sugar
½ cup butter
1 cup of oatmeal
1 cup of flour
1 tsp of pure vanilla extract
Again in the food processor, cream butter and brown sugar together (approx. 1 minute). Add vanilla extract, flour and pulse 3-4 times, 1 second each. Add oatmeal and repeat the pulsing 3-4 more times. The texture should resemble a lumpy cookie dough texture. Remove and place in freezer a few minute to help handle.
Filling:
5 lbs peeled, cored and sliced apples
½ cup sugar
1 heaping TBS flour
1 tsp Cinnamon
Alternatives: reduce 1 ½ lbs apples and add any of the following:
Raspberries, Strawberries, Blueberries or Peaches
Preheat oven to 325F.
Using a 9-inch pie pan, divide dough into two. Roll out dough to 13inches diameter round. Place in pie pan and roll excess dough underneath itself to help form a raised crust on the sides (helps hold in 5 LBS of apples). Place filling inside. If it seems like too much, just keep piling on!
On a large table space, cover apples with crumble mixture. This takes time and a lot will of the crumble will fall on to the table, but just keep putting it back on top and cover all the apples. The pie should be as high over the top of the pan as the pan is deep (at least).
Place pan on top of a cookie sheet because some juice might leak out during the cooking. Place near to the bottom of the oven. Cook for 1.5 hours at 325F.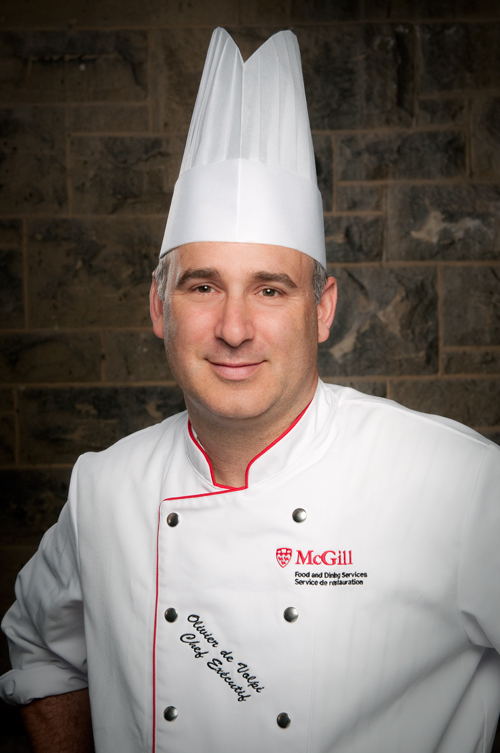 Meet Oliver de Volpi
"I've always been passionate about cooking," explains McGill Student Housing and Hospitality Executive Chef, Oliver de Volpi.
With fond childhood memories of making fresh pasta with his father and baking with his mother, it's no wonder Montreal-born de Volpi obtained diplomas in culinary arts from L'Institut du Tourisme et de l'Hôtellerie du Québec and L'École Hôtellière des Laurentides. Over the years, de Volpi's talent has brought him to lead some of Quebec's finest cuisines such as the Casino de Montréal and Casino du Lac Lémy, the Queen Elizabeth and the Place d'Armes. Today, he shares his passion with the McGill community thanks to Local Food Days, Culinary Workshops and events like the Tomato Festival.
A proud endorser of sustainable, local food and especially of the fresh Mac Farm produce, de Volpi's favorite meal honours his family's Italian roots: "Fresh spinach pasta with herbs and ripe Mac Farm tomatoes! Simply delicious! "