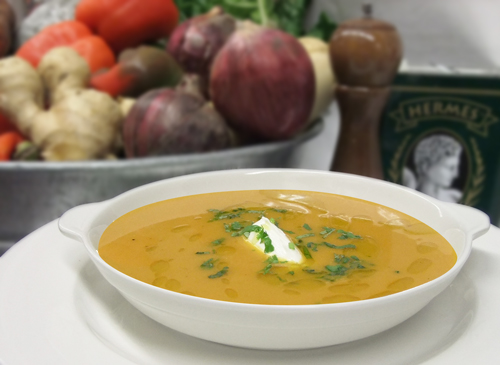 As Fall settles in and leaves turn to gold, orange and red, Chef Daniel Poulin celebrates seasonal bounty with his classic Sweet Potato and Mac Farm Hubbard Squash Bisque. Be sure not to miss this savoury soup during October's Local Food Days at McGill, Oct. 22- 25.
Ingredients
60 ml or 3 table sp Pure Olive Oil
500 ml / 280 gr Sweet Potatoes, peeled and sliced, 3mm
125 ml / 75 gr Hubbard or other Squash, peeled, quartered and sliced 3mm
100 ml / 40 gr Red Pepper, sliced 3mm
50 ml / 20 gr Jalapeno Peppers, sliced 3mm
50 ml / 20gr Fresh Ginger roots, peeled and sliced
125 ml / 85 gr Yellow Onions, peeled, halved and sliced 3mm
125 ml / 45 gr Leeks, sliced 3mm
1 tea sp or 1 clove Garlic greens or chopped garlic clove
1 liter Vegetable broth
A pinch Kosher salt
Four cracks Freshly ground black pepper
200 ml Cooking Cream
8 tea spoons Sour Cream
2 table sp / 40 ml Fresh Italian Parsley chopped
Preparation
1. Wash and prepare all vegetables and ingredients according to the recipe and reserve in recipients ready to start your Bisque
2. Put an 8 liter soup pot on the stove top and turn on the burner at medium heat
3. Add the olive oil and start sweating the vegetables, onions, leeks, sweet potatoes and
squash, cook for about 8 minute stirring from time to time
4. Add the red peppers, Jalapeno peppers, ginger and garlic and continue cooking for 10 minutes, stirring occasionally.
5. Add the vegetable broth, salt and pepper, cover and bring to a boil.
6. At the point of boiling, with a slotted spoon remove the foam forming on the bisque, cover and simmer for 30 minutes
7. Remove the soup from the heat and cool down for about 30 minutes
8. With an immersion blender or a blender, blend the soup until smooth, strain and transfer to a pot and return to medium heat
9. Stirring constantly add the cooking cream and rectify the seasoning.
10. Pour the bisque in warm bowls and top with a dollop of sour cream and sprinkle with freshly chopped Italian parsley.
Born and raised in Montreal, ARAMARK Executive Chef (McGill Student Housing and Hospitality Services' main food service provider) Daniel Poulin grew up in the heart of Little Italy, close to the Jean-Talon Market, surrounded by fresh produce and his mother's inspiring home cooking. It's no wonder Poulin graduated from culinary school and moved on to explore the world.
His career, which began in Vancouver, B.C., brought him to work in some of the city's most coveted Californian-style influenced kitchens, and upscale Italian eateries. Tokyo was next, which proved to be both a learning and a teaching experience for the chef.
Ten years later and fluent in Italian and Japanese, jovial Poulin returned to Montreal after a month-long pizza apprenticeship off the coast of Naples, Italy. In 2002, Poulin took a Chef position with ARAMARK and started racking up gold, bronze and silver medals in national and provincial "Wild Card" competitions.
Today, when he's not behind the stoves at New Residence Hall or Carrefour Sherbrooke, Poulin enjoys travelling with his family and collecting vintage cookbooks.
His cooking style: Modern, light, with texture, using local and seasonal produce. However, "my last meal would definitely be my mom's pig foot stew, it's rich and oh so very comforting!" Poulin says with persuasion.