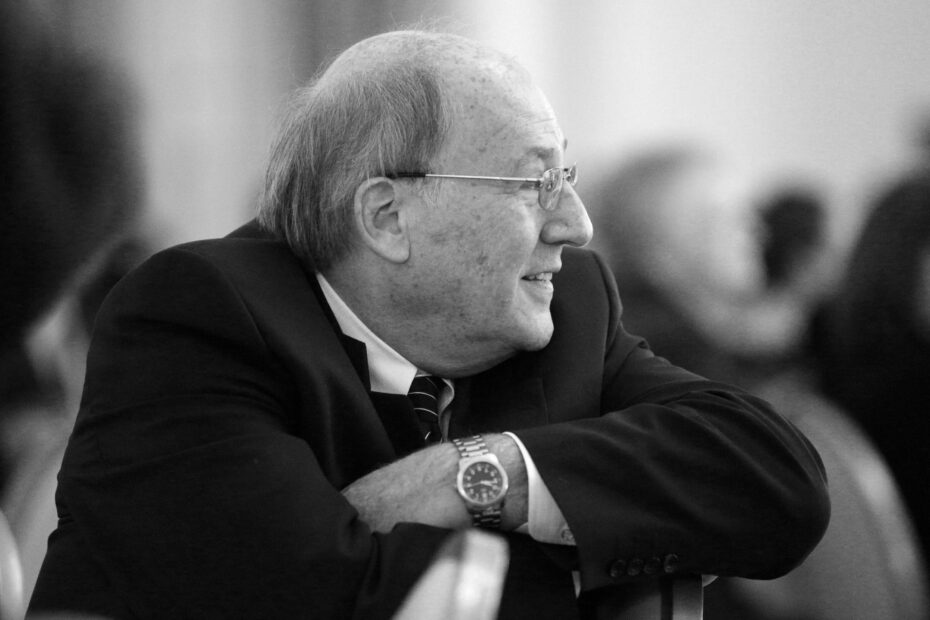 What is there to say about Professor Morty Yalovsky?
"The heart and soul of Desautels," describes Marianne Vandenbosch, program director of the McGill-HEC Montreal EMBA.
"A true community builder," states Louis Gialloreto, Mini-MBA director at the McGill Executive Institute.
"You set an amazing example for everyone in the faculty," adds Professor Shanling Li.
Prof. Yalovsky has touched the lives and hearts of thousands of students, staff and faculty over his 53 years of service to McGill University. On Monday, March 28, over 100 members of the McGill community gathered virtually to pay tribute to his many contributions, and to bestow upon him a Desautels Lifetime Service Award.
Prof. Yalovsky began his career at McGill in 1969 as a sessional lecturer in the Department of Mathematics. In 1975, he began his first full-time teaching position as Assistant Professor, Management Sciences at the Faculty of Management. Over the decades, he has served in a number of administrative leadership positions at the Faculty and University level, including as Dean of Continuing Education and several times as Interim Dean of the Desautels Faculty of Management.
Helping create a "culture of service"
The evening's celebrations kicked off with some remarks by Dean of the Desautels Faculty of Management, Yolande Chan: "Not only is Morty an experienced and wise administrator, but he leads with humility, kindness, integrity and so clearly, dedication," she said. "This is what makes a world of difference to so many people who work with him."
Principal Suzanne Fortier shared her own heartfelt words to Prof. Yalovsky. "Morty, this celebration is a great example of what you are so good at," she said, "bringing people together to build together. You have contributed to building something very important, a culture of service to our University and our community."
Provost Christopher Manfredi chose to share a touching story of how, in 2015, he and Prof. Yalovsky were able to work together to confer the diploma of a young student diagnosed with a terminal illness. "Morty was very tenacious, and we worked together with a lot of different offices at the University," he said. "We were able to go to the young woman's hospital room and confer her diploma before unfortunately, she passed away […] I want to thank Morty for his tenacity, his compassion and making that happen."
Lifetime Achievement Award
Angela Campbell, Associate Provost, Equity and Academic Policies, rounded out the words of praise with a special announcement: McGill has created the Professor Morty Yalovsky Lifetime Achievement Award for Excellence in Academic Leadership. "Throughout his service in every role, Morty has worked for the good of McGill. He's a true trustee who puts the needs, interests and objectives of the University before his own," said Campbell. "This award is emblematic of McGill's heartfelt gratitude for Morty's decades of leadership excellence and contribution from which each of us stands to draw inspiration."
Known for his humility, Prof. Yalovsky took the opportunity to acknowledge the support he's received.  "None of what we've been able to achieve at Desautels would have been possible without support from the University," he said. "Receiving this award is really truly outstanding, it could not have been done without the help that I have received from everybody."
This Professor Morty Yalovsky Lifetime Achievement Award for Excellence in Academic Leadership will honour the lifetime achievements and dedication to McGill University of academic staff, whose service to the university community has been both exemplary and inspiring. Recipients of the award shall embody the characteristics valued by the McGill community: integrity, wisdom and good judgment, dedication to collegial governance, academic rigour, and institutional commitment.