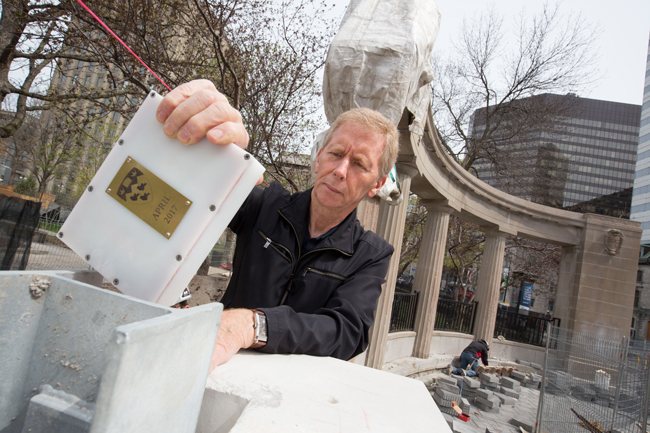 Roddick Gates time capsules give glimpse into today's McGill, Montreal and Canada
On Monday, May 15, the second of two new time capsules was installed inside the Roddick Gates as renovation work on the Gates is entering its final phase. The time capsules, one made of Teflon and the other of stainless steel, contain an eclectic variety of items ranging from to McGill pins and unused Habs playoff tickets to handwritten letters and commemorative socks.
"A time capsule should be a snapshot of the times," says Allan Oliver, Energy Control Technician, and the person who spearheaded the project. "I hope when people open the capsules, they will look at the contents and see that we were OK."
But while the focus of any time capsule story is its contents, the story of what goes into assembling one can be just captivating.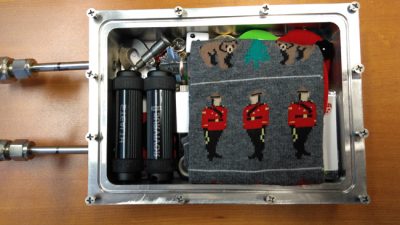 Oliver is a long-time veteran of McGill's HVAC (heating, ventilation and air conditioning) unit. Befitting a man who will mark his 43-year at the University later this summer, Oliver is very interested in the passage of time. "I was never very good at school, except for history," says Oliver with a chuckle. "I like knowing the stories behind things."
Not surprisingly, Oliver is particularly interested in time capsules, sometimes going through archived records to see if he can find clues as to their whereabouts in McGill buildings of a certain vintage. "Many of the buildings in the City's downtown core probably have their own time capsules, as do lots of McGill's buildings," says Oliver, whose sleuthing leads him to suspect one such capsule is located in the large stone marked "1963" by the Leacock entrance closest to the Redpath Museum.
When he heard that a time capsule was uncovered by construction workers in one of the columns on the east side of the Roddick Gates on March 1, Oliver was intrigued. Excitement gave way to disappointment when it turned out that the container had been damaged and the contents proved to be nothing more than a handful of paper, most of it degraded and covered by mold.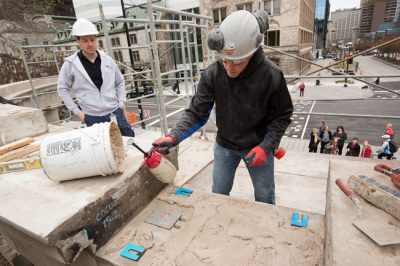 But, thought Oliver, with the Roddick Gates – complete with a piece of stone that was scored and chiseled specifically to fit a 2 x 5 x 7-inch time capsule – on the verge of being reassembled, why not install a new capsule?
"I went to Ron Critchley [Academic Adviser, BCOM Office] – who was my wingman throughout this – with the idea and he thought it was great," says Oliver. "From there, Lori Podolsky and Gordon Burr [McGill archivists], sent me information from Heritage Canada on how to build a time capsule – I didn't even know there were guidelines!"
Speaking to McGill engineers and tradespeople, Oliver decided to build two capsules, a Teflon prototype and the final stainless steel version. Engineering Dean Jim Nicell gave the OK to have the capsules built and engraved in McGill machine shops and Ram Panda, incoming Chair of McGill's Board of Governors, even gave his input on designing the capsules' gasketing. Most importantly, Oliver got the go-ahead from Luc Roy, Director, Building Operations, Facilities Operations & Development.
To fill the final capsule, Oliver says he spent much of his time "running around with my big bag – like Mary Poppins," in a glorified scavenger hunt that took him from one corner of the campus to the other.
He got McGill service pins, from 15 years to 50, from Human Resources; McGill crests and assorted merch from the Bookstore; and campus photos from longtime University photographer, Owen Egan (stored on military-grade USB keys).
Non-McGill memorabilia included everything from a Vimy Ridge pin and a Liberal Party membership card to a Tim Horton's card ("still with some money on it!") and a pair of socks commemorating Canada's 150th birthday – complete with decorative Mounties.
But Oliver didn't want the capsule just to be a grab bag of items. He approached dozens of people – both in and out of McGill – to write personal letters. "There were no guidelines in terms of content, people were free to write whatever they wanted," said Oliver, noting that, since he knew all the contributors, he made it a point of not reading anyone's submissions, including that of Principal Suzanne Fortier.
Oliver added his own letter "to my unborn grandchildren," he said with a smile.
The letters, all written on acid-free paper, were laminated to guard against degradation.
Quickly realizing he had too many items to squeeze into the stainless steel capsule, Oliver decided to use the Teflon prototype as well. Once all the items were in place, each capsule was flushed with argon gas three times to eliminate as much bacteria as possible before being sealed.
The Teflon capsule has been installed in a column on the east side of the Gates and the stainless steel version now rests in the arch where the original time capsule was found earlier this spring.
Oliver admits that this has been a labour of love. "It's my legacy," he says. "One of the things I wrote in my letter was something someone told me long ago. 'What you have done, someone has done before you. What you are doing, someone will do after you. Do the best with the time you have.'
"Good words to live by."