Call it providence. A medical issue forced Ali Dunn to drop a course last semester.
"In order to make up for the lost credits, my advisor recommended I pursue an independent study the following semester," said the 22-year-old who just graduated from the Desautels Faculty of Management's marketing program, with a concentration in data analytics.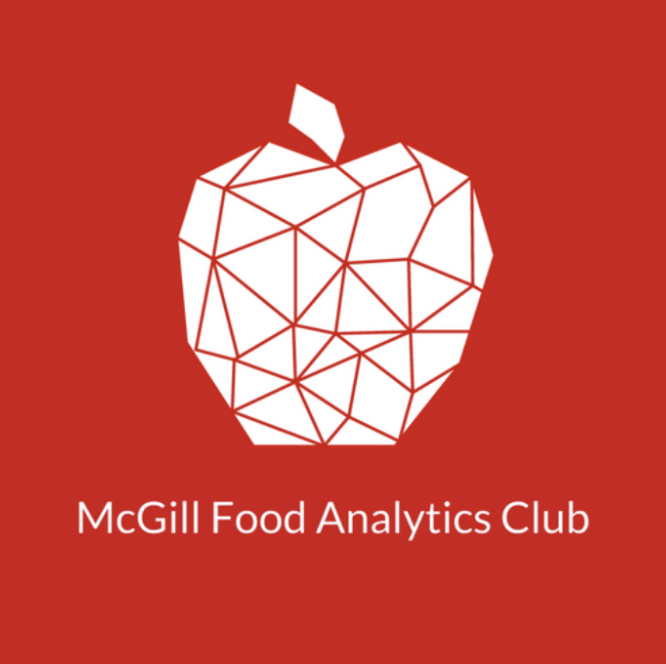 "I'd taken one of Juan's classes in the fall and absolutely loved it. I asked him if he'd be able to sponsor me for my independent study and he introduced me to this project!"
"Juan" is Juan Camilo Serpa, a professor at Desautels who teaches an introductory course on data analytics for business, and "this project" refers to a joint program developed with Santropol Roulant, a Montreal food security and services community group.
Serpa launched the McGill Food Analytics Club – McFac – 18 months ago, in an attempt to use data analytics and AI – artificial intelligence – for social good.
"Big food companies have access to hundreds of thousands of dollars for big-time consultants to use data to make cheaper food," Serpa said. "But what about the small ethical farmers who grow organic sustainable food? They don't have access to this data. That's why you see organic foods that are so expensive whereas processed food is so cheap. Partly, this is because of better data analytics. So, the idea with this group was to use that knowledge to help sustainable food producers become more data driven, make better decisions to increase their efficiency and become more cost competitive.
"Santropol is one of Montreal's biggest coops centered on food, a very big program (that includes Meals on Wheels), so we really wanted to work with them," said Serpa.
Streamlining operations
Santropol was "very open-minded" but dubious about how data analytics could help, either at their organic farm in Senneville or at their various Montreal operations.
The coop is heavily dependent on volunteers, whether for their agricultural program, for Meals on Wheels, in the kitchen or elsewhere, who sign up by paper or call in to a coordinator who signs them up by paper.
"They have these big stacks of paper to process and decide which volunteer will work where exactly. It's a very complicated system. So, we said 'What if we try to build a detailed system where volunteers can sign up with an app we'll design and you automatically get a schedule that decides intelligently where to route the volunteers and that communicates with all your staff if you have to, say, cancel an agricultural program due to bad weather?' It frees them up to be more efficient. That's the transformation we began doing – creating this app that ultimately we hope to make into a very AI system to help them coordinate this program."
Marie-Anne Viau, urban agriculture manager for Santropol Roulant, was effusive in her praise for the project and its creators.
"Yes, we were indeed a bit suspicious at first – we're a big operation with many inter-connected programs, so it was very important that we maintain that core essence, that community spirit.
"Volunteers are at the foundation of everything we do, and thanks to McGill, we were able to improve further… What was truly impressive was their ability to really understand us, who we are, what we do," said Viau.
"It was a gift for us."
Building a digital database out of stacks of paper
One of Dunn's jobs was converting the stacks of paper into digital files.
She and about 20 other Desautels students turned paper records and time-sheets into a digital database that now forms the core of the app – and eventually into a full-fledged AI system.
"I collected data about Santropol's agricultural program," Dunn said, "and gave them information about how they could attract and retain more volunteers," cutting down on costly training of new recruits.
"I spotted some deficiencies and did a survey; I then put that info into an Excel file and ran some algorithms to decipher which variables have a greater influence on satisfaction."
Viau said she was "very impressed with (Dunn's) report."
Interestingly, Dunn found that there was a higher satisfaction rating among English-speaking volunteers than French-speaking ones. And volunteers with a background in education turned in a lower satisfaction rating. She recommended that Santropol hire more of the latter, whose exacting standards and expectations would propel the coop to greater heights.
Dunn also suggested hiring more students, who registered a higher level of satisfaction and return rate than the average. "Plus some courses at Concordia University and McGill require volunteer experience, so that works well."
Another student, Anshul Manosha, created a mobile app that McFac will test over the summer to streamline Santropol's operation and "revolutionize the way volunteers interact with staff and make volunteering more easily accessible."
"But as we know," Serpa noted, "apps always start out with a ton of problems, bugs, etc."
"So we have to create the perfect interface so that it's easy for the volunteers at the front end and the staff at the back end. A ton of stuff is being planned."
Viau said she "can't wait to see how the pilot project will fare this summer."
"It's great for students," said Serpa. "They learn how to make a business with technology, but at the same time keeping the core of the community spirit at its base."