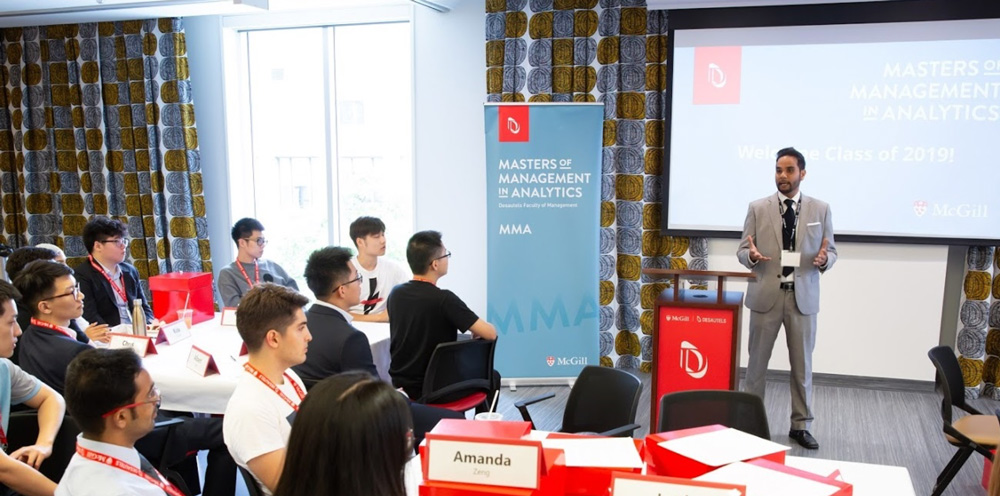 The Desautels Faculty of Management welcomed its inaugural cohort of Masters of Management in Analytics (MMA) students on August 3. The thirty-five students (14 female, 21 male) originate from 12 nations across five continents and have an average entering CGPA of 3.40, bringing diverse cultural perspectives and strong academic credentials.
While the program's curriculum is highly interdisciplinary, so too is the educational background of the MMA students, 46 per cent of which have studied Business, Economics and Commerce, while the remaining 54 per cent graduated from Science, Technology, Engineering and Mathematics programs. In addition to pursuing their studies, half of the cohort has acquired between one to five years of work experience.
Strength in diversity
Beyond their academic and professional experience, the MMA students have also given back to their communities, from offering swimming classes to children with physical impairments, to founding a recycling non-profit organization and assisting victims of the 2016 Fort McMurray fire.
The diversity of her classmates is a clear advantage for Rida Mehdi who previously studied Computer Science and Biochemistry at the University of Windsor. "If you put a group of MMA students in one room, so many distinct skillsets emerge, which makes working in a team really rewarding," she says. Indeed, the ability to make meaningful connections with other students was a selling point for Mehdi who chose the MMA over an online analytics program at an American university.
For Daniel Indig, who completed his BCom in Finance and Statistics at McGill, the experiential aspects of the program, such as the study trip and industry capstone project, were a distinctive draw. Only a few weeks in, he already appreciates how his courses "are bringing to life the diverse applications for analytics across sectors [and are] really allowing me to understand better the many paths that analytics can take you."
Big data literacy
As the field of analytics continues to evolve rapidly and organizations reap further the significant advantages of big data literacy, students like Yilin Yang consider the preparation provided by the MMA essential. Originally from China and holding a Bachelor of Science from the University of Alberta, Yang believes that "the personalized support of Desautels' career coaches as well as the opportunities to put theory into practice during [her] studies will be central to [her] future success."
The MMA is an intensive, pre-experience program that foregrounds the use of data analytics tools to resolve managerial problems and optimize decisions. Spanning one year, it covers the fundamentals of data and decision analytics, team management and leadership, as well as offers the opportunity for interdisciplinary study through an electives module. The program concludes with an international study trip to businesses that are at the forefront of using analytics and an integrative capstone project based on a real problem supplied by industry.
Applications for the 2019 cohort open on September 15, with information sessions to be scheduled during the fall 2018 semester.