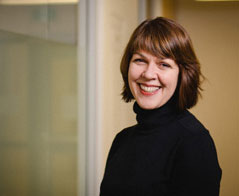 During the closed session of its first meeting of 2016-17 – held Oct. 6, 2016 – McGill's Board of Governors approved the appointment of Professor Brenda Ravenscroft as Dean of the Schulich School of Music. Ravenscroft's five-year term begins on July 1, 2017. Professor Julie Cumming will continue to serve as Interim Dean until Ravenscroft begins her appointment.
The appointment came on the recommendation of the Advisory Committee for the Selection of a Dean of the Schulich School of Music, which conducted an extensive, international search.
Ravenscroft holds a Ph.D. from the University of British Columbia, an M.Mus. from King's College, London, and a B.Mus. from the University of Cape Town. Since joining the Queen's University faculty in 1993, she has had a distinguished academic and administrative career. She is Associate Professor of Music Theory and Composition in Queen's Dan School of Drama and Music and specializes in 20th-century American composers. Ravenscroft is also currently the Associate Dean (Teaching and Learning) for the Faculty of Arts and Science, and served as the faculty's Associate Dean of Studies from 2007 to 2013.
As a researcher, Ravenscroft divides her time between music analysis and the study of teaching and learning in higher education. She has published widely on the music of Elliott Carter, is the co-editor of Oxford University Press' four-volume Analytical Essays on Music by Women Composers, and studies the influence of South African indigenous musics on the works of Priaulx Rainier. She is also the principal investigator in a longitudinal research study on student engagement.