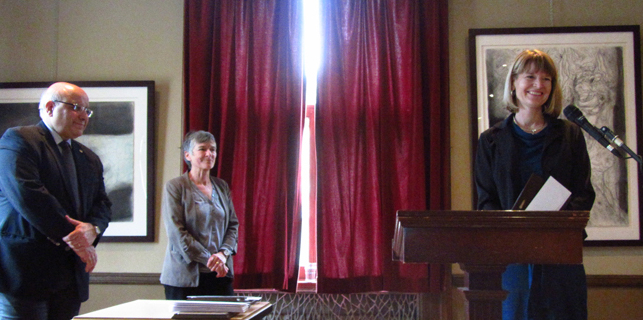 By Stephen Lalla
Monday, April 27, marked the ceremony celebrating the third annual McGill Equity and Community Building Awards. Outstanding students, faculty and support staff members were recognized for their work fostering links with the local community and for nurturing an environment of equity at McGill. Following their introduction by Associate Provost Lydia White, award winners in the four categories –Student, Faculty, Support Staff and Team – each received a plaque from Provost Anthony C. Masi.
The award-winner in the Academic Staff category was Professor Bronwen Low of the Faculty of Education's Department of Integrated Studies in Education. Low, who has chaired the Department's Diversity and Equity Committee, was recognized for confronting equity issues in both her teaching and her research, which focuses on urban youth and Hip Hop culture, language and art; and for her work on intercultural competency for teachers.
The Team category resulted in a tie between Laura Risk and Lerona Lewis, co-chairs of the PGSS Family Caucus, and the Engineering Equity Committee, consisting of eight students and one professor. Doctoral students in Music and Education, respectively, Risk and Lewis lobbied for the initiation of numerous projects including the Joint Board Senate Committee on Equity Sub-Committee on Family Care, new guidelines for the Academic Accommodation of Pregnant Students and Students Caring for Dependents, the PGSS Family Collection, and the installation of changing tables on campus.
Engineering's Equity Committee, consisting of Simrin Desai, Emilie Froeliger, Emily Curling, Louisa Oualim, Jacob Garrah, Tinke Dewitte, Jenna Laham, Da-Eun Kim, and Associate Dean Fabrice Labeau, were recognized for their promotion of diversity and inclusivity in the Faculty and beyond. "They are helping to prepare the next generation of practicing professional engineers, and are laying the groundwork for a major shift in the Faculty and the profession, "said Dean of Engineering Jim Nicell."
Executive Director of Student Services Jana Luker was the awardee in the Administrative and Support Staff Category. "While her title and that of her office do not obviously reflect the mandate of attention to matters of equity and inclusivity," wrote supporter and former Award-winner Charmaine Lyn. "Jana has adopted an approach that promotes and integrates these principles into the core mandate of student services at McGill. The leadership that she has demonstrated in this regard has empowered the many people who work with and for her to be guided by these principles in their respective mandates."
Student awards were bestowed upon both Kareem Ibrahim and the late Roma Nadeem.
As a social justice advocate, Ibrahim has assumed leadership roles with the Arts Undergraduate Society and the Students' Society of McGill University (as President Elect), as a residence floor fellow, and with the Quebec Public Interest Group.
The event's most poignant moments came when Ibrahim accepted the award on behalf of Nadeem, delivering a heartfelt speech in which he paid homage to Nadeem's tireless work.
Nadeem, who passed away on Monday, March 9, was deeply praised for her unselfish nature and her willingness to help the disadvantaged. "Those who constantly and consistently strive to put others before themselves for the sake of making the world a better place are few and far between, and Roma is one of those people," wrote Evan Berry and D.J. Mauser in their letter of support.
Learn more about the awards and for information about past years' winners.