Double your fun at the Redpath
Completed in 1882, the Redpath Museum is oldest building in Canada built as a museum and currently holds extensive collections in the fields of paleontology, zoology, minerology and ethnology. It also hosts an endless series of public lectures and events designed to edify, educate and entertain.
Boat busters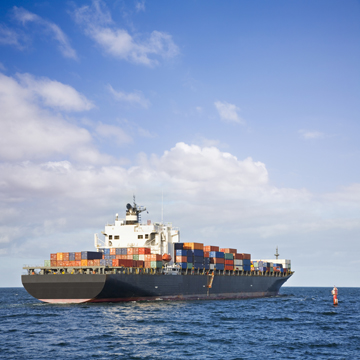 The new season of the Redpath's Sunday documentary film series casts off on Sept. 7, with the 2004 NFB production, Shipbreakers. Since the early 1980s, the rusting hulks of thousands of the world's largest ships have been driven onto the remote beaches of Alang, India, to be dismantled, piece by piece. This compelling film vividly captures both the haunting beauty of the ships and the deplorable conditions of the workers in an unforgettable portrayal where Third World ingenuity meets 21st century global economics.
Shipbreakers; Sun., Sept. 7; 4 p.m. Redpath Museum Auditorium; 859 Sherbrooke Street West. Admission is free with a contribution to the museum. Information: Call 514-398-4086 Ext. 4092
Adapt or die
On Sept. 11, Graham Bell (Department of Biology) will deliver the first in this year's Cutting Edge Lecture Series when he presents "Adaptation, extinction and global change."
While some ecological alarmists have predicted that climate change, together with other kinds of landscape transformation, will cause massive species extinctions, Bell suggests that their approach is limited by an imperfect understanding of ecological and evolutionary response. Instead, he believes the ecological response will depend on the complex web of interactions among the animals, plants and microbes of a particular ecosystem. His discussion will explore the possibility of "evolutionary rescue" of stressed populations by natural selection.
Adaptation, extinction and global change; Sept 11; 6 pm. A wine and cheese reception will follow the event. Redpath Museum Auditorium; 859 Sherbrooke Street West. Free to public but seating is limited. For more information, please call 514-398-4086 ext. 4092.
The Great Outdoors
Now in its 50th year, the Gault Nature Reserve of McGill University protects 1,000 hectares of natural primeval forests of the St. Lawrence Valley. Situated at Mont-Saint-Hilaire, approximately 40 km from Montreal, this panoramic landscape includes a 25-km trail network that is open to the public 365 days of the year.
As part of the anniversary celebrations, an outdoor photo exhibition titled "Portraits of a mountain, 200 Years—a historical perspective" will be on display along the Reserve's oldest trail leading to the peak of Sugar Loaf. Twenty-eight photos at nine stations give visitors the chance to see how much the landscape has changed in some places while remaining more or less the same in others.
Portraits of a mountain, 200 Years—a historical perspective; until November 15, 2008; 422 Chemin des Moulins, Gault Nature Reserve, Mont-Saint-Hilaire. Entrance to the Reserve is free for children five and under, $2 for children from 6-17, $5 for adults from 18-64 and 4$ for seniors. Information : 450-467-4010.
The Bard is Back?
We all know the story of Romeo and Juliet, for example, a play that has been staged and re-staged countess times over the past few centuries. But could there be such a thing as a Shakespearian new release?
For its annual Seagram Lecture The McGill Institute for the study of Canada is pleased to welcome international literary scholar Roger Chartier to deliver a lecture titled Cardenio, or How to Read and Stage a Lost Play.
Cardenio, a work attributed by many to William Shakespeare, was performed only twice during Shakespeare's lifetime but never printed. Little is known about the play beyond its title. An 18th-century version, produced at London's Drury Lane Theater, was said to be based on Shakespeare's text, but the theater and its records – including, perhaps, the original – burned in the early 19th century. There have, however, been recent attempts at resurrection.
Roger Chartier is Chair of History of Written Culture in Modern Europe, Collège de France, Professor of History, École des hautes études en Sciences Sociales, and Annenberg Visiting Professor of History, University of Pennsylvania. He frequently lectures and teaches in the United States, Spain, México, Brazil and Argentina.
The lecture will take place on Thursday, September 4, 2008, at 11:30 a.m., in the Faculty Club (3450 McTavish St.). RSVPs are encouraged: misc.iecm@mcgill.ca or (514) 398-8346